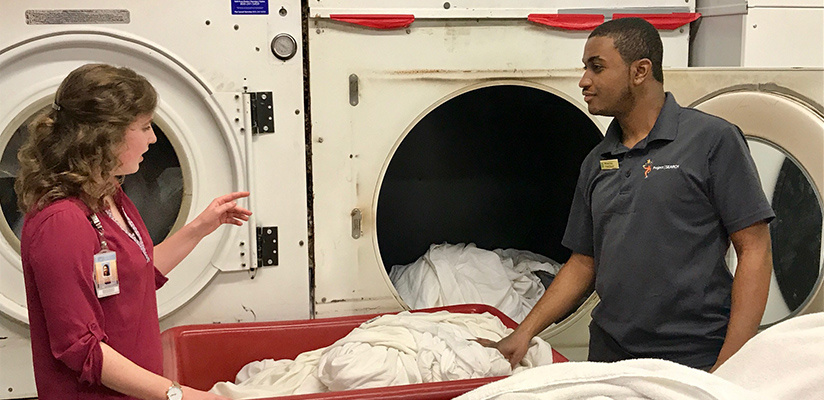 The 'SEARCH' for purpose
Education alumna helps students with intellectual disabilities realize their full potential
---
By Kathryn McPhail,
mcphailk@mailbox.sc.edu
, 803-777-8841
---
A cherished, childhood friendship led Tori Vaeth to study special education at the University of South Carolina. Now, the College of Education double alumna is leading a program that's training and placing young adults with intellectual disabilities in rewarding careers.
"I met Katie at church years ago," Vaeth says. "We became close friends. Through her, I realized people with intellectual disabilities crave independence. But many times they aren't given opportunities that allow them to learn how to be responsible and to live and work independently. I knew I wanted to change that."
Inspired by her friendship with Katie, Vaeth wanted to help people with intellectual disabilities realize their full potential. She first majored in early childhood education, thinking she wanted to work with younger children. But during her undergraduate study she became active with CarolinaLIFE – a certificate program at Carolina for students with diverse intellectual disabilities.
"My work with CarolinaLIFE inspired me to get my master's degree in special education and work with older teens who were facing a huge transitional time in their lives as they finished high school and were trying to figure out what was next for them," Vaeth says.
After graduation, she worked for a year as a special education teacher at Dreher High School in Columbia before learning that the Richland One School District was partnering with Project SEARCH – a school-to-work program that takes place entirely at the workplace. She is now the lead instructor of the school district's program which is housed at the Embassy Suites Greystone in Columbia.
"The international program helps transition high school students with intellectual disabilities from the classroom to the workplace by offering one-year internships with partnering businesses. Here at Embassy Suites, our interns learn work skills and life skills while becoming more independent and responsible."
My students just want to be satisfied and fulfilled – isn't that what we all want? They are no different.

- Tori Vaeth, education alumna and Project SEARCH instructor
The 10 interns, who are between 18 and 21 years old, arrive at the hotel at 8:30 a.m. each day.
"They must provide their own transportation – just like in the real world. Most of them have learned to navigate the Comet bus system, which definitely gives them more independence and control," Vaeth says.
The interns spend the first hour of their day learning skills, from budgeting and time management to resume preparation and interviewing techniques. Then, the next four and a half hours are spent working at the hotel in a variety of roles.
"They help set up banquet rooms, wash and fold laundry, clean rooms, prep food in the kitchen, help guests with their bags and more," Vaeth says. "It's hard work, and it's not a paid internship, but the skills are invaluable. I can see them becoming more confident and proud of themselves."
Vernon Johnson, a 19 year-old who attended Columbia High School, says he enjoys inspecting the hotel's shuttle van – checking the oil and making sure it's clean.
"I also help guests with their bags and pack gift bags for the Hilton Honors guests. I really like everything about my job here," Vernon says with a smile as he opens a to-go box filled with mac-and-cheese. "And, sometimes they give us food left over from events."
Free food is certainly a perk that all the interns love. But the real reward comes from the work experience.
"My goal is to have 100 percent employment for the interns," Vaeth says. "Some will likely be hired here at Embassy Suites, but I'm confident all can work successfully in the industry, thanks to the skills they've mastered."
Embassy Suites assistant general manager, Len Gilbert, agrees. Gilbert, who is also a Carolina alum (HRSM '10), says the interns are a vital part of what he calls the "hotel family."
"Not only have I seen them become outstanding and dependable employees, they have also made many others who work here perform better at their jobs," Gilbert says. "I find employees work a little harder and with more purpose when they are mentoring an intern. Maybe it gives them a sense of pride knowing they can help an intern be their best self. Either way – it's a win-win. I would love to hire some of these interns after they finish the program."
In an industry that experiences a lot of employee turnover, especially in physically tough and monotonous jobs like dishwashing and housekeeping, the interns could become long-term, reliable employees for hotels and restaurants.
"Some our interns find comfort in repetitive tasks like folding towels, for example. What might bore someone else over time, gives them stability and leaves them with a sense of accomplishment," Vaeth says.
Vaeth says her sense of accomplishment comes in knowing that she is improving the lives of her students and their families.
"Vernon's mom came to a parent-teacher conference crying. She was shocked at his success. She's been told his entire life that Vernon couldn't do this, or that, or have a regular job, or interact with people. But he's proving those people wrong. My students just want to be satisfied and fulfilled – isn't that what we all want? They are no different."
---
Share this Story! Let friends in your social network know what you are reading about
---