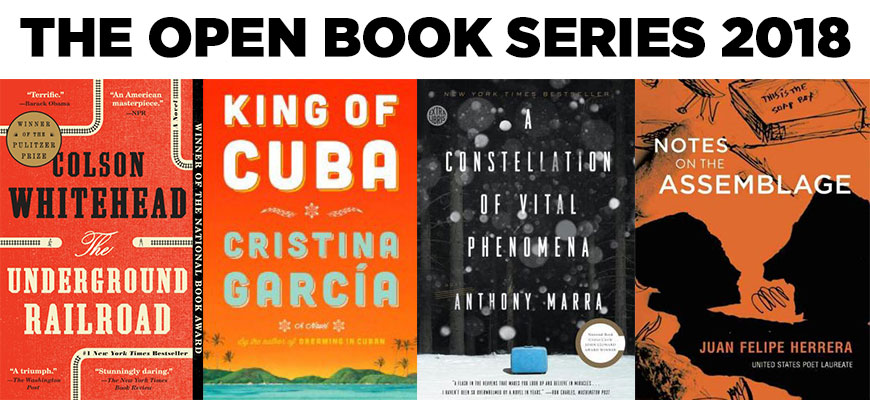 The Open Book - 2018 Edition
Free public literary series returns for sixth year
---
By Dana Woodward,
ddhaesel@mailbox.sc.edu
, 803-777-3691
---
In 2018, the Open Book Series celebrates its sixth birthday. Both a literary series and a free community read, the Open Book brings a variety of authors to campus over a four-week period, starting Monday, March 26, when host Elise Blackwell leads a discussion of Colson Whitehead's 2016 novel, "The Underground Railroad." A highly-anticipated appearance by Whitehead himself will follow on Wednesday, March 28.
Blackwell, a creative writing professor in USC's Department of English Language and Literature and a novelist herself, will also give a talk prior to Anthony Marra's April 11 visit. Fellow USC faculty members Eli Jelly-Shapiro and Michael Dowdy will also lead discussions this year. As in previous years, each Monday discussion will be followed by a Wednesday author visit.
"I enjoy every aspect of the series, other than the public speaking that I do as part of it," says Blackwell. "Best of all, though, is seeing how much participants enjoy the authors I bring in. Meeting some of my own favorites is a great perk, of course."
The series includes a mix of both big names and lesser known writers and is designed to expose audiences to a variety of voices and perspectives.
"One of my goals every year is to bring in a range of authors in terms of both subject matter and style in the hope that participants will discover at least one author they really love and learn something about a subject or area of life they hadn't thought much about before," says Blackwell.
This year's headliner, Whitehead, is the author of seven books, including "The Underground Railroad," which won both the Pulitzer Prize for Fiction and the National Book Award. A work of magical realism, the novel reimagines the historical Underground Railroad (of Harriet Tubman fame) as an actual brick-and-mortar rail line on which Cora, an escaped slave, rides from state to state in pursuit of freedom.
Following Whitehead's appearance, series attendees can look forward to visits from Cristina Garcia on April 4, Anthony Marra on April 11 and Juan Felipe Herrera on April 18.
"Fiction and poetry help us to develop empathy for others as well as make sense of human experience for ourselves," says Blackwell. "The combination of reading a book, hearing another reader's thoughts on it, and then hearing directly from the author accelerates this, I hope."
---
If you're going
The 2018 Open Book Series begins March 26 with Elise Blackwell's pre-visit discussion of "The Underground Railroad." Whitehead's author appearance will follow on March 28. Subsequent discussions and author appearances include: Cristina Garcia (April 2 and 4), Anthony Marra on (April 9 and 11 and Juan Felipe Herrera (April 16 and 18). All events start at 6 p.m. in the Campus Room on the first floor of the Capstone Building and are free and open to the public.
---
Share this Story! Let friends in your social network know what you are reading about
---