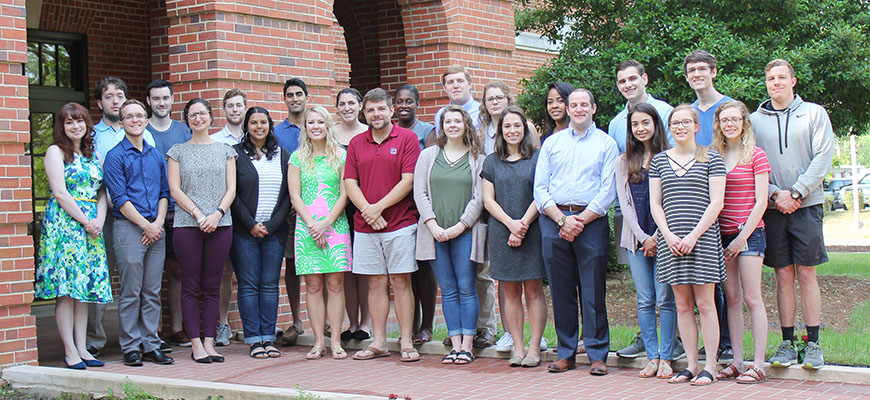 No rest for the curious
Rising second-year medical students maximizing their summers with research opportunities
---
By Alyssa Yancey,
alyssa.yancey@uscmed.sc.edu
, 803-216-3302
---
This summer, almost a third of the University of South Carolina School of Medicine's Class of 2021 decided to forgo their last extended academic break to pursue summer research opportunities.
In fact, more than half of the class applied for the school's rigorous and increasingly competitive, eight-week Research Program for Medical Students. Accepted students are paired with faculty mentors in either a basic science or clinical setting where they engage in designing and conducting research with clinical significance.
"Every one of these rotations integrates 'what would this mean for patients' and 'how is this translated into something eventually meaningful,' " says Frank Spinale, M.D., Ph.D., associate dean for research and graduate education.
In addition to working with their mentors, students also have weekly seminars organized by the School of Medicine's Research Center for Transforming Health. The seminars include project check-ins, peer discussions and presentations related to research concepts. Students also present their research to faculty and their peers during the Wednesday Graduate Student Seminar series in the fall following their research experience and present a poster at the USC School of Medicine-Palmetto Health research event.
"Not only do we want the students to come away with tangible academic products, but we also want them to begin understanding how research is all around them and will be part of everything they do in their careers," says Christine Turley, M.D., director of the Research Center for Transforming Health.
The program has seen considerable growth over the last few years, growing from about 15 spots to 24 students this summer participating in one of the school's official research opportunities for rising second-year students. The students are conducting research in Myrtle Beach, Greenwood, Greenville and throughout the Palmetto Health-USC clinical service lines.
"We are focused on making sure our students and our mentors have a consistent and rewarding experience," says Turley. "We are working to enhance the program in such a way that a deep appreciation for research becomes part of the fabric and culture of our school."
Something for everyone
Project topics include investigating new drug therapies that could help prevent heart failure, the genetics of autism, precision medicine in cancer treatment, opioid withdrawal in newborns and much more.
"We offer a very wide set of opportunities. But the underlying theme is the same — critical evaluation, data gathering, what is appropriate, what is fact," says Spinale. "We want our students to develop some critical thinking skills. In other words, how do you really test whether a new drug or therapy is truly beneficial for your patients?"
Chris Ruggiero is working with Shannon Weissman, M.D., clinical professor of internal medicine, to study the gut microbiome of HIV patients.
Every one of these rotations integrates 'what would this mean for patients' and 'how is this translated into something eventually meaningful.'

Frank Spinale, M.D., Ph.D., associate dean for research and graduate education.
"It's been an interesting perspective because I've never done clinical research, I've always done bench work. So, it's a completely different challenge, going through charts," says Ruggiero. "It is good to work with the faculty one-on-one, I'll know some of the internal medicine residents and attendants when I go into my rotations in third year."
Ruggiero's classmate, Michaela Myers, is also working with a mentor in infectious diseases. She agrees with his sentiments.
"I think it's a really nice light at the end of the tunnel. First and second year are so much work classwork, so it's a really nice way to dip your toe in the clinical experience," says Myers.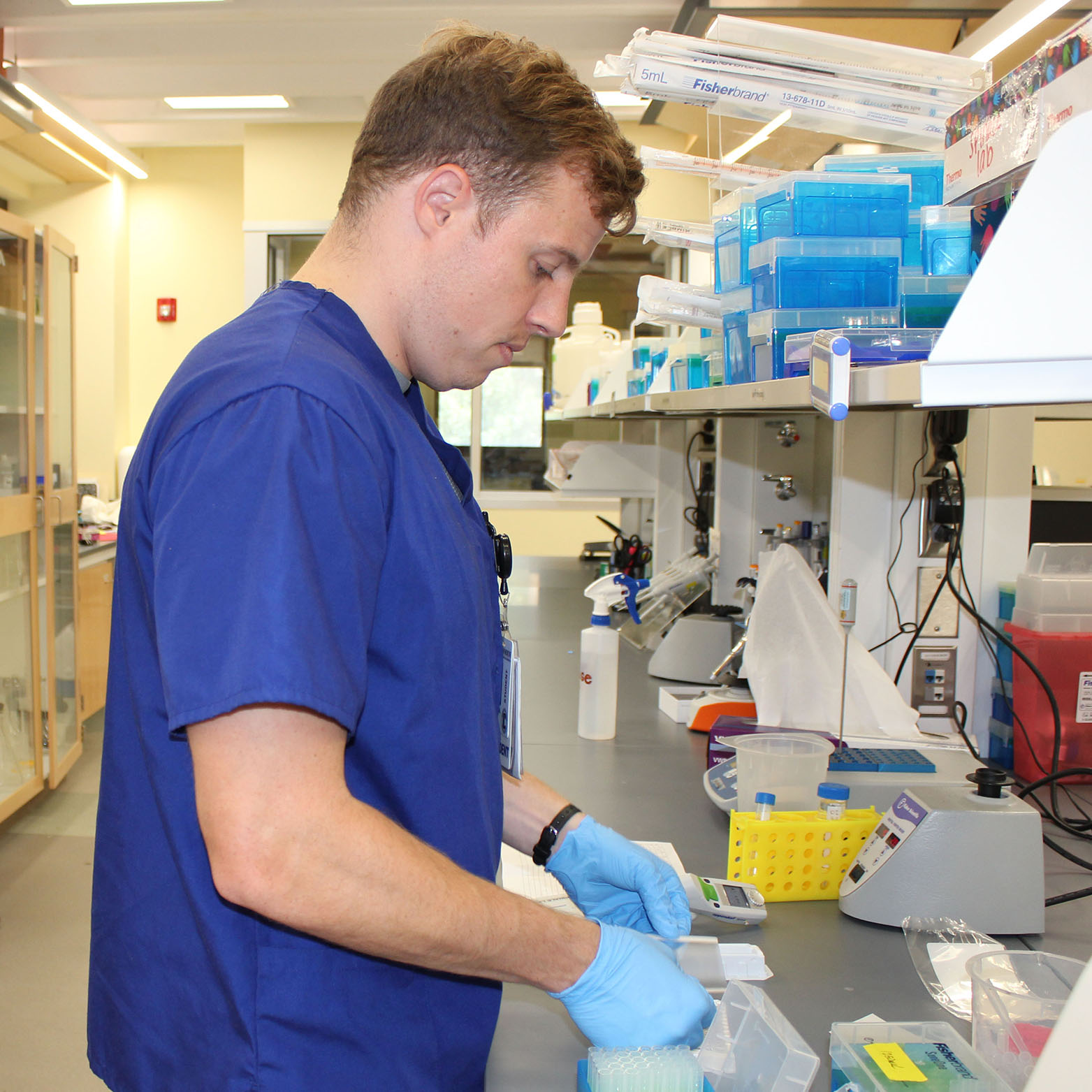 Outside investment
Beyond the School of Medicine's investment in research opportunities for students, outside foundations and societies are also putting a greater emphasis on engaging providers in research earlier in their training. In 2017, the School of Medicine was awarded five research slots for medical students through the American Heart Association's Cardiovascular Research Experience Program.
John Gehris is one of this year's participants in the program. Gehris is working in Spinale's lab. He decided to pursue cardiovascular research after his grandfather passed away from heart failure last year.
Shyam Desai is another participant in the program. He says he appreciates the practical nature of his research project. "I like that it has given me a better understanding of what we are learning in class and how it can be applied to actual patients," says Desai.
Another student in Spinale's lab, Allie Ausburger, is the first Carolina student to receive a prestigious research scholarship through the American Association of Thoracic Surgeons.
Across the board, students appreciate the skills and relationships they are building through their summer research experiences, even if it may mean a little less time on the beach.
---
Share this Story! Let friends in your social network know what you are reading about
---