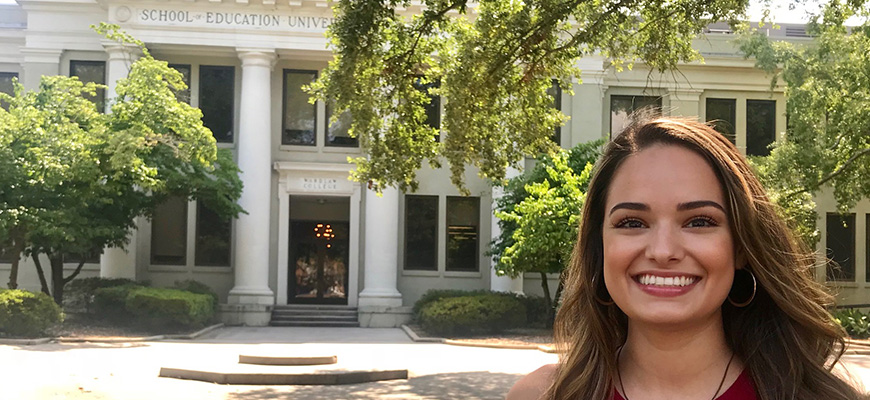 Clearing the path
College of Education, Midlands Tech create seamless transfer for teaching students
---
By Kathryn McPhail,
mcphailk@mailbox.sc.edu
, 803-777-8841
---
When Ybeth Castro graduated from Georgetown High School three years ago, she knew she wanted to become a teacher. She participated in the statewide Teacher Cadet program, which encourages academically talented high school students to choose teaching as a career. As a cadet, she spent time in a third-grade classroom where she discovered her passion for teaching young children.
However, Castro wasn't quite ready to move away from home to attend college.
"I didn't think I wanted to leave my family just yet, so to stay close to home and save money, I chose to attend a technical college in Georgetown," Castro says. "But, it didn't take long before I changed my mind."
This will be a huge help for future education students. I'm so glad to see USC and Midlands Tech working together to help students become teachers.

Ybeth Castro, education student
After a semester at the technical college, she moved to Columbia and set her sights on eventually attending the University of South Carolina.
"I had visited USC's campus when I was in high school, and fell in love with it. But, I wanted to get my grades up before applying. Also, I knew going to another technical college would be easier — moneywise — for our family," she says.
As a step toward her ultimate goal, she enrolled in the early care and education program at Midlands Technical College.
"It was a good program," Castro says. "I liked the small class size. I also liked how you're taught by many of the same professors for various classes. So, you really get to know them. It was a good fit for me."
In May, Castro earned an associate degree from Midlands Tech and applied and was accepted to Carolina. Thanks to her improved grades, she will receive the lottery-funded LIFE scholarship as she works towards a bachelor's degree in early childhood education in the College of Education.
"I really want to teach first through third grade," Castro says. "I'm excited about how much time I will get to spend in elementary schools through my field experiences at USC. I can't wait to start teaching - working on lesson plans and spending time with the children."
Though most of the courses Castro took at Midlands Tech were accepted by Carolina, it will take her about three years to complete her bachelor's degree.
Thanks to a new agreement between the university's College of Education and Midlands Tech, students who follow Castro's path will have an easier transfer experience. The agreement, signed June 12, creates a seamless process for students attending Midlands Tech to transfer into bachelor's degree programs in early childhood, elementary or middle-level education at Carolina.
"Given the critical teacher shortage in South Carolina, this initiative is particularly important and timely," Provost Joan Gabel says. "It's another example of how institutions are working together to meet the needs of the state and improve the quality of life for South Carolinians. Education faculty and administrators from both institutions will work collaboratively to ensure teachers are prepared for successful, fulfilling careers."
The agreement outlines specific Midlands Tech courses accepted by the university, allowing a student to earn an associate degree then transfer to the university to complete a bachelor's degree in education with ease. Also, College of Education advisers will visit Midlands Tech each semester to discuss the program and transfer process with students.
"We understand that students are looking for high-quality, cost-effective and flexible education opportunities," says Jon Pedersen, dean of the College of Education. "This agreement will allow students to learn from experienced faculty, work alongside veteran educators in public schools during their student teaching and earn teacher certification. It's a win-win for our students."
On average, 50 students transfer from Midlands Tech to the College of Education each year, but leaders of both institutions hope to see that number rise as a result of the agreement.
"Historically, Midlands Technical College has been the No. 1 choice for students planning to transfer to the University of South Carolina," says Midlands Tech President Ronald L. Rhames. "This agreement adds another layer to that important transfer relationship. MTC is a great place to start for anyone wanting to become a teacher, because of our great pathway to USC, but also because we specialize in affordable classes that help students balance school, work and family life."
Though Castro didn't benefit from the agreement, she is glad to see more pathways for students interested in the teaching profession.
"This will be a huge help for future education students," Castro says. "I'm so glad to see USC and Midlands Tech working together to help students become teachers."
---
Share this Story! Let friends in your social network know what you are reading about
---