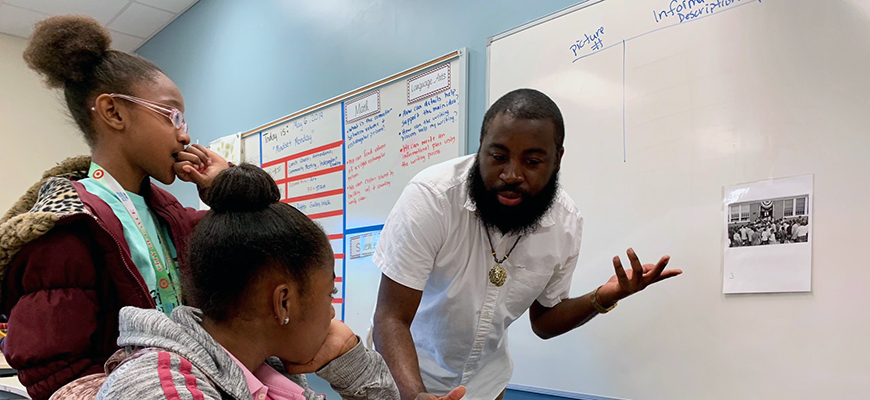 Culturally relevant teaching changes the game for students
College of Education partners with area school to prepare 'culturally competent' teachers
---
By Kathryn McPhail,
mcphailk@mailbox.sc.edu
, 803-777-8841
---
LeBron James is the focus of today's writing lesson in Saudah Collins' first-grade class at Jackson Creek Elementary in Columbia.
When she asks if anyone knows the NBA star, little hands shoot in the air with excitement. But it's not his success on the basketball court that Collins wants her students to focus on for this assignment.
She shows them a recent news article about a school in Ohio that James funded and tells them that student test scores at this school are far exceeding expectations due to the students' hard work and caring, knowledgeable teachers who believed in them. The faces her students see in the photos mirror their own.
On another hall of Jackson Creek Elementary, Valente Gibson's fifth-graders are studying historical figures and events that were integral to the civil rights movement.
As they look at old images taped to the classroom walls, Gibson encourages his students to focus on the senses – was it a humid night, what did it smell like, was it loud? The faces his students see in the photos mirror their own.
Though Gibson and Collins, both University of South Carolina education alumni, are at opposite ends of their careers — he is finishing his second year of teaching and she is a veteran educator of 23 years — they agree on how students should be taught.
They also believe that students must see themselves and their cultures in the books they read, the history they study and the lessons they are taught to truly embrace learning and succeed academically.
"Teachers are better able to serve students and their families when they create learning environments where students feel safe to be themselves, are encouraged to be curious about their world and to share their culture and home language," Gibson says.
This self-representation is fundamental to culturally relevant teaching, a strategy developed by University of Wisconsin professor, author and researcher Gloria Ladson-Billings. The strategy focuses on three tenets: cultural competence, critical consciousness and academic success.
"Critical consciousness helps to build a teacher's and a student's capacity to identify injustice and work collectively toward equity for all people," says Collins, who is also a doctoral student studying with South Carolina education professor Gloria Boutte through the Center for the Education and Equity of African American Students.
Last summer, the principal of Jackson Creek Elementary, Sabina Mosso-Taylor, decided to partner with the College of Education to offer ongoing professional development in culturally relevant teaching for all teachers and support staff.
"We cannot change what we do not acknowledge. Too many students are not achieving academically and behaviorally," Mosso-Taylor says. "It is my belief — and research supports this — that teaching in culturally relevant ways helps all students succeed.
"This does not change the harsh realities some of our students face, but it does mean that we can and should hold high expectations while supporting and nurturing students."
South Carolina education professors Eliza Braden and Susi Long lead the monthly professional development.
"Dr. Mosso-Taylor is very committed to changing the game, particularly for students of color who continue to be underserved across our state and the country," Long says. "She is also committed to the fact that deepening teacher knowledge through professional development is a long-term investment."
Recognizing, and sometimes changing, personal beliefs is an important part of the program.
"It is important to understand that in order to see transformation in teaching, you will need to see transformation in beliefs," Braden says. "Teachers are encouraged to acknowledge their own racial and cultural bias. Then, they are asked to develop lessons in ways that are relevant and engaging to students."
This does not happen the same way in all classrooms.
"Our teachers' use of culturally relevant teaching is authentic to who they are and their students lived experiences," says Mosso-Taylor.
For example, one teacher chose to begin this work by adding books with more diverse characters and experiences to the classroom library.
Another teacher asked her students to research and write stories about "hidden" historic or present-day figures whose contributions were overlooked and misrepresented.
"This way of teaching allows students to have a voice in our classroom that can lead them to further develop critical thinking skills," Gibson says. "And, it allows teachers to have honest and engaging conversations that can reshape thinking, philosophies and instructional strategies."
The partnership with Jackson Creek Elementary also benefits elementary education majors and students in the college's early childhood urban cohort, who are placed in the school for their student teaching experiences.
"Preservice teachers and teachers study the same texts, ideas and practices and support each other in exploring culturally relevant practices with children," Long says.
Most of the teachers at Jackson Creek Elementary say they are already seeing the benefits of the culturally relevant teaching. Students are more engaged in lessons, they are taking more ownership in their learning and their mastery of skills is improving.
But more importantly for most of the teachers, including Collins and Gibson, the students feel empowered.
"As an educator, I wanted to challenge students to delve deeper in their learning," Gibson says. "I want to inspire them to become leaders and address social injustices in this world."
---
Share this Story! Let friends in your social network know what you are reading about
---