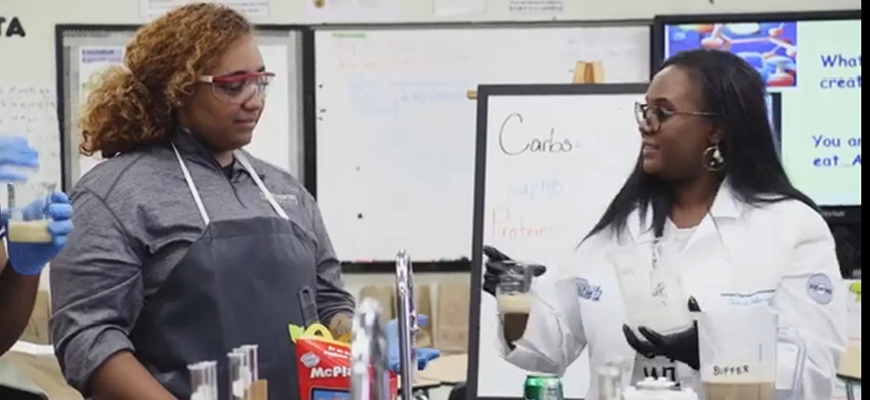 Education alumna wins SC Teacher of the Year
Chanda Jefferson brings passionate approach to teaching life science … and life
---
By Kathryn McPhail,
mcphailk@mailbox.sc.edu
, 803-777-8841
---
As a child, Chanda Jefferson fondly remembers staying after school to help her older sister, who was a kindergarten teaching assistant, in her classroom at Jefferson Elementary in rural Beech Island, South Carolina. In a school named after her great-grandfather, she spent hours talking with teachers about math, science and her favorite books.
"Teaching is in my DNA," Jefferson says. "My mother stressed the importance of education, and I developed a love for school and learning — especially science."
During high school, Jefferson also realized she loved mentoring young people. She drove the church van, picking up students in her community to bring them to choir practice and Bible study.
"I knew then that I wanted to choose a career that would allow me to serve and help people," Jefferson says. "That's when I decided to become a doctor and major in biology at USC."
While taking biology and chemistry at the University of South Carolina, a professor asked if she wanted to tutor children through a program called Mad Science of Columbia.
"I discovered I loved getting kids excited about science, sharing my passion with them," Jefferson says. "I realized that my true calling was to become a teacher. Teaching would allow me to help create opportunities for many children."
I teach life science, but I also teach real life.

Chanda Jefferson, SC Teacher of the Year and alumna
Jefferson earned a bachelor's degree in biological sciences in 2009 from the College of Arts and Sciences and a master's degree in teaching from the College of Education in 2011. That fall, she began her first year of teaching at C.A. Johnson High School in Columbia. When she arrived, only 13 percent of students were passing biology.
"I was passionate about teaching underserved students," Jefferson says. "I used the inquiry-based teaching strategies that I was taught by my professors at USC. I believed that I could make a great impact on these students if I could encourage them to explore, question and engage rather than just lecture to them."
And her impact was clear. When she left the school four years later, the biology pass rate for all students had increased to more than 50 percent, and her students boasted a pass rate of nearly 75 percent. For the first time in 20 years, a student from the school passed the Advanced Placement Biology exam. In 2014, she also was named South Carolina's Outstanding Biology Teacher by the National Association of Biology Teachers.
"There are no disposable children in South Carolina. Our job as educators is to care for them, regardless of where the students are coming from, and find a way to help them succeed," Jefferson says.
After a one-year stop at Airport High School in West Columbia, Jefferson was offered a position as chair of the science department and STEM liaison at Fairfield Central High School in Winnsboro, South Carolina. At Fairfield Central, she found herself, once again, teaching underserved students.
"Many of our students are facing struggles — poverty, food insecurities, family issues," Jefferson says. "I teach life science, but I also teach real life."
Jefferson says she caters to the "whole" child, not just academics.
"I tell them that I, too, came from humble beginnings, like many of them. But education and knowledge are keys that can create access to doors of opportunity."
Her passion and ability for helping students find and use their "keys to success" led a colleague to nominate Jefferson for Fairfield Central Teacher of the Year, which she won in 2018. In May, she also was named the 2020 South Carolina Teacher of the Year in front of a crowd of educators, lawmakers and supporters of public education. In addition to the title, she received $25,000 and the keys to a state-owned BMW to drive for a year. Now, she will begin touring the state, speaking with teachers and students, helping improve the educational system and supporting the needs of education professionals.
"This is a huge year for education in South Carolina, with major advocacy efforts from teachers to improve conditions for the profession and our students and schools," Jefferson says. "My goal for the year is to equip teachers with the tools they need to positively advocate for the profession."
Jefferson also plans to focus her efforts on helping to recruit and retain teachers to combat the growing teacher shortage in the state.
"I think more students would consider teaching if the profession was highlighted and celebrated more. Teachers need to feel supported, receive positive affirmations and be reminded that few professions are as impactful as education," Jefferson says. "Teachers can change the world, one student at a time. And believe me, my life has been changed because of my students, as well."
Her life will continue to be changed this year as she steps away from the classroom to serve a one-year residency at the Center for Educator Recruitment, Retention and Advancement. She also will represent South Carolina in the National Teacher of the Year competition.
---
Share this Story! Let friends in your social network know what you are reading about
---