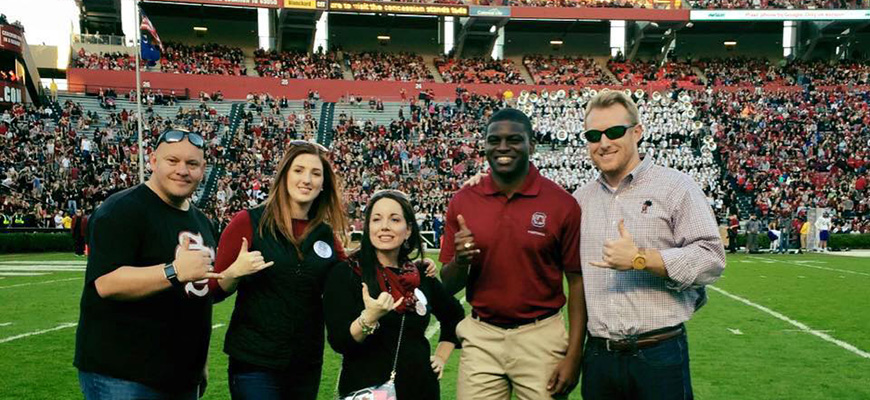 Gamecock emissary
Air Force officer and political science alumnus to study U.S.-Canada relations on Fulbright
---
By Mary-Kathryn Craft,
craftm@mailbox.sc.edu
, 803-576-6195
---
From tariff clashes to leaders trading barbs on the global stage, recent political tension has strained the once-friendly relationship between the United States and our neighbor to the north.
But for University of South Carolina alumnus James Anderson, the current political climate provides a wealth of ideas to explore as he prepares to spend the next year in Canada as part of a Fulbright Scholarship.
"I always wanted to study a country I had never previously researched and really try to understand an ally, investigating any gaps and schisms," says Anderson, who will begin studying at Queen's University in Kingston, Ontario, in September. "When I wrote the Fulbright proposal, I had no idea the current events would evolve like they have. It's interesting how things always come back around."
A 2015 graduate of the College of Arts and Sciences, Anderson earned a bachelor's degree in political science and was part of the Air Force ROTC. Before enrolling at Carolina, the Columbia, South Carolina, native served four years in the Air Force including deployment to Kandahar, Afghanistan. Anderson says his time as an enlisted soldier sparked an interest in political science and U.S. foreign policy.
"I wanted to answer the question of why we were in Afghanistan," he says. "When I got to USC it was on the heels of the 2012 election cycle, and I took a couple of American politics classes and a contemporary foreign policy class that really opened my eyes. I was amazed by our country's foreign policy and the different ways we use soft power and hard power throughout the world."
As a student, Anderson also recognized the importance of the connection between veterans and the university.
"I had this thought while running on the treadmill at midnight — how am I, as a Gamecock, going to keep in touch with the university when I go back on active duty?" he says. "A lot of military members lose touch with the Gamecock nation once they are on active duty. It's important to bridge that gap."
With that in mind, Anderson worked with the My Carolina Alumni Association to launch the Veterans Alumni Council. Collaborating with both association leadership and his fellow Gamecock veterans to see the idea to fruition was one of his most rewarding experiences.
There's something special about some of the professors I had at Carolina that really sparked my interest in international affairs. It established a base level of understanding about history, politics and how countries interact. At the same time, I have an inquisitive factor that has grown over time, and it all started right there in Gambrell Hall.

James Anderson, 2015 political science graduate and Air Force intelligence officer
Because of his time at Carolina, Anderson now constantly looks for challenges and new opportunities. After graduating, he returned to active duty in the Air Force, completed a master's in international relations at American University and now serves as an intelligence officer at Langley Air Force Base in Virginia. In January, he joined the Defense Council's Truman National Security Project in Washington, D.C.
Thanks to encouragement from a South Carolina friend in Washington and support from the university's Office of Fellowships and Scholar Programs, Anderson decided to apply for the Fulbright program. He also credits recommendation letters from former professors Josef Olmert and Dik Daso and one from Jack Claypoole, who he got to know well via My Carolina while working on the Veterans Alumni Council. Anderson says his successful Fulbright process is an example of the power of the Gamecock network at its finest.
Perseverance and willingness to try something new are qualities he honed at Carolina.
"Without my political science degree, I don't think I could have gotten to the point where I am today," Anderson says. "There's something special about some of the professors I had at Carolina that really sparked my interest in international affairs. It established a base level of understanding about history, politics and how countries interact. At the same time, I have an inquisitive factor that has grown over time, and it all started right there in Gambrell Hall."
---
Share this Story! Let friends in your social network know what you are reading about
---