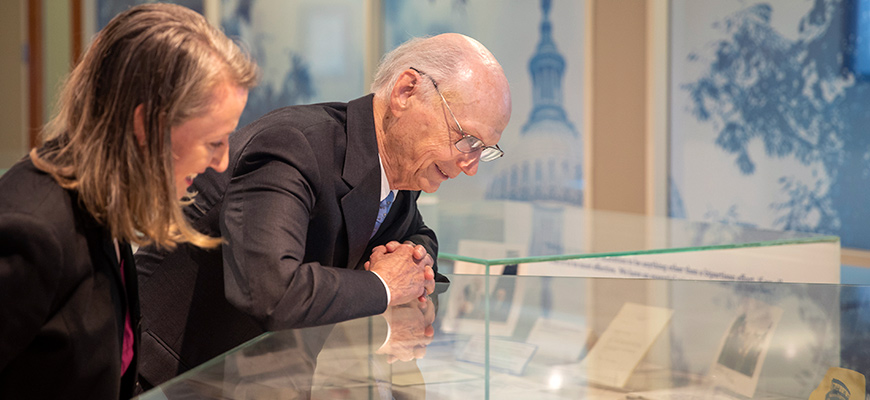 A life in public service
Riley collection unveiled at UofSC library
---
By Megan Sexton,
msexton@mailbox.sc.edu
, 803-777-1421
---
Dick Riley has a hope for what the collection of his papers, unveiled Aug. 6 at the University of South Carolina, can mean for the state's future.
Not surprisingly, his focus is on young people and public service.
"I hope people, especially young people, who come here and follow the exciting life I've had in public service will become interested in public service," he says. "That's a real interest of mine, to get young people involved in public service. To do that and do it well you really have to be committed to the public good."
"I'd hope (they'd learn from the collection) that it's important to be fair to all people, especially people who have been left out; that education is extremely important wherever you are and whatever situation you're in; that it's very important to be a collaborator, to listen to people, to hear the other side of things and then to have genuine discussion," he says. "All people are important. In public service, it's very important to realize that. When I tried to do something in South Carolina or in Washington, I always tried to do it in a way looking at all people."
The accomplishments of that life of service are on display in the exhibit "Richard W. Riley: Statesman of Education," which will remain open through Dec. 23 in the South Carolina Political Collections at the Ernest F. Hollings Special Collections Library. The exhibit includes hundreds of thousands of documents, including photographs, speeches, memorabilia and handwritten notes from the state's first two-term governor.
Riley was known as the "education governor," whose signature achievement, the Education Improvement Act of 1984, used a penny increase in the state's sales tax to fund education reform. He later served as secretary of education for eight years, and in 2009 he was named by Time magazine as one of the "Top 10 Best Cabinet Members" in the 20th century.
Tom McNally, dean of University Libraries, says Carolina has been compiling Riley's collection since the 1990s. He called the 3,000-plus speeches in the collection "golden," since most are heavily annotated in Riley's handwriting, offering a glimpse into his beliefs and his thought process.
"Dick Riley is a man of the people. He's not what we think of as a politician, he's a public servant. He did what he did for the greater good," McNally says. "It's joyful to be around someone who is re-delivering that message. He never did a thing that wasn't about serving the people."
On Monday afternoon, several hundred people — family members, university leaders, friends and colleagues — filled the My Carolina Alumni Center to honor Riley and celebrate his collection opening at Carolina.
University President Harris Pastides says by studying the Riley collection, students and scholars from around the nation will help fulfill the university's responsibility to develop future leaders who will be capable of making thoughtful, reasoned decisions.
"I'm confident that history will judge Gov. Riley's work with great esteem because today, across the board, anywhere you go, Dick Riley is praised as one of the most principled men in public life," Pastides says.
Also speaking at the ceremony was former President Bill Clinton, who has been a friend of Riley's since they were governors. The two were elected in their states on the same day — Nov. 7, 1978 — and the former Arkansas governor long admired Riley's commitment to education.
Clinton chose Riley to be his secretary of education, because "I believed the future of the country depended upon our ability to educate everyone. And I knew that he believed that ability is evenly distributed, but opportunity is not. And that the first step to closing the gap is believing that it can be closed. And so he set to work," Clinton says.
Clinton says Riley's papers reflect a man who had the most important quality of a public servant — he "kept score in the right way."
"In our family, we've always had a saying … nobody guarantees you a win, but you're bound to show up and try. Get caught trying," Clinton says. "Dick Riley got caught trying based on this score card: Will people be better off when I quit than when I started? Will children have a brighter future? Will they bring us together or tear us apart? These papers will show you that when it comes to what he did and how he treated people, the answer to all three questions was and remains a resounding yes."
In Riley's remarks, he quoted South Carolina native, educator and writer Benjamin Mays, who said, "It isn't a calamity to die with dreams unfulfilled, it is a calamity not to dream."
"I hope this collection will inspire others … to pursue meaningful public activities that will continue in a positive way ... to attack issues but not individuals. To really seek success and results and not try to just bring people down. Politics can be a wonderful thing; it can be an unpleasant thing. But I hope they will see in this exhibit that you can be a politician and be into issues and not bringing people down."
---
A sampling of the collection
More than 3,000 speeches, with handwritten notes in the margins
Photographs of Riley with President Jimmy Carter, Ella Fitzgerald, Mother Teresa, Coretta Scott King, Benjamin Mays
Schedules, travel details, administrative files, correspondence, memos and background information for meetings, talking points and speeches from Riley's eight years as secretary of education
Campaign brochures and buttons
Handwritten notes on White House stationary from his first cabinet meeting as education secretary
Cowboy boots, a gift from former Texas Governor Mark White, that Riley vowed to wear until the Education Improvement Act passed
---
---
Share this Story! Let friends in your social network know what you are reading about
---