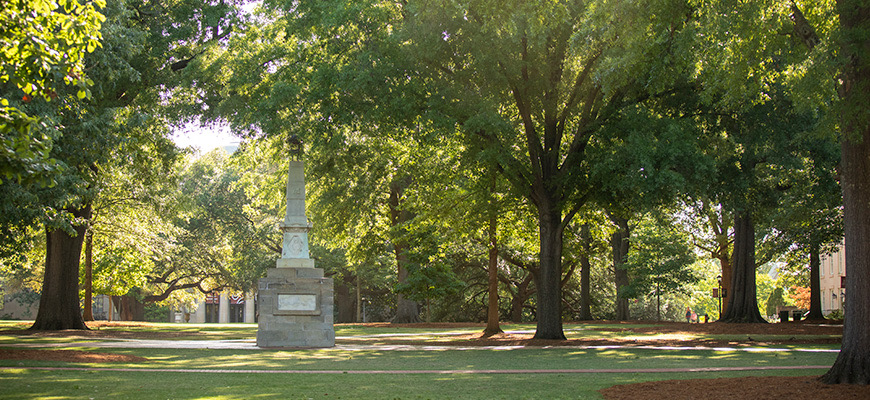 UofSC applications skyrocket; system enrollment grows to new heights
New group of students most diverse, academically talented and homegrown in school history
---
By Jeff Stensland,
stenslan@mailbox.sc.edu
, 803-777-3686
---
As the University of South Carolina welcomes students returning to campuses, it's also greeting a new group of freshmen and transfer students that's among the largest and most diverse in the university's history.
"This is an extraordinary group of students and we're excited to welcome them to campus as part of the Carolina family," says university President Harris Pastides. "This is just the beginning of an academic journey that will equip them with the knowledge and experiences to make a lasting impact on the world."
Pastides cites a growing national reputation for academic excellence, a superior student experience and strategic enrollment management as keys to attracting this year's new students. Although the freshman and new student transfer enrollment numbers are still preliminary, highlights from the Columbia campus include:
Approximately 7,700 new freshmen and transfer students are expected to enroll, including more than 4,350 South Carolinians — more students from the Palmetto State than ever before.

Entering freshman have the highest SAT, ACT and high school grade point in history (1275 SAT, 27.7 ACT, 4.1 WCGPA).

About 568 freshmen are enrolled in the South Carolina Honors College (1491 SAT, 32.9 ACT, 4.7 WCGPA) and an estimated 1,300 freshmen are participating in the Capstone Scholars program (1372 SAT, 30.3 ACT, 4.4 WCGPA).

Applications increased by 19 percent for this year compared with last year.

60 incoming students were valedictorians at their high school.

African-American freshman enrollment is expected to rise at least 15 percent over last year and has increased 43 percent since 2015.

Underrepresented minorities make up 19 percent of the freshman class, and 30 percent of all new students from South Carolina are minorities.

54 percent of the freshman class are women.

Students from 44 states, the District of Columbia and 35 countries are represented in the freshman class, including Estonia, Kyrgyzstan, the Philippines and Senegal.

Including graduate students, overall enrollment is expected to reach nearly 35,000.
"We've had tremendous success in attracting talented students from all over the U.S. and beyond, but we're particularly proud that we're also retaining more outstanding students from right here in South Carolina," says Scott Verzyl, associate vice president for enrollment management and dean of undergraduate admissions. "As our enrollment numbers demonstrate, USC's reputation as a high-impact global university that offers an unparalleled student experience continues to grow every year."
System enrollment
Preliminary data shows overall enrollment also is up at USC's comprehensive universities and two-year campuses with system enrollment expected to approach a record 52,000.

At USC Aiken, USC Beaufort and USC Upstate, enrollment is expected to increase by more than 4 percent over last year, for an expected total of nearly 12,000 students.

Palmetto College campuses (USC Lancaster, USC Salkahatchie, USC Sumter, USC Union) also project an enrollment increase, about 4 percent overall. USC Sumter and USC Union experienced the largest increases this year (about 25 percent and 8 percent respectively). Enrollment on the Palmetto College campuses will approach 5,000 students, with another 1,200 students enrolled in Palmetto College online.
"We're pleased that the USC system is serving more South Carolina residents than ever before. Whether they choose to attend college in the Upstate, the Lowcountry, the Midlands or online, our new students will build upon a rich legacy of which we can all be proud," Pastides says.
---
Share this Story! Let friends in your social network know what you are reading about
---