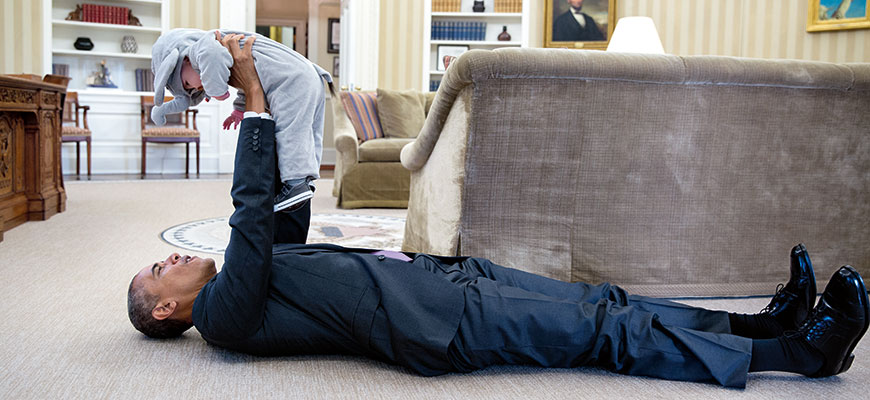 Eyewitness to history
A Q&A with the 2018 Buchheit lecturer, former White House photographer Pete Souza
---
---
Pete Souza, the former chief official White House photographer for President Obama and an official White House photographer for President Reagan, will deliver the Buchheit Family Lecture on Sept. 26 at 7 p.m. Souza will present his lecture "Eyewitness to History: Behind-the-Scenes Photographs from the White House and Beyond" in the W.W. Hootie Johnson Performance Hall in the Darla Moore School of Business.
Souza's book about his time with the Obama administration, "Obama: An Intimate Portrait," is one of the best-selling photography books of all time, and his newest book, "Shade: A Tale of Two Presidents," is out this October.
In addition to the national political scene, Souza has covered stories around the world. His photographs have also been published in international magazines and newspapers, including on the covers of Life, Fortune, Newsweek and U.S. News & World Report. We caught up with him to talk about photojournalism and his experience as a White House photographer.
Q: What advice would you have for a student aspiring to become a photojournalist?
My advice is to make pictures every day. Learn the technical basics of whatever camera you're using. Then assign yourself to similar events or stories that a photojournalist would cover. Finally have someone who will critique your work — a professional, not your friend or roommate.
Q: Is there one photograph that sums up the Obama presidency?
I will point people to my body of work throughout the eight years of his administration rather than choose a single image.
Q: Can you describe the similarities and differences of working under two presidential administrations?
I joined the Reagan administration during the middle of his first term. I didn't know President Reagan at all coming into the job. Thus it took a while for me to achieve the kind of access necessary to make important photographs. I had known Barack Obama for four years before he became president, having spent a lot of time with him covering his years in the U.S. Senate for the Chicago Tribune. So he knew me and knew how I worked. He understood the value of giving me total access during his presidency.
Q: Did your photography change from pre-social media days vs. after the rise of social media?
There was no difference in the types of photographs I was making because of social media. The difference is that many people were more familiar with my Obama pictures than my Reagan pictures because of social media.
Q: When you were working at the White House, what did a typical day look like for you?
There was no typical day. I'd arrive every morning and tag along with President Obama all day until he went home for dinner. Some days a lot was going on, other days not. Some days we were traveling, other days not. Some nights he would have events or meetings, other nights not. I also covered some family activities after hours or on weekends.
Q: From broadcast to print, technology is changing the art of journalistic storytelling. What's in store for photojournalism?
I wish I knew. It's very concerning to me that we have a president who calls the press "the enemy of the people." The first amendment's "freedom of the press" is one of the bedrocks of our democracy. It's very dangerous to try to discredit journalists, including photojournalists.
---
Share this Story! Let friends in your social network know what you are reading about
---