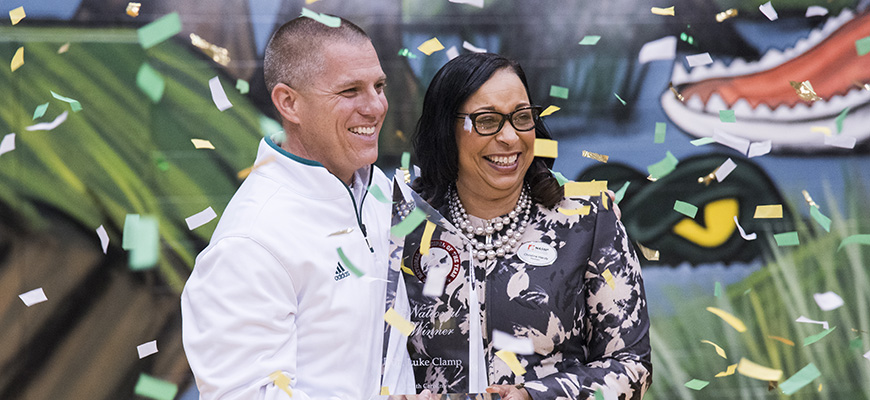 Alumnus Lucas Clamp wins National Principal of the Year
College of Education alumni named back-to-back national award winners
---
By Kathryn McPhail,
mcphailk@cec.sc.edu
---
For the second year in a row, a University of South Carolina education alumnus has been named National Principal of the Year by the National Association of Secondary School Principals. Lucas Clamp, who earned three degrees from the College of Education, is principal of River Bluff High School in Lexington, South Carolina.
On Oct. 25, a shocked Clamp accepted the award in front of a boisterous crowd at the school that included Gov. Henry McMaster, state education superintendent Molly Spearman, lawmakers, the S.C. Association of School Administrators, area principals, community leaders and nearly 2,000 students and faculty members.
"South Carolina is blessed with tremendous school leaders and we could not be more proud that Dr. Luke Clamp will represent our state and nation as the 2019 National Principal of the Year," says State Superintendent of Education Molly Spearman. "Dr. Clamp has set a climate at River Bluff that supports teachers and fosters student learning. There is no one more deserving of this honor."
The award, which recognizes an outstanding high school principal who has made exemplary contributions to the profession and to students' learning, was announced as part of the 2018 celebration of National Principals Month. Last Year, Chapin High School principal and College of Education alumnus, Akil Ross, earned the award, while Carolina alumna and Pelion High School assistant principal, Erica Page, was named National Assistant Principal of the Year.
Getting to come to work every day is truly a blessing, and I know I'm doing exactly what God called me to do.

Lucas Clamp, three-time UofSC graduate and 2019 National Principal of the Year
"South Carolina is extremely proud to have back-to-back national winners!" says Beth Phibbs, executive director of the South Carolina Association of School Administrators, which first identified Clamp as 2018 state principal of the year.
In 2011, Clamp was named the founding principal of River Bluff High School where he designed an innovative high school experience. He placed a focus on hands-on learning, leading River Bluff to become the first South Carolina school to adopt the project-based learning model.
"Getting to come to work every day is truly a blessing, and I know I'm doing exactly what God called me to do," Clamp says. "It has been an absolute dream to be a part of leading a school like River Bluff. Being a part of the educational community in South Carolina is truly honoring. We have the best leaders in the country right here in South Carolina, some of whom I've had the honor of working with and knowing. I don't know why I would ever want to leave something that is so special."
The culture that Clamp has fostered at River Bluff stems from his desire to connect with each person, developing their skills and talents, and believing their individual and collective contribution to a local and global community will change the world.
"I believe this generation of students has the potential to take our world into areas and sectors that we could not even dream about. That becomes their legacy - the desire to see our world improve and to do so with caring a heart and spirit and a strong work ethic," Clamp says.
According to a news release from Lexington 1, the panel of judges was particularly impressed with Clamp's focus on student connections as a catalyst for confidently leading their own education. River Bluff students meet weekly in small groups called a CREW (Creating Relationships, Exploring Within) that focus on academic drive, character development and establishing shared understandings. The CREW experience helps students build confidence in a safe environment that allows them to learn, reflect and identify their own quality work.
"Dr. Clamp is a true champion for all children," says Lexington 1 superintendent Gregory Little. "I am thrilled that the hard work, dedication, and commitment he demonstrates on a daily basis is being recognized by such a prestigious award."
With a commitment to closing the achievement gap, Clamp prompted teachers to provide differentiated learning experiences to black students in particular and over three years, scores rose from 42.9 percent to 68.6 percent in English and from 65.8 percent to 87.9 percent in math.
"Luke is a champion for community building and for groups that are often disenfranchised--which can be a challenge for principals serving communities with wide economic diversity," says Annette E. Wallace, Assistant Superintendent of Worcester County (MD) Board of Education, who served as a judge. "His strategy for creating a robust culture and welcoming community while building River Bluff High School was visionary. Luke will be a passionate voice for principals in the coming year."
Prior to joining Lexington County as an assistant principal in 2006, Clamp taught chemistry and environmental science and coached football and baseball at Irmo High School in Irmo, South Carolina. Later as the Dean of Studies for Smaller Learning Communities, he developed curriculum for incoming freshmen, a peer mentoring program and center. Clamp earned a master's degree, educational specialist degree in educational administration and doctorate in curriculum and instruction from the College of Education.
"This is a great opportunity to honor and lift public education in South Carolina," Clamp says. "I believe we must give young people the idea that being an educator is being a change agent. Being a teacher transforms the world, and if they get a chance to do that every day — to work with amazing students — it can truly be an opportunity to propel them to an amazing future."
---
Share this Story! Let friends in your social network know what you are reading about
---