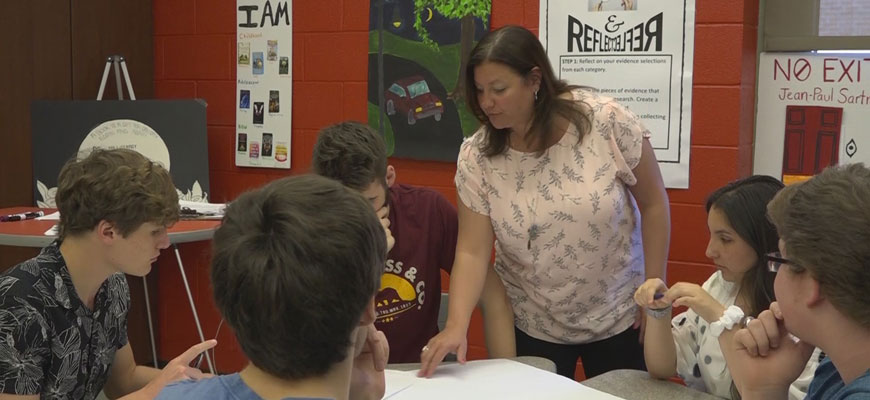 UofSC alumna named SC teacher of the year
---
By Megan Sexton,
msexton@mailbox.sc.edu
, 803-777-1421
---
Sarah Schumacher Gams, the 2021 South Carolina teacher of the year, was born to be an educator. Her father taught elementary and middle school math and social studies. Her mother taught high school English and Teacher Cadet and was a S.C. Honor Roll teacher in 2003.
From kindergarten through 12th grade in the Chesterfield, South Carolina, public schools, there was just one year when Gams attended a school without one of her parents.
"I thought education was a magical profession," says Gams, an English teacher at Lexington-Richland School District 5's Spring Hill High School and a University of South Carolina alumna. "Both of my parents were dedicated and passionate about what they did. Our conversations at dinner were never negative; they were always about things like what a lesson should look like. My father (William Schumacher) would make math games, and I would help him. There was always something interesting they were doing, and they loved it. That's the perception I had of education. That's the atmosphere I grew up in."
Gams, too, always loved school, whether it was completing research projects, lettering in golf and basketball or serving as editor of the high school yearbook.
"I loved reading and writing. It's always been my favorite thing in the whole word to get lost in a great book or to create stories from my own imagination," she says. "There's such a freedom in writing and in articulating thoughts and dreams and fears and wishes."
She followed in her mother Rose Etta (Rayfield) Schumacher's footsteps by attending the University of South Carolina, where Gams was a member of the South Carolina Honors College. She majored in English in the College of Arts and Sciences, and thought about attending law school, until she fell in love with her education classes. She graduated in 2002 and went on to earn her Master of Arts in Teaching in Secondary Education from UofSC in 2003. She has spent the past 17 years teaching in Lexington-Richland District 5 middle and high schools.
In her English classes at Spring Hill, a public magnet high school, Gams works hard to educate and inspire students — and infuses a little joy into the classroom.
"I tell my student teachers, 'If you're not having fun, you're doing it wrong.' If I'm not loving what I'm doing, I guarantee you the students aren't loving it. Certainly, not every moment is fun, but when you are planning your lesson, think about joy and fun. Give your students an experience and opportunities. It has to be about the students in front of you in the moment. You have to learn to read the room, see the energy, figure out what works."
For Gams, the best lessons in any classes are those where she decides to "design curriculum, set parameters, then let go of control and tell students to bring their passions to the project. I take credit for the lesson plan, but what happens after that is all my students."
To me, studying education was creative, challenging, intellectually stimulating, engaging and purposeful.

Sarah Gams, UofSC alumna and S.C. teacher of the year
For example, while teaching about romanticism and transcendentalism in English 3, she asks her students to take the tenets of those philosophies and bring them forward to today, focusing on something they love to do. The assignment has resulted in the creation of art pieces, dances, little free libraries and new musical instruments. There always is a deep research piece to the project, and the work is presented to an audience, meeting all the required standards and objectives of the English curriculum.
"The key to great lessons isn't just the content you're teaching; it's that you provide an authentic audience, you have a genuine purpose, you have a product, and it's all meaningful for the student," she says.
Gams credits the College of Education for preparing her for a teaching career. She admits that new teachers are never fully prepared to walk into a classroom and juggle classroom management, curriculum planning and grading. But she says UofSC gets students ready to take that step.
"To me, studying education was creative, challenging, intellectually stimulating, engaging and purposeful. The program is so thorough at USC. And it's so difficult, in the best of ways. I was prepared for teaching to be hard. But I was armed with the work ethic and the heart for it. It's a challenge to get students prepared for the workload and do it without crushing students' spirit. That balance is there at USC," she says. "Every person I've met from USC has been ready to tackle the challenge. They're not shocked. They're prepared to work hard. That's what the MAT program did for me."
She also praised the university's program to improve teacher retention by keeping in touch with new graduates early in their teaching careers.
College of Education dean Jon Pedersen says UofSC works hard to provide students with the tools and confidence to lead classrooms around the state and nation.
"Here in the College of Education we take pride in our alumni and continue to strive to provide the best quality experiences and teacher education in the nation, which is essential for the well-being of our children in our state, region and nation," Pedersen says. "Through our extensive Professional Development School network to our three-year post-graduation new teacher induction program, we continue to build excellence. Without our extremely talented faculty and staff and high-quality students — such as Sarah — none of this could happen."
---
Share this Story! Let friends in your social network know what you are reading about
---