Support system
Graduate student finds a home at nonprofit that works with individuals with disabilities
---
By Alyssa Yancey,
alyssa.yancey@uscmed.sc.edu
, 4073122636
---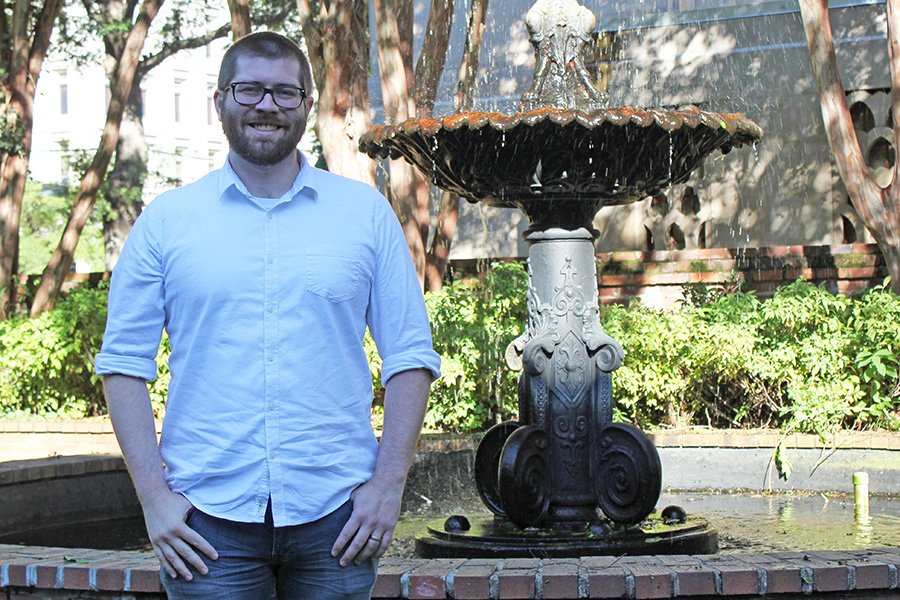 As a youth transition specialist for Able South Carolina, a disability nonprofit that provides an array of independent-living services, University of South Carolina graduate student Michael Hanna draws from his own experiences growing up with ADHD.
The second-year master's in rehabilitation counseling student says he didn't understand why he seemed to think and act differently than his peers. He finally got answers when he was diagnosed with attention-deficit/hyperactivity disorder (ADHD) at age 17. However, it wasn't until he started pursuing a psychology degree at Presbyterian College that he learned he qualified for classroom accommodations and an individualized 504 Plan.
"When I got to college, one of my friends got extra time on a test. I'd never heard of anything like that before. I was trying to figure out why it was fair, and he talked through it and explained to me the reasons he was getting those accommodations," Hanna says. "I talked to my doctor and got appropriate accommodations approved. Once I started getting those supports, I felt like a lot of the barriers I had been facing started to go away."
The impact of getting a proper diagnosis and the needed supports has continued to influence Hanna's education and career decisions. After graduating, he worked as a clinical counselor with the goal of gaining practical experience and eventually pursing a graduate degree. A co-worker mentioned the master's in rehabilitation counseling program at the University of South Carolina School of Medicine and suggested Hanna meet with the faculty.
"I hadn't heard of rehab counseling in undergrad. I had only heard of what you traditionally think of for a therapist or a counselor, going into counseling or psychology programs, possibly going and getting a Ph.D.," Hanna says.
After meeting with the rehabilitation counseling faculty and staff, Hanna felt the program was the perfect fit.
"We still focus on counseling skills, that's definitely a huge part of the program, but we also take into account the entire person, which is something that I really like," says Hanna. "So, it's not just psychiatric disabilities that we work with, we work with all disabilities and how they affect an individual's life, and I think that lends itself really well to what I do with Able South Carolina."
In his role as youth transition specialist with Able South Carolina, Hanna works with young people with disabilities both individually and in a classroom setting. His focus is on teaching transition skills, such as finances, independent living, self-advocacy, employment skills and education skills. Hanna currently work with over 100 students at six different schools in four school districts and one college across the state.
"I really, really love what I'm doing now. I work with people individually, so I have an individual caseload that I meet with to work on independent living and employment skills. I also have resources I can refer people to, and most of those are free. We never turn people away," says Hanna.
Hanna, who is set to graduate in 2020, says the program, which accommodates professionals by offering evening classes and distance learning options, has already been very beneficial to his career.
"Most people are capable of pretty much anything as long as they have the right supports. I'm a big believer of that. So a lot of what I do now lends itself more to what rehabilitation counselors can bring to the table," says Hanna. "I can work with people with psychiatric disabilities, but I can also work with people who have disabilities across the board."
Beyond the increased knowledge of different disabilities and available supports, Hanna says his time in the rehabilitation counseling program has also improved his communication and listening skills and helped him develop a strong network of peers.
"The rehabilitation counseling program prepares you to be a support in other people's lives in so many different ways," says Hanna. "There are so many ways that I can graduate from our program and I can go out into the world and support individuals who need that support."
---
Share this Story! Let friends in your social network know what you are reading about
---