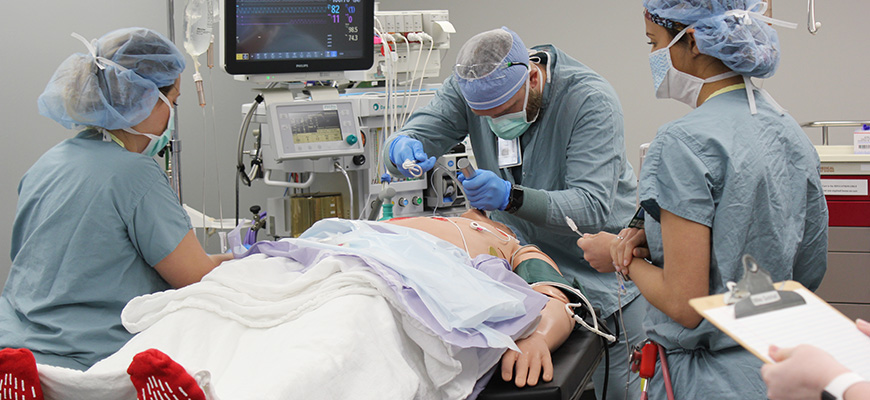 High-tech center helps students prepare for patient care
Simulation center provides learning environment for health care students, providers
---
By Alyssa Yancey,
alyssa.yancey@uscmed.sc.edu
, 803-216-3302
---
A nurse anesthetist begins administering a combination of medications to sedate a patient for a routine procedure, when suddenly the patient's vital signs crash. The team in the operating room realizes the patient has a previously undiagnosed allergy to a medication and quickly moves to stabilize him.
This is the type of stressful scenario nurse anesthesia, physician assistant and medical students at the University of South Carolina School of Medicine Columbia are able to practice using high-tech "simulated humans" within the Simulation and Interactive Learning Center. This provides a unique opportunity for medical and advanced practitioner students to apply what they have learned in the classroom, all with the goal of further strengthening patient care.
The facility, which opened earlier this fall, was developed in partnership with the Columbia VA Health Care System. It is located at the School of Medicine campus, adjacent to the VA Medical Center, making it easily accessible for all health care learners at both the School of Medicine and the VA.
"The Simulation Center is a high-stress, nonpunitive environment. We want the students and health care providers to make mistakes here and learn from them so they won't make the same mistakes when they treat real patients," says Kevin Thomas, Simulation and Interactive Learning Center technician.
This facility is going to help the school and the VA continue our missions of providing the best patient care to South Carolina and beyond.

Frank Spinale, M.D., Ph.D, School of Medicine associate dean for research and graduate education
The 6,355-foot facility features nearly $1 million of training equipment, including four advanced mannequins that can talk, cry and sweat, three mannequins designed to teach advanced cardiac life support, and more than 50 additional training tools. The center even includes a realistic operating room, modeled after those in which the students will be practicing.
"The center is especially valuable to the nurse anesthesia program because it contains a dedicated operating room outfitted with an advanced simulator, whose circulatory and respiratory responses to volatile agents and cardiovascular drugs mimic those the students will experience in the clinical setting throughout their professional careers," says Catherine Gutshall, assistant director of the graduate program in nurse anesthesia.
"The practicing nurse anesthetist must be able to respond quickly and appropriately during emergencies. This simulator allows the program to provide training in the proper response to these critical events and in the development of teamwork skills needed during these stressful situations."
The multidisciplinary learning environment incorporates medical simulation teaching and interactive medical laboratory experiences, and will be available to all health care learners, staff and faculty at the Columbia VA Health Care System and the School of Medicine.
"The School of Medicine has had a longstanding partnership with the Columbia VA Health Care System, and we are proud to further strengthen that relationship through the creation of the Simulation and Interactive Learning Center," says Frank Spinale, associate dean for research and graduate education. "This facility is going to help the school and the VA continue our missions of providing the best patient care to South Carolina and beyond."
---
Share this Story! Let friends in your social network know what you are reading about
---