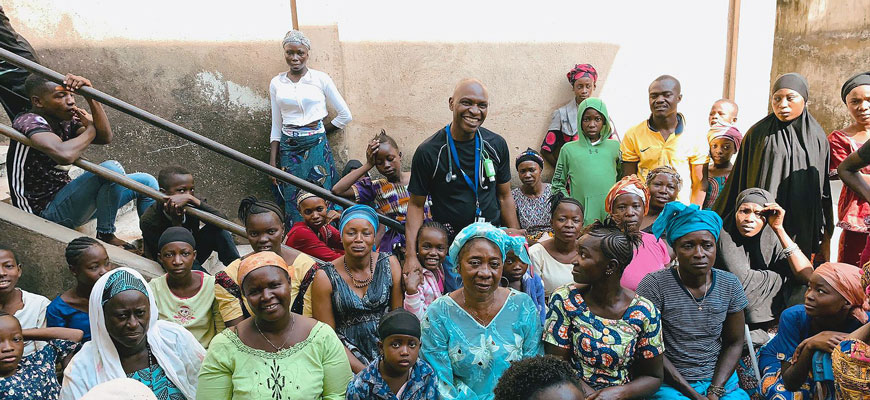 Committed to service
Nursing professor combating sickle cell disease in Sierra Leone
---
By Laura Kammerer,
laurakam@mailbox.sc.edu
, 803-777-4731
---
At the height of the Ebola epidemic in 2014, Cheedy Jaja traded the relative comforts of American health care practice for Tyvek bodysuits and chlorine baths in Port Loko, Sierra Leone.
Behind a steamy face mask and shield, he bore witness to the virus's ravaging effects on his homeland — from the patients who would strip and lie on the cold concrete to find relief from their fever to the blank stares that signaled death was near followed by the wails of newly orphaned children.
Now Jaja, a Fulbright Scholar and associate professor at the University of South Carolina's College of Nursing, is again answering the call to improve health care in Sierra Leone.
His new mission: to bolster the early diagnosis and treatment of sickle cell disease in children.
The path toward home
Jaja says he took the scenic route to a health care career. After working for 10 years as a tenured philosophy professor, he became interested in bioethics, which led him to pursue graduate degrees in science and nursing.
Jaja, a board-certified psychiatry and mental health nurse practitioner, had not worked in Sierra Leone until the Ebola crisis but felt called to use his clinical skills to help his country of birth.
"Sickle cell disease is a major cause of infant mortality in Sierra Leone, and it doesn't have to be so. We can be in a position to offer children the opportunity to live a full and productive life."

Cheedy Jaja, College of Nursing associate professor
And through relationships he formed during the relief effort, he learned of new opportunities to advance Sierra Leone's health care system.
While helping to establish an orphanage for children left parentless by the outbreak, he was asked by the Sickle Cell Carers Awareness Network, a patient advocacy group, to assist with providing care and treatment for 2,000 symptomatic patients who had nowhere to turn for a definitive diagnosis and disease management. Jaja accepted the challenge; he had experienced firsthand sickle cell's devastating effects, losing childhood friends and a nephew at age 2 to the disease.
"I have always been motivated by the ability to be of service," he says. "I know that sickle cell disease is a major cause of infant mortality in Sierra Leone, and it doesn't have to be so. We can be in a position to offer children the opportunity to live a full and productive life."
Although newborn sickle cell testing is routine in the United States — about 2,000 babies are diagnosed annually — it is rare in Sierra Leone. As a result, 60 percent to 90 percent of children born with sickle cell disease die by age 5, having never been diagnosed. However, with inexpensive treatment (vaccinations, penicillin and folic acid), parent education and monitoring, a significant percentage of children born with the disease can live into late adulthood, Jaja says.
Building on that first request to intervene four years ago, Jaja worked with the Sickle Cell Carers Awareness Network to create the Sierra Leone's first sickle cell registry, which currently tracks about 2,500 patients. In addition, he launched the country's first dedicated sickle cell clinic through a pilot program that provides free comprehensive care to 120 pediatric patients. These projects are supported in part by the College of Nursing.
A comprehensive approach
Jaja, an alumnus of the Substance Abuse and Mental Health Services Administration's Minority Health Fellowship program, is now implementing the three-prong intervention he outlined in his Fulbright award application:
Training: Jaja designed a curriculum to train doctors and nurses to identify and manage children with sickle cell disease.
Screening: Based on a successful two-month screening pilot program conducted in 2017, Jaja is partnering with four major government hospitals with maternity units (covering four of the country's 12 regions) to establish newborn sickle cell screening as the standard of care. He is also educating communities about sickle cell disease to boost support for screening and combat falsehoods, such as the notion that the disease stems from involvement in witchcraft.
Awareness: Jaja is working with political leaders to pass a bill recognizing sickle cell disease as a major public health problem (akin to HIV and malaria) to increase government funds for disease management. In addition, with support from College of Nursing dean Jeannette Andrews and Global Carolina, he is working to identify global health education initiatives and research partnership opportunities for College of Nursing faculty as well as clinical opportunities for students in Sierra Leone.
"The College of Nursing is committed to improving health locally and globally," Andrews says. "Dr. Jaja is an exceptional scholar who brings opportunities for students, faculty and colleagues to collaborate abroad with his impactful research agenda."
---
Share this Story! Let friends in your social network know what you are reading about
---