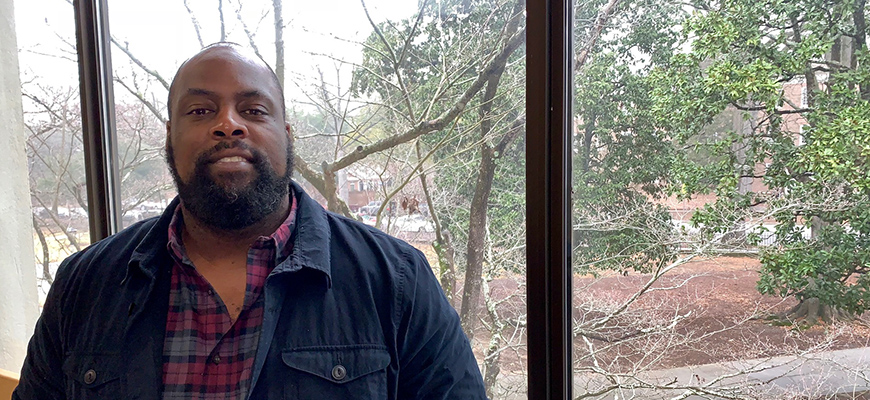 Life after the 4th quarter
Former Gamecocks football standout Preston Thorne to lead Athletes to Educator program
---
By Kathryn McPhail,
mcphailk@mailbox.sc.edu
, 803-777-8841
---
A former Gamecocks football standout is back on campus, but now he's tackling the teacher shortage rather than opponents. Preston Thorne has earned a lot of titles since graduating from the University of South Carolina 15 years ago — history teacher, high school football coach and children's book author. Last fall, Thorne added the title of student success coach to his resume when he joined the staff of the College of Education.
"I met Dean Pedersen at a football game when I was promoting "Just a Chicken," a book I co-wrote with my former teammate Langston Moore. We talked about my passion for education and how I love to visit schools and speak to students about the importance of literacy," Thorne says. "Dean Pedersen said maybe there was a way I could continue promoting literacy while also working on behalf of the college to encourage students to consider the teaching profession."
Fast forward a year and half, and Thorne is doing just that as a member of the college's Office of Diversity, Equity and Inclusion.
Teaching and coaching are very gratifying, and I want our Gamecock student-athletes to hear about the pros of teaching.

Preston Thorne, UofSC alumnus, educator, author and student success coach
"One of our goals is to increase the number of minority applicants to the college," Thorne says. "I had only two African-American teachers throughout my 12 years of public school — and no black male teachers. I want to change that narrative. Seeing yourself represented among your teachers is critical for children. It gives them confidence that they, too, can achieve academic success and become educators if they choose."
Thorne visits schools to encourage students to pursue the teaching profession and also serves as an adviser and self-proclaimed cheerleader to current UofSC education students who are part of the new Apple Core Initiative.
The Apple Core Initiative is aimed at recruiting South Carolina high school students from historically underrepresented backgrounds into teacher education programs. The pilot program offers $3,000 annual scholarships to students who live in the same residence hall and participate in regular workshops aimed at easing their transition into college life. It's created a sense of community and provided the support that helps students overcome any issues that may stand in the way of their success.
"Working with our ACI students, I've come to realize that academically, they are excelling. But many are having a tough time transitioning socially to college life. As an athlete, I had a built-in friends group when I arrived at Carolina, but many students do not. Feeling out of place can take a toll, so I encourage our students to get involved on campus with something that interests them, which tends to lead to them meeting people who share those same interests and values," Thorne says.
Making sure education students find success is just part of Thorne's new job. He also is working to develop a program called Athletes to Educators.
"A lot of college athletes choose to coach after graduation but since most didn't major in education, they aren't licensed teachers. This often limits them to only being assistant coaches, since most schools require head coaches to teach as licensed educators. Assistant coaches don't earn as much either," he says.
The College of Education is collaborating with Gamecocks Athletics to smooth the pathway for student-athletes who are considering education as a major.
"Scheduling is always tough for student-athletes since they practice and travel for games so much. And of course, education requires many hours of student-teaching in the classroom. So, we must find a way to overcome those scheduling obstacles," says Thorne, who completed his practicum teaching the spring semester after his last football season.
In addition to working with athletics advisers to map out scheduling, Thorne also is meeting with athletes in all sports to make them aware of various program in the college.
"Right now, we really just want athletes to consider education as a great career choice," Thorne says. "There are so many misconceptions about this profession — low pay being at the top. But as a high school teacher and coach, I was able to enjoy a good lifestyle — buy a house, support a family, enjoy my summers off. Plus, I loved working with the students and helping them reach their goals. Teaching and coaching are very gratifying, and I want our Gamecock student-athletes to hear about the pros of teaching."
Thorne says the characteristics of a stellar athlete or coach — perseverance, grit, mental strength and a drive to work hard — are at the core of being an excellent teacher as well. And his job now is to help Gamecock athletes find their purpose after the last buzzer sounds.
---
Share this Story! Let friends in your social network know what you are reading about
---