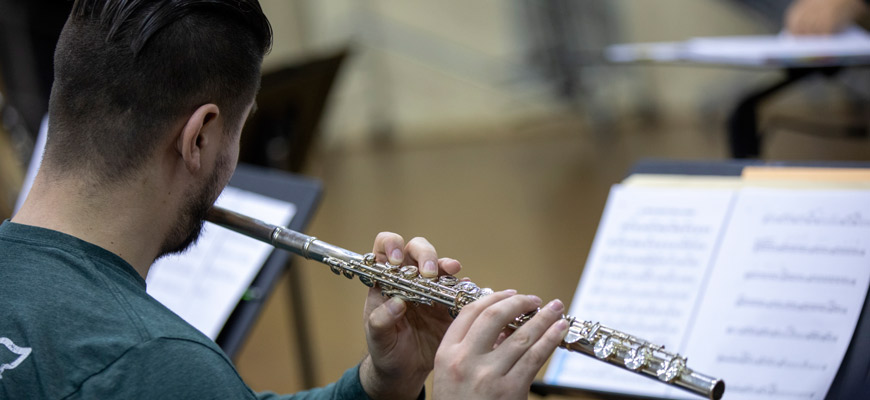 'Red Hot Sun Turning Over'
New musical composition takes aim at history of Confederate monuments
---
By Megan Sexton,
msexton@mailbox.sc.edu
, 803-777-1421
---
When he applied for a provost grant in creative and performing arts, David Garner planned to use his skills as a composer to create a concert-length piece for a wind ensemble.
The assistant professor of composition and theory in the School of Music had written music that took existing tunes or melodies and combined them into classical arrangements before. But this time felt he needed to go beneath that surface engagement. "A tune is not just a tune; it represents so much more. The smallest little piece of music can have such a huge history," Garner says. "So, I wanted to figure out a way to engage in that more directly."
Garner was awarded the provost grant and started to envision a large-scale project that encompasses Southern history, Southern music and Southern themes.
Then Charlottesville happened.
"So much of my news consumption for weeks was about monuments and Southern heritage and the Confederate flag. All of these things are part of life in the South and part of debates. Charlottesville, for me, is what really sparked more interest and curiosity," he says, referring to the violent rally in August 2017 staged by white supremacists and neo-Nazis who opposed the removal of a statue of Robert E. Lee from a park.
Garner is an Atlanta native who also has lived in Texas, North Carolina and South Carolina. His father's family roots go back generations in eastern North Carolina. Garner's middle name, Kirkland, is shared by his son, two cousins, great uncle, father, grandfather and great grandfather. Family lore holds that the name comes from a Confederate general his great-great grandfather served under on the North Carolina coast.
"After Charlottesville, I had this loop in my head thinking about my middle name as a Confederate monument in some way," Garner says. "Those two things combined when I was figuring out what to do with this project."
The result is Red Hot Sun Turning Over, an 80-minute multimedia piece with archival sound and film. He describes the piece as using music, sounds and images from the Civil War era and the early 20th century to erect monuments, tear them down, write and re-write histories, expose the complex web of Southern myths, and confront the nostalgia and pain surrounding Confederate monuments in the South.
It will be premiered at 4 p.m. Sunday (March 31) at the Koger Center for the Arts. The concert will be performed by the University of South Carolina Wind Ensemble led by conductor Scott Weiss with mezzo-soprano Rachel Calloway, and features video clips from the University Libraries Moving Image Research Collection. It is free and open to the public.
Before he started writing any of the music for the piece, Garner says he spent a long period reading about the Civil War and its aftermath, listening to Civil War podcasts, exploring the history of racism and whiteness, and thinking about monuments, many of which were erected decades after the end of the war. He also started collecting potential source material — fragments, tunes, melodies, songs, text, images and films that he could potentially use in his piece.
Then he started figuring out how to structure the piece.
"I have specific views on monuments and Confederate history, that they should come down or be heavily contextualized, but I didn't want the art to say that explicitly. I want individuals to think more deeply. That was a big challenge. How do I comment on it without explicitly showing my cards?"
So, he ended up with a structure with four kinds of movements, which he calls monuments, pedestals, interludes and arias. On stage, the wind ensemble and conductor will be placed at the center, with a woodwind quintet on one side and the singer on the other. Screens will show the film component of the piece.
"The South has so many monuments — whether those are large stone structures or a dish in a restaurant or a banjo tune — things that operate on two sometimes contradictory levels at the same time, depending on who is looking at it."
Garner hopes the piece, along with a detailed website where he offers insights into the history and complexity of Southern monuments, will inspire the audience to further investigate the topic of Confederate monuments and reach informed opinions.
"There are lots of different layers to what's going on. On the surface layer, people can just listen to the music, and I hope that's a nice experience. Then I hope they think a little more deeply about what it signifies," Garner says. "My goal with having the website is that one can go to the next level and dig into these influences. There's so much history and complexity in each one of these ingredients. It's a commentary on the richness, the complexity and the layered history that we have in the South."
Conductor Scott Weiss says Garner approached him awhile back, saying he wanted to write a concert-length piece for the wind ensemble. "It's always an interesting thing. He spent years writing this piece, and we spend weeks uncovering it and discovering it," Weiss says. "Oftentimes, the first time you open it and take a look, you think, 'What is this? What's going on?' Then the piece starts to come together and emerges out of that process."
Josh Stine, a senior at the School of Music who plays the flute in the wind ensemble, says he welcomed the chance to premiere a composition — original music that can't be influenced by an earlier performance.
"The biggest challenge is figuring out what the composer wants, but since he's here and he's on faculty, we can hear from him. That's really great," Stine says.
Stine says listening to Garner explain what he was trying to do with the piece helped him better understand the history and the music.
"When we first got the music, I admit I said, 'Oh gosh, what is this?' Then, as we rehearsed and (Garner) came in and gave us what it's all about, it's pretty amazing what it does to you as a performer," Stine says. "I think the ensemble has changed completely ever since we've gotten the message of what it's supposed to portray."
---
Share this Story! Let friends in your social network know what you are reading about
---