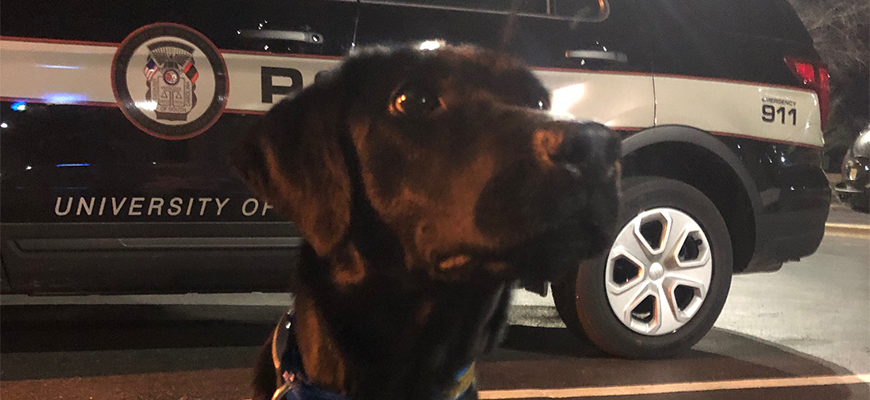 New K-9 unit arrives at UofSC
Law Enforcement brings on two Labs to help with safety
---
By Koby Padgett,
kpadgett@sc.edu
, (803) 576-6701
---
The University of South Carolina's Division of Law Enforcement and Safety has enlisted two new K-9s to help keep university events safe for visitors and the campus community.
The unit keeps South Carolina on the cutting edge of safety and consists of two female 1-year-old Labrador retrievers named "Poppy" and "Sherri," specially bred and trained to sniff out explosives and firearms. Known as "vapor wake" dogs, these animals receive intensive training to help detect and track down scents even in high-flow pedestrian areas. They will be used mainly at large campus gatherings, such as sporting events.
"Keeping our campus safe is our top priority and we're always seeking new ways to stay ahead of potential threats," says Chris Wuchenich, associate vice president for Law Enforcement and Safety and chief of police. "The addition of these incredible dogs to our team expands our capabilities to detect and deter dangerous situations before they occur."
"Poppy" and "Sherri" are paired with experienced officers who were trained for handling the dogs. The Labs are certified annually and will spend several years in the field. South Carolina joins a number of other Southeastern Conference universities that have added K-9 units over the past few years.
---
Share this Story! Let friends in your social network know what you are reading about
---