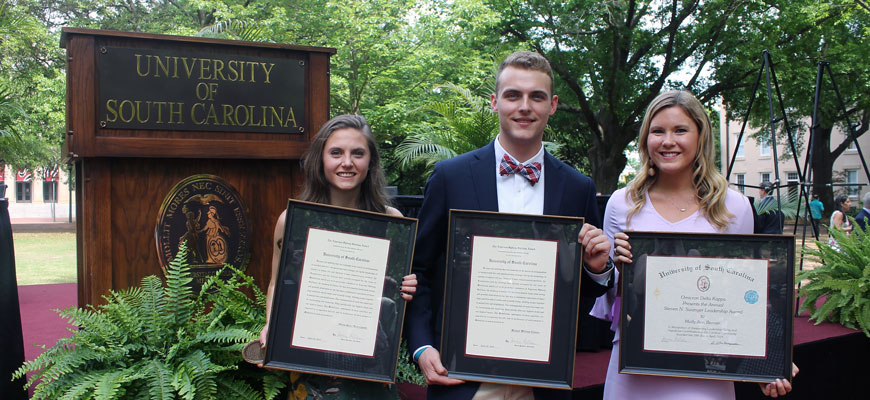 UofSC honors top students at Awards Day
---
By Page Ivey,
pivey@mailbox.sc.edu
, 803-777-3085
---
The University of South Carolina presented its top student honors, the Algernon Sydney Sullivan and Steven N. Swanger awards, to three graduating seniors during the university's annual Awards Day ceremony Thursday on the historic Horseshoe.
Michael William Clinton and Olivia Grace Reszczynski received the Sullivan awards, the university's highest honor for undergraduates. Sullivan awards are given each year for outstanding achievements, campus leadership, exemplary character and service to the community. The award is named for the 19th-century New York lawyer and philanthropist.
Molly Ann Beman received the Steven N. Swanger leadership award, the university's second-highest undergraduate honor. The award is named for a former president of Omicron Delta Kappa (ODK), which sponsors the university's Awards Day. It is given to graduating seniors for exemplary leadership and for making significant contributions to the Carolina community.
Molly Ann Beman, Swanger Award
Molly Ann Beman of Raleigh, North Carolina, says she fell in love with South Carolina when she toured the campus in spring 2015.
The public health major with minors in business, psychology and leadership studies is in the Honors College and will graduate in May with leadership distinction in professional and civic engagement.
An excellent student who has made the dean's list every semester at UofSC, Beman also has conducted undergraduate research on childhood obesity in South Carolina and the impact of adverse hearing conditions on cognitive and temporal development, winning Magellan and Exploration Research grants along the way.
She is a member of Delta Zeta sorority, where she has won awards and scholarships. Beman has served as a peer leader, a university ambassador, a presidential ambassador and vice president for Omicron Delta Kappa Leadership Society. She also has worked with Pillars for Carolina and USC Dance Marathon as well as Panhellenic Recruitment.
"Mentors have poured into me, helped me to develop new skills, and exemplified what it truly means to be a Carolinian," she says. "As much as I have gained satisfaction from serving as a leader in various capacities, I have found the most joy and fulfillment through mentoring and watching others grow, develop and transform into more confident, effective leaders.
"I strive to lead with integrity and enthusiasm while empowering others to do the same. I may not be the loudest voice in a room, but I am one of the most encouraging, caring, and hardworking voices."
Michael William Clinton, Sullivan Award
Michael William Clinton described his high school career as "subpar" and thought he would try the military instead of college. After discussing with his parents, he chose the Army Reserves and started at Midlands Technical College in Columbia.
A stellar year there led to his enrolling in UofSC, where he has maintained a 4.0 GPA while majoring in biology.
In the Reserves, he has received medical training and serves as a combat medic. He received the Healthcare Specialist Course Colonel Brian D. Allgood Distinguished Honor Graduate Award and the Army Achievement Medal, which is awarded for scholarship as a medic. He also received the 232nd Medical Battalion Coin for leadership.
The Columbia native also has won awards for undergraduate research and has worked in plant molecular biology and plant biochemistry labs. He is a member of the Alpha Epsilon Delta Pre-Medical Honor Society and plans to become a doctor after graduation.
"Since transferring to the University of South Carolina, my dedication to academics has remained resolute. Here, my zeal found a second home in the field of biochemical research, where I will be published as a co-author in a peer-reviewed educational journal," Clinton says. "With graduation approaching, I look forward to the prospect of medical school and a future devoted to healing the wounded; a passion my military service has revealed.
"I hope my success can inspire those who feel unfit for education to persevere and give themselves another chance."
Olivia Grace Reszczynski, Sullivan Award
Olivia Grace Reszczynski is majoring in biochemistry and economics and volunteers her time in and around the Columbia area to help those battling cancer and food insecurity.
From Philadelphia, Tennessee, Reszczynski has been a writer and editor for The Daily Gamecock and the Garnet and Black student magazine. She has served as president of the American Society for Biochemistry and Molecular Biology and the Clariosophic Literary Society. She also was a founder and editor-in-chief of Carolina CrossTalk, a research magazine featuring students' personal stories of establishing or conducting research projects across all disciplines. She has participated in undergraduate research in the Integrative Muscle Biology Lab and in health economics research. She is a member of Phi Beta Kappa and won Best Undergraduate Oral Presentation at the Southeastern Medical Scientist Symposium in 2016 and at Discover USC in 2017.
Her community service includes volunteering in the oncology department at Prisma Baptist Hospital in Columbia and the Royal Hospital in Ho, Ghana and as a policy analyst with the American Cancer Society Cancer Action Network. Reszczynski has served as a mayor's fellow and is a student liaison with the Columbia Food Policy Committee. She also created a Columbia branch of Food Rescue US and has served as administrator of the organization that streamlines the food donation process from restaurants to receiving agencies
"After noticing the prevalence of food insecurity and food deserts in my area and its impact on rates of chronic conditions, I recognized the value of contributing to solutions that solve social problems that influence the university, its students and the community," Reszczynski says. "I worked with various members of the local food industry and government to create policy recommendations for Columbia."
---
Share this Story! Let friends in your social network know what you are reading about
---