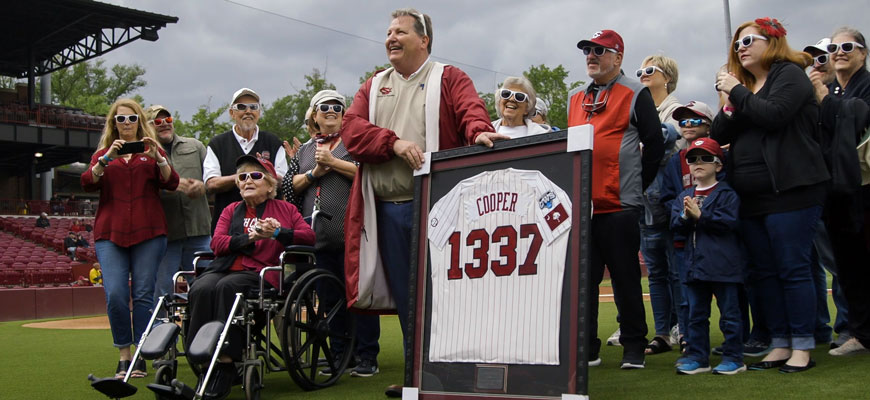 Fellowship honors impact of longtime athletic trainer
Athletics, Arnold School of Public Health launch Brainard Cooper Athletic Training Fellowship
---
By David Lee,
leedh4@mailbox.sc.edu
, 803-777-7548
---
With his signature white sunglasses surrounding him on the field, Brainard Cooper took his first look at a presentation check in his honor.
A look of surprise washed over the longtime athletic trainer's face as family, friends, colleagues and Arnold School of Public Health faculty members unveiled the Brainard Cooper Athletic Training Fellowship on April 20 at Founders Park.
As a preceptor, Cooper oversaw the hands-on education of multiple undergraduate students who aspired to be athletic trainers. He worked 12-30 hours per week with the students and made sure they implemented in real settings what they learned in class. He also worked as a supervisor to certified athletic trainers going through the post-professional program to earn a Master of Science in Advanced Athletic Training.
As a result, Cooper touched the lives of many students who went through the Arnold School of Public Health's renowned athletic training programs (professional and post-professional programs), which have produced athletic trainers who went on to impact individuals, communities and athletic programs.
What Cooper thought was only a pregame celebration for his 35 years as a devoted athletic trainer for the University of South Carolina turned into a surprise announcement of the fellowship named in his honor. The funds will support the athletic training graduate programs at the Arnold School, which boasts two No. 1 sport science programs, including exercise science and athletic training.
"I was really touched," Cooper says. "It's humbling. I literally had no idea that scholarship presentation was going to be there. I was blown away by that. Very humbling. Very touching."
The fellowship will include support for students and faculty in addition to equipment and other needs. Having his name on the award is fitting after years of work by Cooper to impact the athletic training programs and countless future athletic trainers he helped mold while they were at South Carolina.
"I don't think he understands how he's impacted our athletic training profession," says Toni Torres-McGehee, graduate athletic training program director. "How he continues to impact the students who have worked under him, whether undergrad and especially certified graduate students who worked closely with him for an entire year."
Amy Hand, clinical education coordinator for the athletic training program, knows firsthand the influence Cooper's teaching, and preceptors in general, can have on aspiring athletic trainers. Hand was one of those students working under Cooper in 2008.
"He's just able to create a relationship with a person that they know they can go talk with and learn," Hand says. "He's super approachable in that way. It creates a good environment for learning."
Hand adds that Cooper does clinical education work because he wants to help, which is a motivating factor for a strong preceptor network that Torres-McGehee calls a "truly great team effort."
"I've always said everything is so professional," Cooper says. "I'm so glad that athletic training has the association with them now, the direct association so we can work more together. Everything is so professional and so impressive."
Cooper's influence is also felt in South Carolina athletics. He joined the staff as a graduate assistant in 1983 and became a full-time athletic trainer in 1986. He provided 35 years of service as an athletic trainer for South Carolina, most notably with baseball and men's soccer, and moved into a role as director of student-athlete insurance and billing.
I don't think he understands how he's impacted our athletic training profession.

Toni Torres-McGehee, graduate athletic training program director
The entire baseball team lined up to congratulate Cooper during the presentation before its doubleheader against Texas A&M. The pregame festivities featured several video tributes by former players, including Jackie Bradley Jr. A jersey was also presented to Cooper with "1,337" on the back for the number of wins the Gamecocks had during his time as athletic trainer.
In another lighthearted moment, those on field for the presentation wore white sunglasses as a nod to Cooper's signature look.
"He took the time to care about the athletes, was a true pro every single day and just made an impact on so many people's lives," Gamecock athletics director Ray Tanner says. "It's one thing to be in the sports (medicine) profession, but it's so important to make a difference in young people's lives and he did. When you're dealing with young people who are rehabbing and hurt, you have a chance to make a difference beyond the injury."
Cooper's decades of work on and off the field embodies the connection between South Carolina athletics and the Arnold School of Public Health. The fellowship in his honor captures the bond between the two by providing support for the next generation of athletic trainers.
"He does it because he wants to do it, not because he expects to be acknowledged for it," Torres-McGehee says. "It says a lot about how he's selfless and thinks of others first. That's something I pride him on. I truly don't think he really understands the impact he's had on so many people."
---
Share this Story! Let friends in your social network know what you are reading about
---