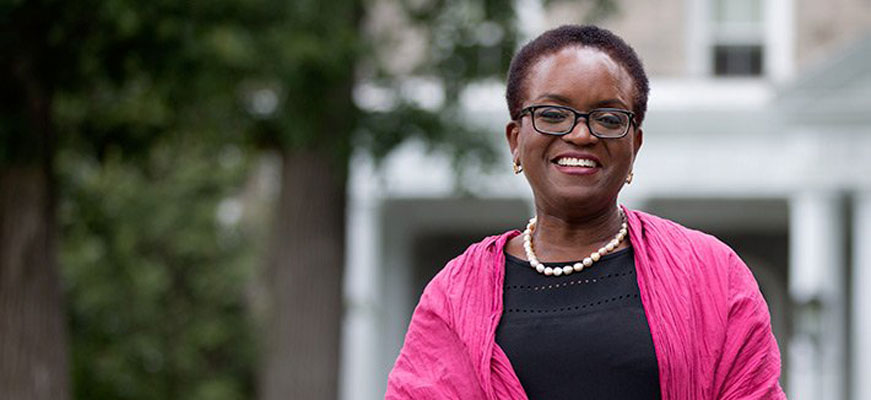 Trailblazer brings passion for equity to UofSC lecture
Swarthmore College's first African American president delivers annual Freeman lecture
---
By Amanda Hernandez,
hernan56@mailbox.sc.edu
, 803-777-3078
---
Valerie Smith knows firsthand the value of higher education opportunities for African Americans.
As a child in the 1960s, Smith saw tumultuous race relations evolving around her. But, growing up in Brooklyn, New York, she enjoyed the cultural riches of an urban environment, and her family valued education and knowledge. Her father was a professor of biology at Long Island University, and her mother a public school teacher.
That familial support and focus on learning eventually led to Smith being named Swarthmore College's first African American president in its 155-year history. The liberal arts college in Pennsylvania straddles the line between a small town and Philadelphia's urban hub. Smith has made her mission as president to focus on drawing low-income and first-generation students to Swarthmore College.
"Our ability to discover and communicate new knowledge, find solutions, and to analyze, contextualize and express the highest ideals of the human spirit in the humanities and the arts — these are all enhanced when we earnestly engage with others whose perspectives and experiences differ from our own," Smith said at her inauguration as president of Swarthmore in 2015.
She serves as a role model for students who have ambitions of leadership in the pursuit of greater social justice and equity.

Carla Pfeffer
Smith's passion for equity and ability to put her words into action make her the perfect fit to deliver this year's Adrenée Glover Freeman Lecture, hosted by UofSC's Women's and Gender Studies program. The annual lecture focuses on social issues and diversity in higher education and society.
"Dr. Smith was chosen as this year's Freeman lecturer because of her commitment to the social value of liberal arts education as well as breaking down barriers to accessing higher education for first-generation students, students facing financial challenges, and students of color," says Carla Pfeffer, director of the Women's and Gender Studies program at UofSC. "She serves as a role model for students who have ambitions of leadership in the pursuit of greater social justice and equity."
Smith's lecture, titled "Finding Home," will take place Sept. 26 at 4:30 p.m. in the Karen J. Williams Courtroom at the University of South Carolina School of Law.
As scholar of African American literature and culture, Smith has written more than 40 articles and three books on African American literature, culture and art, and is leading efforts to expand STEM programs at Swarthmore and strengthen the college's connection with the Greater Philadelphia community.
"Dr. Smith is living her commitments to changing the world through changing lives by ensuring that underrepresented students have a place at the table in higher education, making sure that higher education is environmentally sustainable, and bridging local and global communities in the context of 21st century higher education," Pfeffer says.
The campus conversation on diversity and inclusion at South Carolina has come a long way, but it's important to expand the discussion by bringing in speakers of different backgrounds from around the country to lecture on social issues.
"Too often, conversations about inclusion are couched as a way to bring diversity to our campuses and multiculturalism to our classrooms," Pfeffer says. "But we need to focus on the fact that students of color and first-generation students deserve a place at the table in higher education, and Dr. Smith will share her insight on that process with us, as she has experienced it firsthand."
The annual Adrenée Glover Freeman Lecture was established in 1993 in memory of the Columbia attorney who was active in civic affairs and served on the Community Advisory Board of the Women's and Gender Studies Program. Each year, the lecture is given by a prominent African American woman.
---
Share this Story! Let friends in your social network know what you are reading about
---