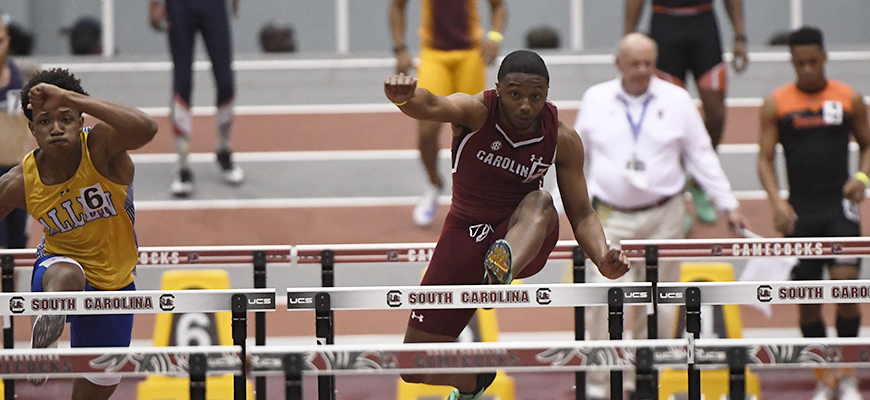 Gamecock athlete races toward career in education
Hurdler Kaden Briggs plans to teach and coach after graduation
---
By Kathryn McPhail,
mcphailk@mailbox.sc.edu
, 803-777-8841
---
After winning state championships in both the 110- and 400-meter hurdles in high school, Kaden Briggs was excited to earn a spot on the University of South Carolina's track and field team. But he was shocked when he faced an unexpected hurdle — some skepticism about his chosen career path.
"When I told people I wanted to become a teacher, a few actually said, 'You are too smart to be a teacher.' What is that even supposed to mean?" Briggs says now with frustration.
And Briggs is smart, very smart — though the junior from Blythewood, South Carolina, is too humble to say that aloud. He earned the highest GPA of any male athlete at Westwood High School for two years in a row. He received the state's LIFE Scholarship, as well as a competitive Teaching Fellow scholarship to major in physical education. Also, he has remained on the Southeastern Conference Academic Honor Roll for two years at South Carolina.
"Shouldn't we want our teachers to be smart? They are, after all, teaching our kids. I was just shocked that people wouldn't be supportive of me for wanting to teacher," Briggs says. "Maybe they just meant that I could possibly make more money in another career, but teaching isn't about the money for me. I want to make a difference."
I don't take my role as a teacher lightly. I know the students will be looking up to me, and I want to be a consistent and positive presence in their lives.

Kaden Briggs, physical education student
Briggs says he wants to impact the lives of children by combining his two passions — sports and teaching. He realized he loved teaching after taking part in the Teacher Cadet program in his senior year of high school. Teacher cadets complete a dual-credit course, which introduces them to the techniques of teaching as well as critical issues affecting education in America. The goal of the program is to encourage high-achieving students, like Briggs, to consider teaching as a career. He chose to major in physical education because sports have always been a huge part of his life.
"I hope that I can share my love of sports and physical fitness with my students one day. I want to be a coach. I'm actually leaning toward coaching football, which I loved in high school, as well as track and field. I also plan to one day become an athletics administrator," Briggs says.
As a student athlete, his weeks are packed with classes, studying, practicing and traveling to track meets. He credits sports with helping him sharpen his time-management skills and improve not only on the track, but also in the classroom.
"Sports have taught me to never give up, to keep working, to be mentally tougher," Briggs says. "I remember getting my first 'C' as a sophomore. I felt like I had failed. But then, I thought about the fact that I have failed in sports before but took responsibility, worked even harder and was able to accomplish my goal eventually. I decided to take that same approach with my studies."
Briggs says he is fortunate to have supportive parents, but he knows some children, especially African American children, grow up with few role models that look like them. Statistics prove that having just one African American male teacher in elementary school reduces drop-out rates for black students by nearly 40 percent. Yet, Briggs says he had few black, male teachers, which is not unusual given that black males make up just 2 percent of teachers nationally. He hopes he can do his part to change that statistic.
"I don't take my role as a teacher lightly. I know the students will be looking up to me, and I want to be a consistent and positive presence in their lives," Briggs says.
Also, Briggs says he wants to break down some of the negative stereotypes he's faced.
"I want to beat stereotypes about athletes, black males and even about PE teachers. This major is challenging. We have to know a lot about science and theory. I try to work even harder to overcome those stereotypes, and I want my students to know they can do the same."
Despite the challenges of balancing his studies and athletics, Briggs remains committed to his goal to become a teacher.
"More so than ever, I am proud to say I am a future teacher," he says. "I was lucky enough to have some teachers who encouraged me and challenged me to be a better person. I want my students to be able to say one day that they, too, had a great teacher and that teacher was me."
---
Share this Story! Let friends in your social network know what you are reading about
---