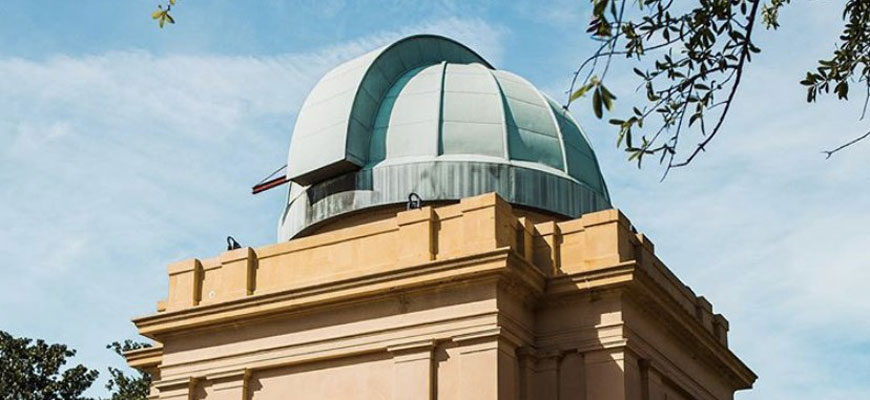 A night at the observatory
---
By Caleigh McDaniel,
stucomm@mailbox.sc.edu
---
Every Monday, if the weather's good, the nearly century-old dome on the Melton Observatory slips open and the 16-inch Cassegrain telescope brings celestial bodies down to Earth for visitors to see with their own eyes.

"Students can expect to see some amazing things here," says observatory coordinator Martin Bowers. "There are students who come here who have never looked through a telescope before and they are always amazed at what you can see."
Student volunteers help Bowers set up and break down the observatory equipment for the weekly viewings. They also guide visitors and teach them about the history of the observatory and the astronomy behind what they're looking at.
"I love seeing how excited people get when they get to see something through the telescope themselves. Seeing Jupiter or Saturn makes the people who've hardly been to an observatory giddy," says Asher Wood, a student volunteer at the observatory. "Not many people have the opportunity to look at the awesome things visible in the night sky. Visiting an observatory will probably never be as easy as it is while attending UofSC. Seeing stars, planets, nebulae, and galaxies with your own eye is stunning."
On a recent Monday, we made the steep climb up the observatory's spiral staircase and marveled at that night's view of Saturn and Jupiter. The 1928 building on Greene Street is open to the public most Monday evenings from 8 to 10 p.m., weather permitting.
This Monday (Nov. 11), you can join the physics department for a special viewing session of the Mercury transit. Starting at 7:35 a.m., Mercury will be aligned to block light from the sun for the first time since 2016. Over the next five and a half hours, the tiny dot of Mercury's shadow will transit across the face of the sun, exiting at 1:04 p.m. The observatory will be open to the public from 9 a.m. to 1 p.m. for the event.

Weekly evening viewings will resume Nov. 18. You can check for weather updates and see some images from the telescope by visiting the Melton Observatory website.
---
Share this Story! Let friends in your social network know what you are reading about
---