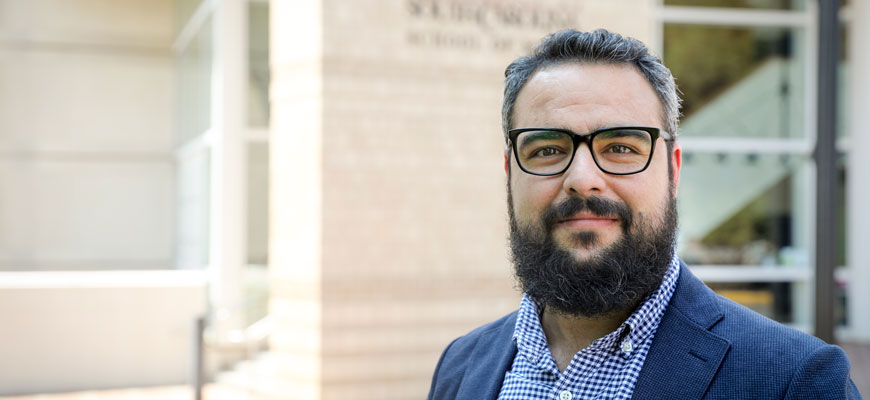 Meet new faculty: Bruno Alcalde
---
By Dan Cook,
dancook@mailbox.sc.edu
, 803-777-7366
---
Hometown: Porto Alegre, Brazil
Education: Bachelor's degree in music composition from Universidade Federal do Rio Grande do Sul (2008, Brazil); master's degree in music theory from Indiana University (2012); doctorate in music theory and cognition from Northwestern University (2017)
Position: Assistant professor of music theory
---
What is your musical background?
I was born and raised in Brazil and was there until I was 28 years old, except for one semester at the Berklee College of Music when I was 18, for jazz. I thought I would be able to get a scholarship, but I didn't. So I went back to Brazil and did my undergrad there in composition. Then I spent some time without studying officially, just playing in rock bands. That's kind of my background — I started as a rock guitar player. And I thought, why not try composition? It's creative, it's somewhat free, and I thought it would add to my guitar playing. That was 2003. I was 22 years old. I studied for five and a half years there, got my degree from the Federal University of Rio Grande do Sul.
Your Ph.D. is in music theory and cognition. What is music cognition?
Music cognition is, how do we make sense of music? In general, it's how you engage with music, how you make it useful, be it intellectual or moving your body. The field is 40 years old — it's sort of recent in academic terms. Cognitive science started in the 1960s, and music cognition started in the '80s. It has developed into a huge field that goes from very basic perceptual issues in music to high-level cognition, embracing social and cultural aspects of music. So it's really a very exciting field.
How did you get interested in this field?
I was always interested in the systematization of music theory and composition, but it always felt really disconnected from reality. Because I am a performer as well — and when I am writing about music or thinking about music, I'm thinking about different things than when I am playing or improvising. So I wanted a way to connect those different things. So, it's about trying to make music theory connect to how we think, rather than being something that just a handful of people understand. That was why I got into music cognition.
What are you hoping to bring to the classroom and to the university?
For example, one of the courses I'm teaching this semester is form and analysis. It's a very interesting class, because it plays on these tropes of autonomous music and absolute music, the idea of balanced forms as molds — things I don't completely agree with. So, I am teaching that in my own way by avoiding using these ideas as gatekeepers of "true art"; they are, in fact, communicative tools.
As a musician, you need to know these basic forms — but you also need to be able to extrapolate from them and apply those ideas in other realms. My discussion [about this position] with Dean Harding was around this: We want to form musicians who can actually work at several levels in the music community. Pedagogically, that's essential: We can't just keep teaching the way we taught in the 1950s, unless you are talking about a very specific group of people who end up going to orchestras.
That's one of the things I bring to this position. I'm not a pianist. Music theorists are usually pianists and they have a traditional education. I have performed punk rock and jazz and Brazilian music. And I worked in advertising, in audio branding, as a consultant — creating the audio identity of a brand, the same way you create visual branding. It's super exciting. I did a lot of projects, some have been international. And that made me think: What is the knowledge that I have from reading and studying and getting a master's and a Ph.D., and how can I transform that into something that is useful to all sorts of activities and fields? That kind of opens up your possibilities. I love teaching, of course — that's why I do this — but I could work with music in other areas. And we want those same kinds of possibilities for our students.
---
Share this Story! Let friends in your social network know what you are reading about
---