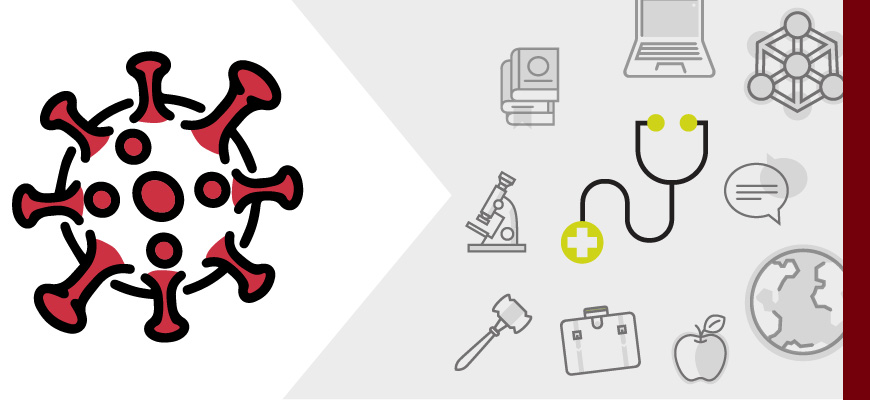 COVID-19 impact: Rural communities face unique challenges
Rural health care center's research director outlines issues communities face and future steps to be taken
---
By Tenell Felder,
tenell@mailbox.sc.edu
---
As the coronavirus threatens health and upends daily life throughout the world, UofSC Today is turning to our faculty to help us make sense of it all. While no one can predict exactly what will happen in the coming weeks and months, our faculty can help us ask the right questions and put important context around emerging events.
Kevin Bennett, School of Medicine Columbia faculty member and director of research and evaluation at the Center for Rural and Primary Healthcare, discusses issues rural communities will face during the coronavirus pandemic, as well as future steps that can be taken to strengthen rural health care systems.
What are the unique challenges a rural community might face due to COVID-19?
Financial vulnerability
Rural hospitals and other rural health care facilities are financially vulnerable. The COVID-19 outbreak has placed many of these organizations at higher risk, as they have had to invest in preventive materials, hire and pay for additional staffing, and have had to cancel or postpone services that are financially beneficial. For many reasons, such as lower insurance coverage rates, higher poverty and lower volumes, these facilities and organizations have much lower profit margins. In fact, it is not uncommon for rural hospitals to operate on a negative margin that is offset by other sources (e.g., philanthropy).
Older population
Rural areas are more susceptible to COVID-19 as the population tends to be older. That is, a larger proportion of the population is over the age of 55, a group that is at higher risk. In addition, providers in rural areas also tend to be older and are also more likely to be in a high-risk group as well.
Economic vulnerability
Rural areas are vulnerable economically. These areas tend to have higher poverty rates, lower rates of insurance coverage, and residents are more likely to work in the service industry or tourism, making them more burdened during these times.
Fewer resources
Rural communities typically have fewer health care resources than other areas — fewer physicians and other providers, fewer facilities and fewer hospitals (if there is one at all). When there is a hospital, it may have fewer, or less intensive, services (e.g., fewer ICU beds).
How might rural communities be "left behind," so to speak, during this pandemic?
While the lower population numbers and density may be of benefit as far as transmission of COVID-19 goes, it may mean that these areas do not get adequate attention to address their unique needs.
Given this lower population density, it is possible that rural health care organizations do not receive adequate testing materials, personal protective equipment or other supplies in favor of larger areas with higher priorities.
It is also possible that legislative and policy corrections in response to these conditions would overlook the unique needs of rural providers in favor of assisting the majority.
With the closure of many rural hospitals and health care centers, how can those possibly infected seek testing?
Testing availability may be an issue for rural areas if they do not have a local hospital to serve as the service point.
The South Carolina Department of Health and Environmental Control and the Food and Drug Administration have approved private laboratories to test as well, so this would be a resource for these rural communities. The issue then becomes availability of testing materials to these communities and laboratories.
What are some measures that can be implemented to strengthen future rural health care structures?
Funding and support
Rural providers tend to struggle financially, due to the transactional nature of our health care system. That is, they are supported by providing care, then being reimbursed for that care. In low volume or low insurance coverage conditions, this is difficult to maintain. Going forward, to better support and maintain essential providers, a financial model where they receive support regardless of volume would be beneficial. This could be supplemented by reimbursement for services as well, but a baseline level of funding would greatly help to keep these providers in place.
Insurance
The uninsured rate is higher in rural areas, which reduces ability for providers to receive payment for care. Improving the insured rate could be achieved by improving employment opportunities, helping existing employers offer insurance to employees, expanding Medicaid coverage to more individuals, or supporting a more universal coverage plan such as Medicare for All (or for all who want it).
In addition, continued efforts to incentivize and reward providers (physicians, physician assistants, nurse practitioners and others) to provide care in rural areas should continue and be expanded.
Internet coverage
Finally, many rural communities lack broadband internet capabilities. While there may be organizations (such as a hospital, business or school) with broadband, it is often not available at those speeds to many residents of the community, if at all. In fact, there are pockets of the state that lack cell phone/data coverage, let alone internet coverage.
By expanding this capability, rural providers can then extend their capabilities and provide a conduit for specialty care for the patients, in place, via telemedicine. Further broadband capabilities would also allow these patients to seek care from their homes.
---
Share this Story! Let friends in your social network know what you are reading about
---