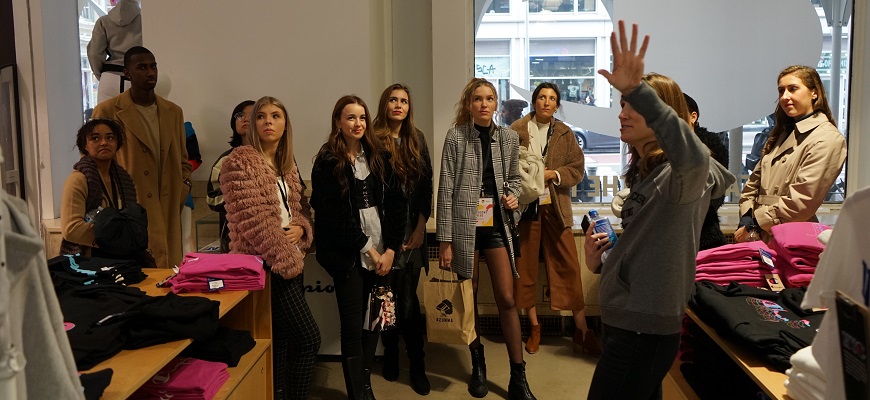 UofSC partnership gives students inside look at NY Fashion Week
---
By Allen Wallace,
awallace@sc.edu
, 803-777-5667
---
For any student working toward a career in the fashion industry, a trip to New York Fashion Week could be the event that makes it happen. Thanks to a partnership between the University of South Carolina and industry leaders, three students were able to attend and experience things not available to the general public.
South Carolina's College of Hospitality, Retail and Sport Management and South Carolina Athletics teamed up with CLC, the university's exclusive trademark licensing agency, and IMG's fashion events division to create the opportunity for a behind-the-scenes look at the fashion industry. The experience included entry into select runway shows, networking opportunities with industry leaders and a panel discussion with entrepreneurs and top collegiate licensee executives. The students attended two NYFW runway shows, as well as backstage tours to observe the production and execution of a fashion show in action.
"Things like that are the future of retail. It was so cool to see experiential retailing in action."

Lauren Copeland, UofSC student
"Experiencing New York Fashion Week for the first time was an unreal benchmark moment in my life," says retailing major Sydney Bernhardt. "I have dreamed about going to New York Fashion Week, and when I finally made it, I knew that I was heading in the right direction."
Bernhardt and fellow retailing major Lauren Copeland were selected by college faculty based on their work creating fashion blog posts using CLC merchandise. Sport and entertainment management major Tyler Jones, a member of the Gamecocks track and field team, was chosen by athletics for the trip.
Travel, lodging, access to NYFW events and other expenses were provided for the students by the partnership with CLC and IMG. The three Gamecocks were part of a group of 17 students from nine universities.
"This unique collaboration with IMG's fashion division allows us to offer a once-in-a-lifetime experience and insight into the fashion industry to some of the best and brightest students from our partner institutions," says Cory Moss, senior vice president and managing director of IMG College Licensing. "In providing resources and opportunities beyond what a traditional licensing partner can provide, we deliver greater value to their campuses and communities while promoting innovation and learning."
In addition to the experiences at New York Fashion Week: The Shows, the students spent time with key staff at sports fashion brand Champion and had the opportunity to customize their own gear. The students also participated in an interactive panel hosted by the founders of collegiate jewelry licensee Kyle Cavan. The panel included leadership from collegiate fashion licensee Hillflint, direct-to-consumer brand Suitably, online rentable fashion leader Rent the Runway and the founder of digital media outlet College Fashionista.
"The Kyle Cavan panel was so eye-opening because in the retail industry you sometimes forget that there are so many routes you can take in your career," Copeland says. "Your career doesn't have to be a straight line and it was inspiring hearing from professionals about their experiences in the industry. One of my favorite parts of the trip was the customization bar at Champion. Things like that are the future of retail. It was so cool to see experiential retailing in action."
The students were asked to chronicle their experiences through social media. Bernhardt, Copeland and Jones will share what they learned with fellow HRSM students. Bernhardt and Copeland, as leaders of UofSC Fashion Board, will also incorporate their experience at some of the world's best fashion shows into UofSC Fashion Week.
"I cannot wait to attend more New York Fashion weeks in the future. Fashion is a place for creativity, personality and networking," Bernhardt says. "I am so lucky to be a part of an ever-changing, forward industry."
---
Share this Story! Let friends in your social network know what you are reading about
---