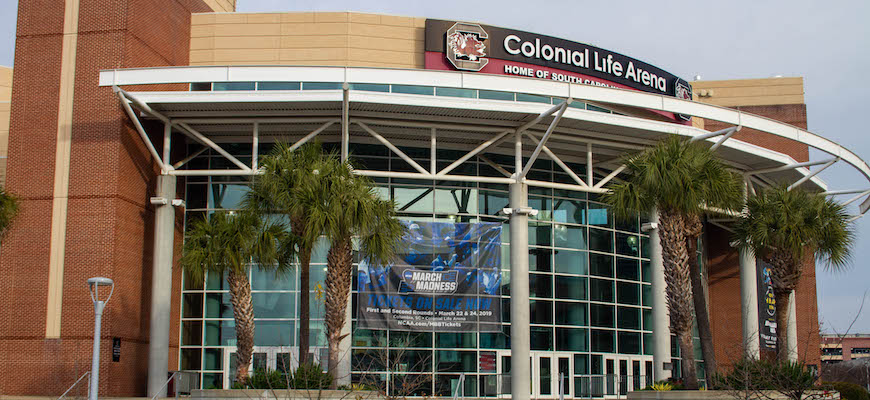 March Madness in Columbia
Sport and entertainment management professors weigh in on tournament's return
---
By Allen Wallace,
awallace@sc.edu
, 803-777-5667
---
This month, for the first time in almost 50 years, March Madness returns to Columbia, South Carolina, with the city chosen as a host site for the first and second rounds of the NCAA Division I Men's Basketball Tournament. As fan excitement builds, faculty in the University of South Carolina's Department of Sport and Entertainment Management share their expertise on what the event will mean for the city and the campus community.
The tournament draw will not be finalized until March 17, but NCAA policies suggest that high seeds from the Southeast region are likely to be sent to Columbia. The city will have a chance to take advantage of the spotlight those teams will bring.
"The NCAA Tournament not only has a significant economic impact, but also brings so much positive attention to the university, the city of Columbia and the state of South Carolina," professor Danny Morrison says.
Morrison knows the importance and excitement of March Madness firsthand, having served as a collegiate athletics director and commissioner of the Southern Conference before becoming a professor at South Carolina.
"Having attended so many games at Colonial Life, it's really exciting to have a chance to work there during the NCAA tournament."

Lauren Schwartz, senior
Professor Thomas Regan, a national expert on the economic impacts of major sporting events, will be conducting a study to measure the tournament's financial impact on Columbia. Several UofSC students will also work on the project to maximize the rare opportunity to conduct research in a host city.
"I think it's really important. If Columbia can do a good job, they can bring back additional NCAA tournaments to the city," Regan says. "Once you do major events well, other events follow."
March Madness gains
"Is it worth the trouble?" is a question often asked by residents of a city hosting a major event that brings out-of-town visitors. Columbia's leaders hope March Madness will answer with a clear "yes."
Regan and his team will examine how much of the money spent stays in Columbia, and how much the city spends preparing to welcome visitors.
"I think you're going to see per-person spending at levels we haven't seen outside of major SEC football games," Regan says. "The men's basketball teams travel really well and bring a lot of fans. You will see tailgating here like you don't see at most basketball games."
Columbia's hotels, particularly in downtown and the Vista, are expected to be packed, and restaurants and bars near Colonial Life Arena are expecting one of their biggest weekends of the year.
However, as fellow sport and entertainment management professor Nick Watanabe explains, economic impact is a very complicated thing.
"It just depends. There's a lot of question about what benefits we can derive from hosting," Watanabe says. "The hope is that it can be a positive in terms of impact and in terms of the financials being worth the cost."
Experience of a lifetime
More than 50 students will work at Colonial Life Arena during the NCAA Tournament games. South Carolina Athletics and the College of Hospitality, Retail and Sport Management will team up to provide a strong group of experienced students who will work in a variety of capacities.
"Having attended so many games at Colonial Life, it's really exciting to have a chance to work there during the NCAA tournament. It's another real world experience I can use no matter what field I go into," says senior Lauren Schwartz. "Columbia has grown so much during my four years here. I know this will get the city on the board even more."
Beyond direct tournament involvement and fan excitement, students across campus will benefit from being part of the host city. Hospitality, tourism, retail, journalism and marketing students — just to name a few — will have opportunities to gain career experience from the moment-in-time event.
"College basketball is a whole other level of energy," says South Carolina clinical instructor Sporty Jeralds, who managed the Charlotte Coliseum in North Carolina when it hosted the men's and women's Final Four, as well as other tournament rounds.
Jeralds says events like this are an invaluable opportunity for students to learn what to do when something unexpected happens despite the carefully laid plans. He laughs as he remembers a time in Charlotte when a team emerged to shoot around at halftime only to find no basketballs available.
"We're in the business of event management. Things are going to go wrong," Jeralds says. "The ability to react when they do go wrong is the true measure of a professional."
"You don't get NCAA Tournament experience very often. It's a rarity, so for our students to have this chance is amazing," Watanabe says. "Regardless of economic impact, the positive experience the tournament provides for South Carolina students can hopefully translate into future career success."
Location is everything
"Colonial Life Arena is an excellent venue, and its location, with relatively close proximity to hotels and restaurants in downtown Columbia, make it an ideal location for a tournament," Morrison says. "Add to that the basketball excitement in Columbia with the success of the programs at South Carolina and it should be an exciting time."
Tickets for March Madness are already in demand, with some for second-round games in Columbia already priced at $500 on resale sites. However, when Selection Sunday arrives and the question of which teams are coming is answered, the demand could skyrocket and so could the number of fans planning to attend.
"If you get a Wofford, a North Carolina, a Duke, a Tennessee, maybe, you're going to see a significant number of people from out of town coming in," Regan says. "When you take a look at the accessibility for travel, Columbia is ideal with multiple major interstates, an airport near downtown as well as private airports."
Watanabe says whatever the economic impact turns out to be, there are also intangibles to consider — things experts call "psychic income."
"It's the idea that we'll have this civic pride," he says. "It could be something to distinguish us from other cities. 'We're an NCAA Tournament host.' "
---
Share this Story! Let friends in your social network know what you are reading about
---