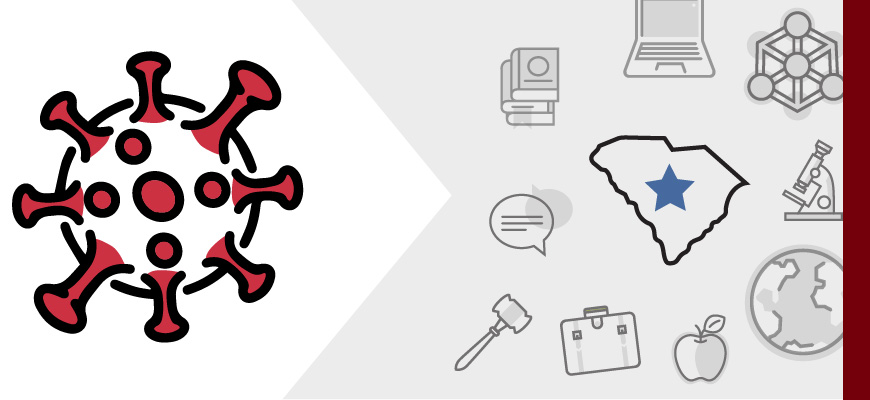 COVID-19 impact: Social service providers have to work around social distancing
---
By Page Ivey,
pivey@mailbox.sc.edu
, 803-777-3085
---
As the coronavirus threatens health and upends daily life throughout the world, UofSC Today is turning to our faculty to help us make sense of it all. While no one can predict exactly what will happen in the coming weeks and months, our faculty can help us ask the right questions and put important context around emerging events.
Melissa C. Reitmeier is an associate clinical professor and director of field education in the College of Social Work. She addresses how COVID-19 is impacting both the need for and the delivery of social services.
What are the biggest challenges for social workers in the field right now?
There are so many challenges. Where to begin? One of our biggest challenges is reaching those who may need us the most or who have not needed our services before now. Letting them know we are here, the state and our nonprofit organizations are here, and available to connect, even if it is just a phone call to provide much needed emotional support during a very scary time. As field director, I have been so very proud of the resilience in our state's social services community and how many agencies and nonprofit organizations have risen to this challenge and remain on the frontlines. Our response as providers doesn't change the fact that people who need our services are afraid. There is a lot of mixed news about COVID-19 surfacing that makes people fearful and many do not know what to do or how to protect their family (this goes for professionals, too) or how to even go about accessing the needed resources.
How are community social services being delivered in this time of stay-at-home and social distancing?
Our leading national accrediting body, the National Association of Social Workers, has been working tirelessly to expand services we can provide to ensure access to services through telehealth (sometimes called teletherapy and telepsychiatry). We, as social workers, are trained to assess, engage, intervene and evaluate across systems (individuals, families and communities). This allows us to not only promote public health pandemic prevention efforts for communities but also to provide evidence-based behavioral health modalities so we can help address the distress, anxiety, grief, depression and other wellness concerns that are emerging as a result of COVID-19 and social (physical) distancing mandates.
Although we are using many telehealth services — telephone, Vsee, Zoom, or some type of video chat service — to provide ongoing support services to clients or therapy services to help families and individuals manage the grief, anxiety, stress, depression and or distress occurring as a result of the pandemic, it does not replace the opportunity to assist them in person and to provide assistance for basic needs, such as helping our clients gain access to food, shelter and general health care.
How are these restrictions on movement and gathering affecting clients and providers?
I think this has forced us to adapt in ways that are not always ideal for both the provider and the client. It's clear that this is unprecedented and we are rising to the challenge to meet the needs of our state's population as it unfolds. Some positives are that we are lucky in that our state mental health system — the South Carolina Department of Mental Health — has one of the best telehealth programs in the nation, and we are capable of providing ongoing services for those consumers of mental health that need it. This pandemic, though, is causing an increase in those South Carolinians who may need wellness services, such as grief counseling, or depression from physical and social isolation mandates. Also, using telehealth (telepsychiatry services) does require that clients have an internet connection though, and so infrastructure, and cost for such on the client's end has proven to be a challenge at times. We have been grateful that Spectrum has offered free internet to those who need it, but some clients may not use a smartphone, for instance.
The South Carolina Department of Mental Health has gathered some tools and resources on its website to help cope with the stress and anxiety during these uncertain times.
How is this a teaching and training moment at the College of Social Work?
This is a huge balancing act that we are learning from in this moment. I have been very proud of the projects our social work interns have engaged in as they finished out the semester. For example, some have recorded webinars educating communities, continued with telehealth individual and group work, or devised advocacy projects around COVID-19. Our college is a part of our community, and I think we are learning how to better prepare our students for pandemics and emergencies such as this, in real time, under the supervision of exemplary professional social workers. We are becoming more adaptable and finding innovative ways to respond, learning how to best meet the needs of vulnerable populations by working together. It is through this kind of collaboration and partnership between the college and the community that we are truly helping vulnerable populations with needed services during a very troubling time for many South Carolinians.
---
Webinar for social workers
The College of Social Work is hosting a training webinar for social worker educators and professionals working in the field.
---
Share this Story! Let friends in your social network know what you are reading about
---