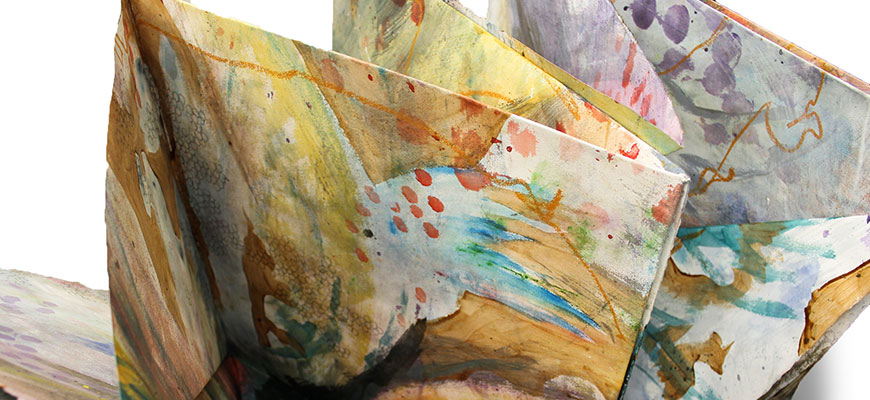 MFA exhibitions go online to build empathy, spark imagination
---
By Bryan Gentry and Anna Toptchi,
brgentry@sc.edu, toptchi@mailbox.sc.edu
---
Aldric Morton likes to start each drawing with a face-to-face conversation.
"My work thrives on human interaction and talking to people," says Morton, a master of fine arts candidate at the University of South Carolina. "There are certain gestures and body language that you can only pick up in person, and that you can't get over the phone. I try to capture a moment when someone's face lights up."
But the COVID-19 pandemic and social distancing required Morton to take a new approach. He finished his thesis exhibition without those in-person meetings, and then presented the art online rather than in McMaster Gallery. His is one of three MFA thesis exhibitions now showing through the McMaster Gallery website.
Morton's exhibition, Empathetic Translation, is about fighting the stereotypes that prevail in online communications.
"Breaking down those walls and building bridges to true understanding is my goal," Morton says in his artist statement.
Empathetic Translation comprises more than a dozen drawings, each one a colorful collage in ink and pencil. They depict the people Morton interviewed, mingling symbolic imagery and words from their personal stories. Some drawings highlight points of pride and personality. Others, however, reveal worries or pain.
"As I'm getting to know them before I start making a new work, people typically revert to describing the painful things in their lives," Morton says.
He enjoys helping people open up to share their thoughts and feelings. "They just need a moment to see that there are people like me who are listening and want to hear it," he says. "That helps them understand that there are people who do care about others' lives."
Another MFA candidate, Roberto Clemente De Leon, is using his exhibition, Cash Cow, to call attention to the inhumane animal treatment and health consequences of eating meat. It's a personal issue for him as many of his relatives suffer from obesity and heart disease.
"I want people to look at animals differently and eat healthier," De Leon says.
All of his art is three-dimensional. Imagine 365 sculptures of cow heads mounted on a wall. Or a leaping pig wrapped in a belt-like cloud of antibiotic pills. Or glum chickens crammed in tiny cages.
De Leon set up temporary installations of his work to photograph it, but the pictures leave at lot to the imagination. For example, he could only get 60 of the miniature cow heads in a photo. Because of that, the online exhibition is a very different experience from the in-person show he hopes will open someday. In addition to fully grasping the size of the art, he wants viewers to read facts he has compiled about animal abuse and meat consumption.
"All of this is to encourage the audience to do their own research to come to their own opinions," he says.
The third exhibition, Capering, by MFA painting student Kayla Olive, connects the artist's ballet background with art.
"I start by dancing on my canvas on the floor, using my feet as brushes so I can get larger body gestural movements," Olive says. "I end up creating a matrix of marks on the canvas."
She then searches the marks for shapes to emphasize. Her exhibition has more than 60 paintings, ranging in size from postcards to eight feet wide. For Olive, social distancing has made it possible for her to focus more closely on her art.
"I had more time in the studio for the last push to get everything done and wrapped up," she says. "It was unusual to not have the same student community and interaction every day, but I spoke to the other graduate students online and through pictures and text messages and got a lot of feedback."
Olive is pleased with the way Capering looks online, but it doesn't compare with seeing the art in person.
"It's not possible to see the detailed linework and the large size of the works all at once through photographs," she says. "In my large paintings, you can see my original footwork and the prints from my toes but all of that gets lost in the photographs. You have to be up close and really look for them."
Olive hopes the pandemic will see a reprieve by fall, allowing her and the other graduating MFA candidates to display their work in McMaster Gallery as planned. But for now, the three exhibitions are available for viewing online, fostering the opportunity to build empathy and spark the imagination of viewers around the world.
To see more of the artists' work and read about the inspiration behind their exhibitions, visit the McMaster Gallery online.
---
Share this Story! Let friends in your social network know what you are reading about
---