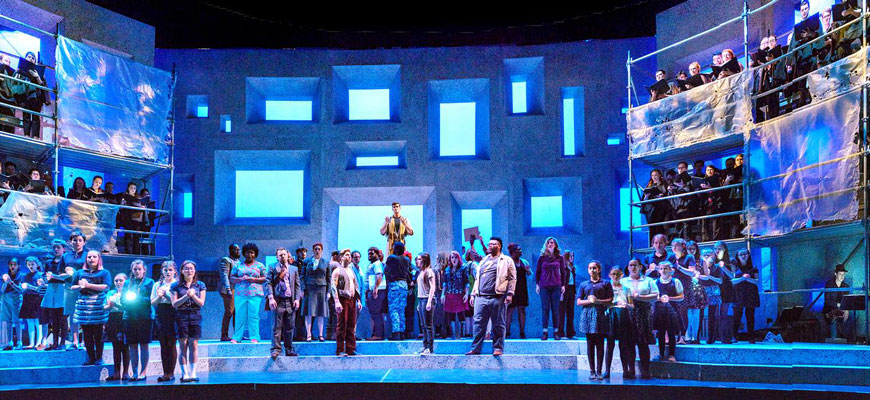 Class of 2020: Thomas Palmer
UofSC hit all the right notes for new music grad
---
By Megan Sexton,
msexton@mailbox.sc.edu
---
Thomas Palmer chose the University of South Carolina because of the opportunities offered by a large university, along with its top-flight School of Music and impressive Honors College.
As a sophomore in the spring of 2018, playing the clarinet and bass clarinet in the pit orchestra during the music school's production of Leonard Bernstein's MASS, he was reminded that he made the right decision. The epic stage production at the Koger Center included two orchestras, a rock band, a blues band, adult and children's choirs, singers, actors and dancers.
"The production itself was incredibly moving, and playing to a completely sold-out hall three nights in a row is a really great feeling," Palmer says. "Playing in the MASS was the first time I got to see what all goes into putting on a huge production, and I got a taste of what it might be like to play in productions like that in the future."
Performing in Bernstein's MASS was just one of the opportunities the Greenville native and music composition major had at UofSC. Through the School of Music, he was able to meet and learn from artists including contemporary classical music composer Nico Muhly, violinist, singer and composer Caroline Shaw, composer Gabriela Lena Frank, and the wind quintet Imani Winds.
"The School of Music really brought in some incredible and world-renowned artists during my time here, and I'm even still in contact with some of them," he says.
As a student in the South Carolina Honors College and the School of Music, he said naming his favorite professors would be difficult, since "no matter how many I name I'd be leaving several out. But I fully believe that there isn't a better teacher on campus than Dr. (Reginald )Bain in the School of Music, and I'd also like to recognize my major applied professors that I've been fortunate to work with all four years here —Dr. (John Fitz) Rogers and Professor (Joseph) Eller."
Palmer plans to pursue a master's of music in composition at the Manhattan School of Music in the fall. Like his classmates in the Class of 2020, he is disappointed in what he has missed in his last semester at UofSC because of the coronavirus pandemic, but he also is hopeful some good will come out of this worldwide crisis.
The School of Music really brought in some incredible and world-renowned artists during my time here, and I'm even still in contact with some of them.

Thomas Palmer, School of Music, Honors College graduate
"I think my education has really helped me to understand the necessity of human expression, especially in times like these," he says. "It's true that many of us turn to music and the arts during crises, but more importantly, it seems that we all have an intrinsic need to be heard, to be seen and to be together, even when we think we don't. The value of art and expression sometimes takes a back seat to other things in our minds during our day-to-day lives, but during a crisis, suddenly they've become more important to a lot of us than anything else."
---
Share this Story! Let friends in your social network know what you are reading about
---