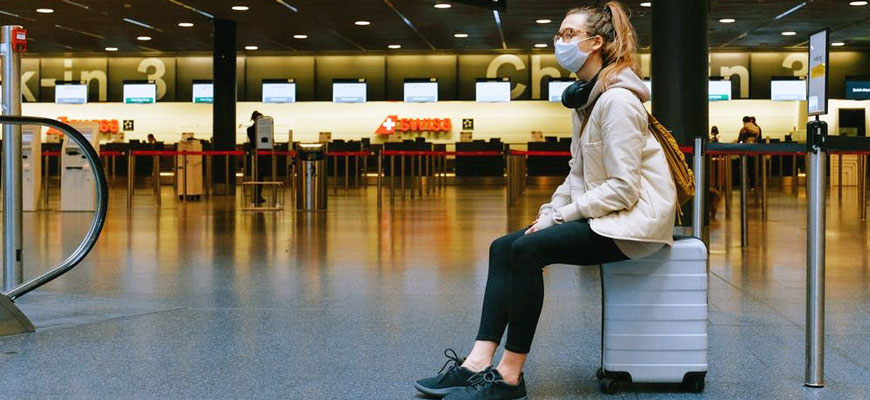 Covid-19: Tourism update
Tourism professor Simon Hudson revisits, revises travel predictions, discusses new book
---
By Craig Brandhorst,
craigb1@mailbox.sc.edu
, 803-777-3681
---
As the coronavirus threatens health and upends daily life throughout the world, UofSC Today is turning to our faculty to help us make sense of it all. While no one can predict exactly what will happen in the coming months, our faculty can help us ask the right questions and put important context around emerging events. Simon Hudson, a professor of tourism in the College of Hospitality, Retail and Sport Management and author of the new book COVID-19 and Travel: Impacts, Responses and Outcomes, keeps us up-to date on the pandemic's travel sector impact.
When we last reached out, in mid-March, the COVID-19 pandemic in the U.S. was in its early stages. At the time, you speculated that it would take 6-12 months for travelers to start resurfacing. We're about four months on, and some people are, in fact, traveling domestically. Can we expect that trend to continue, even in the face of a surge in infections?
Yes, I believe so. International travel will take much longer to recover, but there is pent-up demand after lockdown, so if destinations can reassure travelers that they are safe, then they may benefit from domestic tourism. After all, Americans cannot travel to many countries at the moment (including Europe, where they spent $156 billion last year), so for many the only alternative is to travel domestically — or risk getting on a plane and going through the hassle of COVID tests and tight regulations to visit destinations like the Caribbean that are opening up to American tourists.
This crisis has highlighted how the tourism and hospitality sector is particularly vulnerable to "uncontrollable" events, especially those destinations that were over-dependent on tourism.

Tourism professor Simon Hudson
What about vacations cancelled or postponed due to the pandemic? How is the industry responding to the loss of revenue? Also, how would you grade their response, overall, in terms of customer service?
Certainly, for travel companies dealing with cancelations, these have been challenging times. But a pulse survey conducted by J.D. Power during the pandemic found that the travel industry was generally perceived by consumers to have comported itself well in reaction to cancelations. More than half of the travelers surveyed believed that travel suppliers were meeting or exceeding expectations on cancelation policies, and 60% of travelers agreed that hoteliers, cruise lines and airlines had demonstrated concern for the health and safety of the traveling public.
In general, the more often consumers traveled, the better they felt about the industry's response to the crisis. The challenge for some businesses as travelers canceled their plans was that they simply could not afford to give instant refunds. At one point, the boss of Lufthansa Group, for example, issued a plea to passengers to be patient over cash refunds for canceled flights amid the COVID-19 crisis. One phenomenon we have witnessed during the crisis is the acceleration in the use of technology, and AI-technology has assisted the travel sector with processing refunds for cancelations. Software maker Automation Anywhere Inc., for example, created a bot to help airlines tackle the surge in demand for refunds. The first airline to implement the bot was able to process 4,000 requests daily, instead of 500, without requiring any additional employee help.
You've made the case for advertising during the pandemic, the idea being that companies want to be "top of mind" when people are once again able to enjoy a vacation. How far out can companies realistically maintain that kind of strategy? And if the pandemic continues well into 2021, what can companies do to remain viable?
I think that it is more than continuing to advertise. One lesson we have learned from this pandemic is that keeping open lines of communication during a crisis — to all stakeholders — is crucial. In my book I profiled a number of organizations that understood the importance of this: Micato Safaris, Marketing Greece, Hotels.com, Auckland Tourism, the Las Vegas Convention and Visitors Authority, and more. Using a variety of communication tools — from social media to print advertising — these organizations also understood the need to change their tone of message as the crisis unfolded. One excellent example was Zermatt, in Switzerland, whose tourism authority took a creative but relevant approach to keep their destination top of mind by projecting, one by one, the flags of different countries onto the iconic Matterhorn mountain every night during lockdown as a display of solidarity with others. The campaign generated a considerable amount of media worldwide, reaching over 700 million people. If history repeats itself, it is likely that those organizations that remained vocal during the crisis will recover faster than others, having communicated to consumers the image of corporate stability during challenging times, and maintained, or even increased, "share of mind." Another tactic that has proved to be successful during the crisis for tourism and hospitality providers has been engaging in philanthropic activities. In one of my case studies, I highlight how hotels all over the world have pivoted during the crisis to lend a helping hand, and I also write about how some accommodation providers joined together under the #MyTravelPledge umbrella to provide free vacations to healthcare workers. A recent article in the Journal of Business Research said that such efforts of corporate social responsibility (CSR) will not go unnoticed by consumers, and will be even more important in the future.
But it is not all about communications. What the crisis has shown is that businesses in the travel sector must be willing to adapt and change their business models in order to survive. I call this "COVID-aptability," and it will be a crucial management skill moving forward. Many organizations did pivot successfully during lockdown: restaurants focused on takeout and delivery for income; commercial airlines flew critical medical supplies and other cargo around the world; and hotels supported the pandemic by providing overflow capacity for hospitals, or by offering people a facility to self-isolate and protect their families. However, as travel restrictions ease, organizations will have to consider how they can adapt to the next stage of the pandemic — one characterized by an emphasis on health and safety, technology and a low-touch economy.
In terms of the travel sector's vulnerability and/or resilience, has anything surprised you as we entered what would normally be peak travel season?
This crisis has highlighted how the tourism and hospitality sector is particularly vulnerable to "uncontrollable" events, especially those destinations that were over-dependent on tourism. For these destinations, the crisis has been a wake-up call, and perhaps these destinations will either recognize the need for a more diversified economy, or invest in their tourism sector to make it more resilient and sustainable. For some tourism destinations, though, this crisis may represent an opportunity. As John F. Kennedy was fond of saying, when written in Chinese, the word crisis is composed of two characters; one represents danger and the other represents opportunity. The restaurant sector, for example, was in trouble long before the pandemic arrived, so this could be a chance to re-evaluate the industry's structural inadequacies and create a more stable business model.
Until there is a vaccine, the virus will influence nearly every sector of travel from transportation, destination and resorts, to the accommodations, attractions, events and restaurants.

Tourism professor Simon Hudson
From the traveler's perspective, what are some realistic alternatives to boarding a crowded flight or visiting a bustling city? You've mentioned that virtual reality might help keep people interested in travel, but what types of trips can people safely plan if they actually want to go someplace?
Just as governments may not take the travel industry for granted in the future, travelers themselves are more likely to appreciate their ability to travel. But they may change their travel behavior. The traveler of the future will be more cautious than before, and the public health conditions and hygiene standards of destinations will become a top priority. Travelers will be taking more staycations, more domestic rather than foreign vacations, and some will take fewer vacations. A friend of mine, who had originally planned to travel around Europe for the whole summer with his family, has instead rented a RV, and is visiting many of the National Parks in America. We are going to see a lot more of this type of travel.
In March, you were yourself "stuck" in a Canadian ski resort but making the best of the situation by enjoying the outdoors. You were also already hard at work on a new book looking at tourism in the age of COVID-19. That book is now out. What can readers expect to learn from the book about the future of travel during the pandemic — short term and long term?
It's hard to summarize the book in a couple paragraphs, but the main reason I wrote it was because it was clear to me that the travel industry — more than any other — was going to be severely impacted by the crisis, both in the short- and long-term. It needed to be documented. What I highlighted in the book was how the pandemic and travel were inextricably linked, how the different sectors of the industry reacted to the crisis, leadership and communication strategies employed by the industry during the crisis, and the social, economic and environmental impacts of the pandemic. As for the future, it will be one driven by technology: we have hotels employing virus-killing robots to do the cleaning; beaches are using drones to monitor social distancing; airports are installing thermal cameras and disinfection tunnels; and attractions are using apps to monitor social distancing.
In the short-term it is all about survival, but most experts would agree that recovery from the COVID-19 crisis will be slow. Until there is a vaccine, the virus will influence nearly every sector of travel from transportation, destination and resorts, to the accommodations, attractions, events and restaurants. I am a big fan of historian, author and world-traveler Yuval Noah Harari, who wrote Sapiens and Homo Deus. At the end of the book, I note that Harari believes historians in a thousand years will look back at the COVID-19 crisis as a mere bump in the road for the human race. However, those of us involved in the travel industry will see this crisis more as a road block. So, this book is intended to provide a few ideas for navigating around this road block, and for being prepared and more resilient when the next one comes along.
---
Travel forum
The University of South Carolina's School of Hotel, Restaurant and Tourism Management is hosting a free online forum to discuss the impacts of COVID-19 on travel and tourism. The forum will begin at 10 a.m. July 27 and will feature South Carolina hospitality and tourism management professor Simon Hudson, whose latest book, COVID-19 and Travel: Impacts, Responses and Outcomes, was published June 30.
---
Share this Story! Let friends in your social network know what you are reading about
---