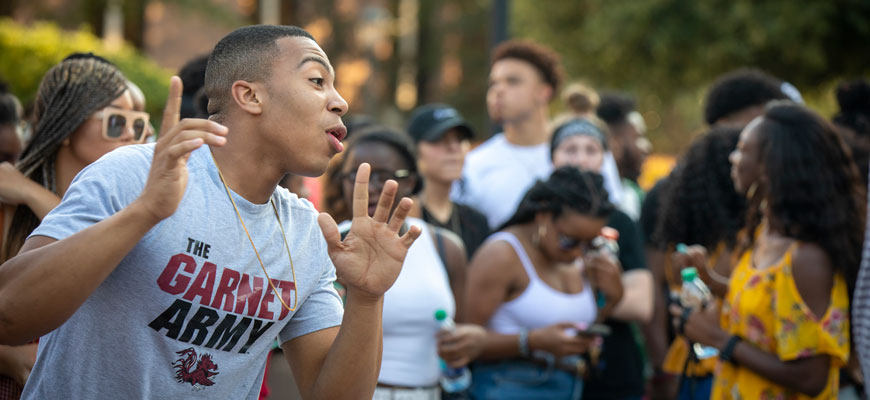 Podcast-a-thon elevates Black voices, supports Black programs
12-hour event highlights One Creed, One Carolina campaign
---
By Megan Sexton,
msexton@mailbox.sc.edu
---
When the University of South Carolina launched the One Creed, One Carolina crowdfunding campaign, chatter on social media platforms started almost immediately, says Hannah White, student body vice president.
"I saw it all over Twitter, in GroupMe chats, everywhere. Everyone was saying, 'Oh my gosh, did y'all see the campaign UofSC is marketing? Like, this is for real.' It was the first time in a long time I saw a lot of Black students take pride in the university and really appreciate the fact that something like the One Creed, One Carolina program is happening here."
One Creed, One Carolina raises money for programs that affect Black students including the African American Studies Program, the Black Law Students Association Fund, the Gamecock Guarantee, the Center for Civil Rights History and Research, the Carolina Cares Cupboard in the College of Nursing, various scholarships and the diversity, equity and inclusion funds at several UofSC colleges.
For White, the campaign shows the university "cares specifically about Black students. It's not just saying it in words, it actually shows action behind those words. A campaign to raise money for programs and resources and scholarships that directly impact Black students really can makes a difference in students' lives."
And White decided she needed to get involved in the campaign, too.
A few months earlier, she teamed with recent alumna Lyric Swinton to put together a successful 24-hour podcast-a-thon for COVID-19 relief. This time, she's planning a 12-hour event to highlight Black excellence at UofSC through conversations with students, alumni and faculty. The live-streamed event, from 7 a.m. until 7 p.m. Aug. 28, will raise money for the One Creed, One Carolina campaign.
If people can see the greatness from Black individuals who have come to the university, they can be inspired by their testimony.

Hannah White, study body vice president
Among the guests who will be interviewed by White and her four co-hosts are: Cleveland Sellers, civil rights leader and former professor and director of the African American Studies program at UofSC; Henrie Monteith Treadwell, one of the first three Black students to desegregate the university in 1963; former Gamecock football player Moe Brown, who now is running for Congress from South Carolina; alumna Cheslie Kryst, a lawyer and former Miss USA; and several UofSC student body presidents. Each guest will have a 30-minute time slot.
"These are individuals who 100 percent resemble Black excellence in my eyes," White says. "If people can see the greatness from Black individuals who have come to the university, they can be inspired by their testimony."
The event comes on Giving Black Day, at the conclusion of Black Philanthropy Month, a coordinated national effort to celebrate Black giving.
White, a junior majoring in risk management and marketing in the Darla Moore School of Business, also is a member of the South Carolina Honors College. A University Ambassador, she has been heavily involved in campus life since she arrived at UofSC from Greenville.
"I knew I wanted to make an impact, especially to amplify marginalized communities and their voices," she says.
One of her co-hosts on the podcast will be Julian Williams, the university's new vice president for diversity, equity and inclusion.
"The One Creed, One Carolina crowdfunding campaign allows people to give back and make a huge impact," Williams says. "As we endeavor to further create a culture of inclusion at UofSC, it is critical that we invest in Black students, Black studies and Black organizations that benefit our students and faculty."
---
Share this Story! Let friends in your social network know what you are reading about
---