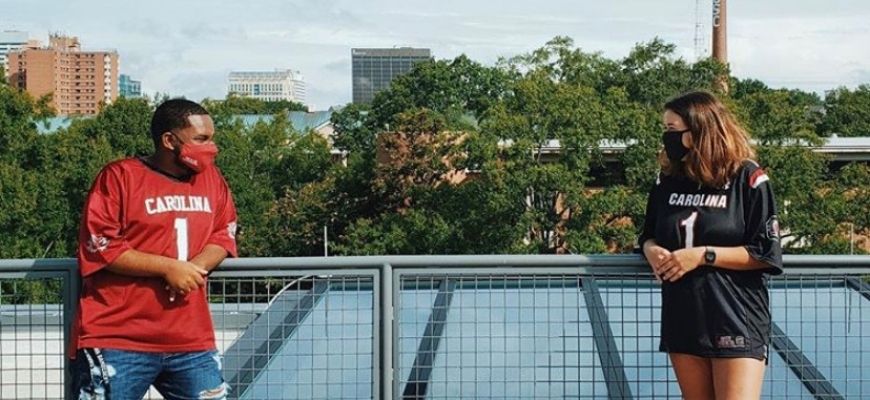 Student podcast shares stories of resilience, hope and mental health
---
By Caleigh McDaniel,
stucomm@mailbox.sc.edu
---
Student Health Services' weekly podcast Hear Me Out has just begun its third season with new student hosts who are highlighting diverse perspectives on mental health topics.
Senior social work major Whitney Garland and junior psychology and women's and gender studies double major Timothy Simmons are teaming up this year to amplify stories of resilience, hope and mental health in the Carolina Community in an effort to inspire students to face their own challenges with renewed strength and to remind them that they are not alone.
Throughout this academic year, Garland and Simmons will explore topics such as grief and loss, depression, self-care, insecurity and more. The podcast will highlight resources that are available to students to help them function at their best.
"Some students may not seek counseling or other mental health resources before listening to our podcast, but after they listen, it lessens the stigma around seeking help," says Simmons.
This season of Hear Me Out is especially timely, because of the additional struggles students have been facing with COVID-19.
In their first episode, Garland and Simmons discuss the importance of self-care, especially during the pandemic.
"Taking that moment and really prioritizing mental health is so important during all of this. We have to make sure that we're not forgetting about mental health, because there are so many things going on. It still has to be a conversation we are having, which why I think it's so cool that we're doing this now," says Garland.
In addition to self-care, Garland and Simmons discuss what led them to hosting Hear Me Out and what they hope to bring to the podcast.
"I wanted to be a host of the podcast to give the show a different perspective. So far, Hear Me Out has only had white women as hosts. Which is fine, but there are different perspectives that needed to be highlighted and I knew I could do it," Simmons says. "In past seasons I feel like there was a lack of intersectional voices, people of color and queer people in the podcast. And as a host, I want to shed some light, bring those voices to the front and really help people understand that mental health doesn't affect everyone in the same way."
To hear Garland and Simmons' candid conversations about their own mental health journeys, guests' stories, favorite self-care activities and more, listen to Hear Me Out on Apple Podcasts, SoundCloud and Spotify.
---
Share this Story! Let friends in your social network know what you are reading about
---