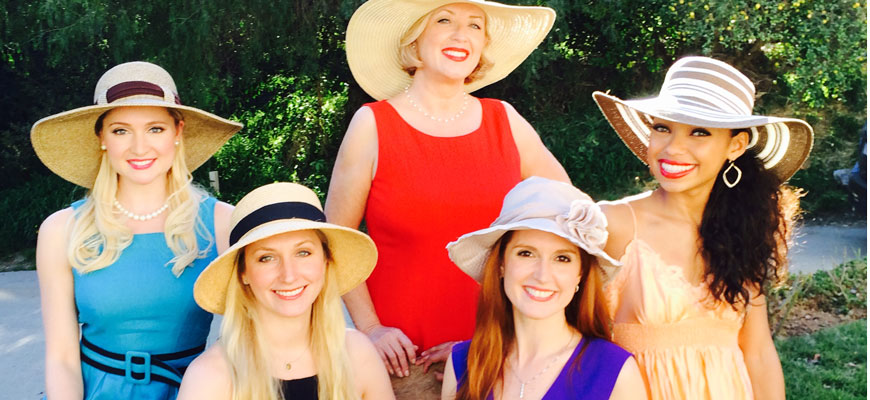 From Gaffney to Broadway to Hollywood
UofSC alumna Julia Fowler's Southern roots steer her acting and writing career
---
By Megan Sexton,
msexton@mailbox.sc.edu
---
Growing up in Gaffney, South Carolina, Julia Fowler's southernness was baked — or perhaps fried — into her. She brought an unapologetic drawl with her to the theater and dance department at the University of South Carolina, where she earned her degree — and magna cum laude honors — in 1994. Then she moved on to New York City, where her Southern roots and clogging skills helped land her a role in the original cast of Broadway's Tony Award winning revival of Annie Get Your Gun. She also performed in the national tour of Joseph and The Amazing Technicolor Dreamcoat, opposite Donny Osmond.
But it took her move to Los Angeles in 2000 for her to fully appreciate and embrace her upbringing.
The Southern Women Channel she started on YouTube scored a viral hit with Sh%t Southern Women Say, a mash-up of skits and quips by Fowler and a group of Southern actor friends. Her first book of comedic essays and sayings, Talk Southern To Me, was so popular the publisher asked for a second one, with Embrace Your Southern, Sugar! released in September. She's a writer — and the only Southerner — on a new Netflix sitcom about a family living in Nashville.
And she's particularly proud of her days as a Phi Beta Kappa graduate from UofSC's College of Arts and Sciences, a member of the Chi Omega sisterhood and a loyal Gamecock.
Fowler spoke to us from her home in Los Angeles about how "being Southern" has helped steer her career. Below is an edited transcript of her comments.
I was a theater and dance major at the University of South Carolina. Susan Anderson, of course, was my professor. Susan is ballet based, and she said to me very early, 'I'm going to teach you to be a better ballet dancer, but that's not your goal. You need to be on Broadway. Concentrate your efforts there.' I did. And I ended up in New York from Gaffney, South Carolina, doing musical theater, Broadway, national tours. Susan and the other professors were pivotal in my career. I don't think I would ever have made it on Broadway without Susan taking an interest in me.
I met my husband (Sam Sokolow) in New York. I won him over with Southern food. Honey, he was born and raised in New York City. We are the funniest opposite couple ever.
He is a television producer and had a job opportunity in Los Angeles. We were long distance while I was still on Broadway. Then we got engaged. I made the decision to leave New York and move to Los Angeles and marry this guy, because love makes you do crazy things.
Then I had to figure out what I was going to do next. I had only ever planned to do Broadway for the rest of my life.
I came out here and I thought I'd transition into film and television. I started doing acting classes. The University of South Carolina was all theater based; it's a very different skillset. I started appearing on some televisions shows. But I was used to doing eight shows a week on Broadway; I wasn't fulfilled creatively.
I always wanted to write. I was always a bookworm, even though I was an artist. My husband said, 'Why don't you try writing?' I got software to write screenplays and I taught myself how to use it and I wrote my first script for a feature film. I was just practicing, to be honest. I didn't have a film degree. I was going from everything I'd learned about story from the performer's point of view. I sent it to a couple producers for some feedback. The first one called me and said, 'I love it and I want to be your producer.'
I ended up selling my first screenplay that I ever wrote to a movie studio. They didn't make the movie, but they optioned it. So, I got the script back and I've spent the last several years trying to get that movie made. I'll be pitching that movie from the nursing home.
But writing that movie gave me confidence. I found my voice as a writer. One of the reasons they cited for not making the movie, the marketing department said, 'It's just too Southern. It's too narrow. It's too niche of an audience.' They want movies that do well globally. They were afraid the humor wouldn't translate.
Being a Southern woman, that irked the fire out of me. Instead of pivoting and writing things more mainstream with broader appeal, which was the advice I was given by everyone in the industry, I did the opposite. I leaned more into my Southern voice. I said, 'I'm just going to write in this lane.' There's not a lot of people like me out here. Southerners need people representing their point of view. We can laugh at ourselves as Southerners. We know we're nuts, as opposed to a Hollywood writer writing what feels like a condescending caricature of a Southerner.
Fowler's next step was to test drive that voice by starting a You Tube channel focusing on Southern sayings and humor. In 2012, she wrote and acted in the first Sh%t Southern Women Say, casting some of her best friends in Los Angeles — actors who were from the South. It was an instant hit.
I was like, 'See there. I told y'all there was an audience for my crazy country voice.' The YouTube channel is really just a hobby. But it's connected me to the Southern community in a way that has served my homesickness. I have this beautiful internet community I interact with on a daily basis. I feel like I'm hanging out with Southerners all the way out here in Los Angeles.
The YouTube channel led to the opportunity to write a book. Talk Southern To Me, a collection of Southern stories and quips, was published by Gibbes Smith in 2018 to strong reviews and a book tour through the South. It did so well, the publisher offered a second book contract. Embrace Your Southern, Sugar! was released in September and is a more personal look at Southern life.
It feels to me that we have our own subculture in the South. I think it's the reason people are fascinated with us. My mantra that I preach in this book and when I do public speaking is, 'Embrace your Southern. The fact that you were raised in the South is your greatest asset in life.' We tend to get known for our mistakes and our history. The burden that we carry as Southerners is our history. We tend to not get celebrated for the things that we should be a shining example for: hospitality, charm, caring about other people, having a sense of community, being polite for no reason at all.
In the book I talk about moving to New York City as a girl who just graduated from the University of South Carolina, and what that experience was like. My eyes were opened to the fact I had lived in this beautiful culture that I didn't appreciate until I stepped outside of it.
In my real life, I am a screenplay and television writer. I just adapted a novel (Whistling Past the Graveyard) into a screenplay. Now we're in process of shopping that. But it's on hold because of the pandemic.
I'm a writer on a Netflix sitcom called Country Comfort. It stars Katharine McPhee and Eddie Cibrian. I'm the only Southerner on the writing staff. I'm working with people who are so much smarter than me. They're brilliant writers and I'm so lucky to be under their tutelage. And I get to teach them on a daily basis about the South. That's fun, too.
For me, my Southern accent is not something I'm just making an industry out of; it's who I am.
Having a Southern accent doesn't mean you're stupid — at all. I also find it gets you a lot in life. It's your secret weapon if used correctly. It hurts my heart when I hear Southerners try to cover up their Southern accents. Lean into it. Celebrate it. Because you can't teach it. I know that.
My goal is to create my own sitcom where I get to choose the writers and the actors. And I'll employ every single Southern person I know. My dream is to hit the jackpot and take my sitcom money and move back to South Carolina.
My husband, the South can be challenging for him. There are things he doesn't always understand, but he doesn't just judge a Southerner like a normal Northern person might. He understands the complexities. There are reasons behind our madness. He's really come to love the South and enjoy his time there. When he visits my hometown of Gaffney, which is very rural, very country, he's a little bit like a zoo animal. 'Look at him. Isn't he interesting?' But he has a good spirit and he adores my parents. And they love him.
But Daddy did have a hard time with me falling in love with this Yankee. When I told him we were going to get married, he said, 'Well, at least he's not a Clemson fan.'
Banner image: The cast of Sh%t Southern Women Say, a collection of quips and Southern sayings created by Julia Fowler, star in viral videos that are available on the Southern Women Channel on YouTube. From left: Katherine Bailess (Mississippi), Delaine Yates (Louisiana), Sheila Hawkins (South Carolina), Julia Fowler (South Carolina) and Logan Browning (Georgia).

---
Share this Story! Let friends in your social network know what you are reading about
---