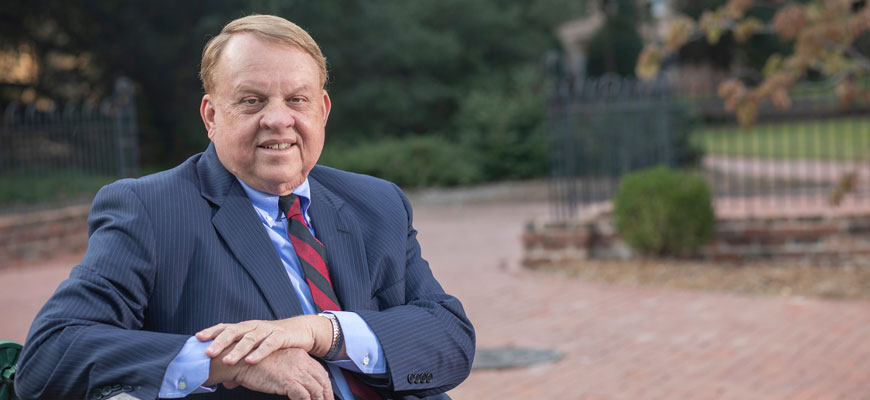 College of Arts and Sciences dean steps down to return to teaching
---
---
Lacy Ford is stepping down as dean of the College of Arts and Sciences and will return to research and teaching in the 2021 spring semester. Ford has directed the University of South Carolina's largest and oldest college since 2016.
Professor Joel Samuels, interim vice provost for interdisciplinary studies and director of the Rule of Law Collaborative, will serve as interim dean starting Jan. 1.
Provost William Tate thanked Ford for his leadership of the college over the past four years and for his long service to the university in a variety of leadership roles at the department, college and campus levels.
Ford says he is proud of the college's accomplishments during his time as dean and is confident in its future: "As I return to teaching, I am confident that the faculty and staff in the College of Arts and Sciences will continue to make a difference in our state, the nation and, most importantly, in the lives of thousands of individual students."
Samuels has a broad range of experience over the past 16 years as a member of the UofSC faculty. Since 2014, he has directed the Rule of Law Collaborative, building the center into a national leader in its field. In that time, he has developed a deep appreciation for and understanding of the College of Arts and Sciences and has collaborated with colleagues from many disciplines including anthropology, criminology, geography, history, philosophy and political science.
In his role as interim vice provost, Samuels worked collaboratively with faculty and deans with a focus on developing strategies to increase interdisciplinary research opportunities and programs on campus.
In announcing Samuels as interim dean, Tate says Samuels understands the interdependence of the university's academic community, citing collaborations with colleagues in the School of Law, College of Social Work, Arnold School of Public Health and the School of Medicine.
"The College of Arts and Sciences is at the heart of the University of South Carolina in every way," Samuels says. "From student instruction and mentoring to engagement in research, scholarship and creative works to community and professional outreach, the college epitomizes the mission of the university. I am excited to work with the faculty and support our research and teaching missions."  
Banner image: Lacy Ford has served as dean of the College of Arts and Sciences since 2016.
---
Share this Story! Let friends in your social network know what you are reading about
---