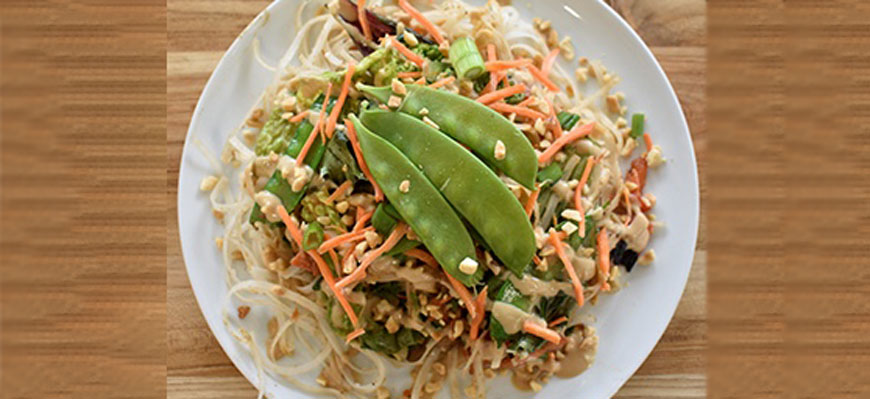 Carolina Food Co. offers healthy ways to fuel up for finals
---
By Jason Dermack,
stucomm@mailbox.sc.edu
---
With final exams on the horizon, your health and wellness should be one of your top priorities and it all starts with eating right. We recently spoke with Tanya Miceli, a registered dietician with the Carolina Food Co., to get her take on how you can make good food choices that satisfy your stomach while also stimulating your brain.
What are some tips you can provide for eating healthy on-campus and off-campus?
When eating out or preparing food at home, it's important to focus on following a well-balanced diet by incorporating all food groups — vegetables, fruit, lean proteins, whole grains and low-fat dairy — throughout the day. This allows for a wider variety of nutrient consumption. Another good strategy is to select more healthful preparation methods including baked, grilled, roasted, sauteed instead of fried and breaded.
Why are plant-based options helpful?
Plant-based foods are typically lower in saturated fat, higher in unsaturated fat (the type of fat we want more of), and good sources of fiber which are all beneficial to heart health. A higher fiber content in food also helps with satiety and may reduce likelihood of overeating.
How can making small changes like the salad instead of fries add up?
Selecting more nutrient-dense choices like fruit and vegetables may help with reducing calorie consumption, but it can also encourage a more diverse intake of vitamins, minerals and fiber.
As a registered dietician, what services do you offer students here at school?
I have several roles, including being a resource for students with special dietary needs and general nutrition questions, hosting health and wellness tables and activities at various dining locations focused on a specific theme (most recently National Nutrition Month), and ensuring nutrition information is available for our menus. There is no cost associated with any of the resources or events I provide.
---
Learn more
Suggestions for how to select and put together healthful meals at various dining locations can be found in the Roadmap to Healthy Eating on the Carolina Food Co. website.
---
Share this Story! Let friends in your social network know what you are reading about
---