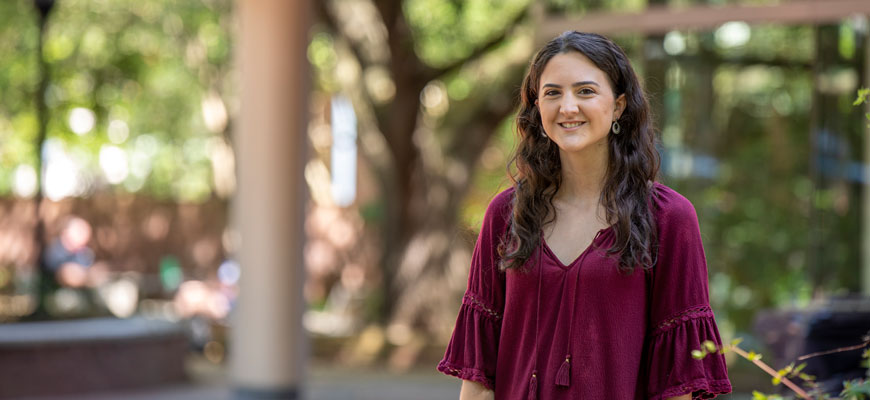 Class of 2021: Jessica Teresi
Biology major draws on her experience to help students understand mental health issues
---
By Megan Sexton,
msexton@mailbox.sc.edu
, 803-777-1421
---
Jessica Teresi, a biological sciences major from Northfield, New Jersey, suffered two severe concussions — one in high school and one her sophomore year in college — that affected her mental health. But the medical challenges also resulted in gained resiliency skills and a commitment to advocacy and service.
As a Changing Carolina Peer Leader at the University of South Carolina, she devoted time to helping other college students navigate mental health issues. She is part of Changing Carolina's Mental Health Special Interest Group at the Center for Health and Wellbeing, helping create events to educate and provide campus resources for students on general, sexual and mental health. She will graduate in May with leadership distinction in professional and civic engagement.
And she plans to continue that work as a physician assistant.
When I was in my junior year of high school, I had a serious concussion that kept me out of school for a few months. It really affected everything — emotional, physical, cognitive capabilities. I was in and out of doctor's appointments and frustrated about why this wasn't getting better. Typically, when someone gets a concussion, they rest a couple weeks and they're fine.
Concussions are known to produce abrupt changes in a person's cognitive, physical and emotional state. My case is no exception. I have struggled over the past five years to find relief from my lingering symptoms as side effects from common medical treatments sacrificed my emotional wellbeing. As a result, I was inspired to find a routine to manage my stress and promote the importance of stress management as a Changing Carolina Peer Leader.
If you can get people in the habit of speaking about their emotions, they know that maybe they do need to reach out to someone for help.

Jessica Teresi, Class of 2021, Changing Carolina Peer Leader
We are a nationally recognized peer education organization. We work with Student Health Services. We're not a student club group; we are employees of the health center. We go through certified training, and we learn from faculty advisors. I learned how to identify high-risk behaviors, how to educate students at events.
While I was still recovering from my most prevalent symptom, headaches, I got reinjured during my sophomore year of college and that reignited everything.
For me, since I was still going through injury recovery, I knew how it affected every single aspect of my life, health-wise. I felt like there were messages people should be aware of. The mental health part, how to verbalize your emotions, stress management. Even if you don't need it now, it will come in handy.
While serving as the Changing Carolina mental health co-chair, she jumpstarted "I Feel UofSC," a mental health campaign that educates students about identifying and classifying feelings and emotions.
With mental health, people are nervous to say what they're going through. Everyone says, 'I'm fine.' But (getting better) relies so heavily on me communicating what I'm going through. To say, 'I'm not doing OK,' that leads to seeking help.
My part was to teach people how to validate their emotions. I did that by a student-inspired Spotify account. We asked students to think of a song and think about how that song makes you feel. Everyone could relate to that. We were normalizing conversations around mental health. People would say, 'That's what I listen to when I'm trying to be in a better mood.' It was people coming together to discuss their emotions.
If you can get people in the habit of speaking about their emotions, they know that maybe they do need to reach out to someone for help.
Teresi is now in the process of applying to physician assistant programs, a path suggested by her University 101 instructor after she arrived on campus her freshman year.
I was in the living-learning community, Galen Health Fellows. It was very beneficial for me. You have a cohort, so the people in your U101 were in Bio 101 and your lab and we also all lived in Patterson. That helped me get adjusted and feel like it wasn't just me on my own. Our U101 class was health care oriented. That's the whole reason I got interested in PA career.
Everyone tells you campus fit is a real thing and you don't understand it until you're on the campus. That happened pretty quickly for me. Once I was here, I had that internal feeling, 'This is where I want to be.'
---
Share this Story! Let friends in your social network know what you are reading about
---