Remembering fallen veterans
James Hull's journey to document UofSC alumni who made ultimate sacrifice
Growing up in a military family near Gettysburg, Pennsylvania, James Hull has long been interested in history.
His grandfather served in the Army during the Korean War. Hull's father was a Marine, and his 19-year-old son is now serving in the Marine Corps, based at Camp Lejeune, North Carolina. Hull himself spent 12 years in the Marines and Navy Reserves before being medically retired from the Marine Corps in 2014. He was deployed three times — to Afghanistan, Kuwait and the Horn of Africa — between 2006 and 2010, so he knows something about service members making the ultimate sacrifice.
Now working in the Office of Veterans and Military Services at the University of South Carolina, Hull certifies all VA education benefits for students. He also has taken on a project that combines both his love of history and his military service: Documenting every UofSC student or alumni who died while serving in uniform over the past 120 years. So far, he's identified 120 service members with UofSC connections who died in service to the country. He's certain there are more.
"When I started working for the university in 2019, I started digging into our veteran population. One point of interest was the War Memorial. I was walking around there and found just some of the markers from World War I veterans there," he says. "I'm still digging.
Every day I try to do something regarding finding more people, finding some of their backgrounds, learning their stories."
His research has been helped along by those markers at the War Memorial on campus. The building at Sumter and Pendleton streets was constructed in 1935 to honor South Carolinians killed in World War I. It also is home to a garden that features granite and bronze markers to memorialize the students and alumni who died in the First World War.
Hull also found a copy of the 1945 Garnet and Black yearbook at the Thomas Cooper Library that lists 85 names of university students or alumni who were killed in World War II. Tools such as Ancestry.com and searchable online obituaries have led him to others with UofSC ties who were killed in Korea, Vietnam and the Global War on Terrorism.
This month, he finished his final class as an undergraduate at UofSC, earning his degree from the College of Hospitality, Retail and Sport Management. His next step will be a master's degree in public history.
He hopes his work chronicling the fallen service members will be memorialized in a book, museum exhibit or bricks on campus that note the names and years of service of the students and alumni.
"With the current issues of looking at history in a different way, particularly the removal of monuments and things like that, it's more important than ever that we recognize these folks for what they did. They didn't make it home," he says. "The least that we as a university can do is say, 'Hey, thank you for what you did.' They gave their life for what they believed."
For now, he is continuing his work to flesh out the stories behind the names of Gamecocks who lost their lives in service to the United States. Here are just a few of them:
World War I
David Worth Loring, 1887-1918, attended UofSC 1905-06, from Sumter, South Carolina
A U.S. Army lieutenant, Loring earned the Distinguished Service Cross posthumously for extraordinary heroism in action while serving with the 115th machine gun battalion near Ypres, Belgium. His citation reads: "When his gun positions were rendered untenable by shell fire, and his men were ordered to shelter in dugouts, Lieutenant Loring left a place of safety for the purpose of seeing that all his men were under cover, and was mortally wounded by a shell, dying on his way to the hospital."
John McKenzie McIntosh, 1895-1918, UofSC Class of 1916, Columbia resident
A member of the U.S. Army 19th division, 357th Infantry, McIntosh was killed during the Saint- Mihiel sector offensive in France, leading his platoon against a machine gun nest. He was cited for bravery.
Edmund Vincent Walsh, 1895-1918, student at UofSC 1914-1916, from Blackville, South Carolina
Walsh enlisted in April 1917 and served in the paymaster's department at Camp Sevier, a temporary military encampment in Greenville County. He was later commissioned as a second lieutenant and went to France in May 1918 where he served with Company B, 59th Infantry at Chateau-Thierry. He fought in battle from July 14 until Aug. 8, when he was wounded by a shell as he commanded his company. He died from his wounds Aug. 23, 1918. He was 23 years old.
World War II
William Gordon Dixon, 1919-1944, UofSC student, from Columbia
Capt. Dixon (bottom left in banner photo) was a bomber pilot and commanded an air squadron in the southwest Pacific. On Sept. 1, 1944, he was the commanding officer of a crew that left from Wadke Island toward the Palau Islands. Overcast conditions caused the group to have to circle twice to the west of its target. Just as the plane was about to release its bomb load, Japanese anti-aircraft fire from Koror Island hit the starboard wing root. The bombardier dropped the bombs just south of Koror when one of the wings separated from the plane. Dixon and his crew were killed when the aircraft crashed on the north side of the island.
William Henry Harth Jr., 1921-1943
Harth was a student at UofSC before enlisting in the Army Air Corps. His father, William Henry Harth Sr., was the UofSC athletic director.
A 2nd lieutenant in the U.S. Army Air Forces, Harth, 22, was a bombardier who participated in the historic mission known as Operation Tidal Wave, the first large-scale, low-altitude attack by U.S. heavy bomber aircraft on Ploesti, Romania. On Aug. 1, 1943, Harth's plane was hit by German anti-aircraft fire, and he was declared missing in action when his aircraft failed to return.
In the days after the bombing raid, Romanian officials and civilians recovered and interred the remains of the deceased American airmen in the hero section of the nearby Bolovan Cemetery, with the remains later moved to the Ardennes American Cemetery in Belgium.
While the remains of 145 airmen who participated in the operation were recovered, Harth was listed as non-recoverable. Decades later, the military used DNA from his family to identify Harth. His remains were returned to Columbia in 2018 where he was buried with full military honors at the Fort Jackson National Cemetery.
George Tsalapatas, 1923-1945, pharmacy student at UofSC before he enlisted in the Navy Reserves
A petty officer 3rd class, Tsalapatas was killed in action March 1, 1945 at the Battle of Iwo Jima in the South Pacific. A member of the 5th Medical Battalion in the 5th Marine Division, he was killed by an enemy sniper while he was helping a wounded Marine on the front lines. He was awarded the bronze star posthumously.
Korea
Felix William Goudelock Jr., 1929-1951, UofSC Class of 1950
Born in Union, South Carolina, Goudelock was a member of Company E, 2nd Battalion, 7th Marines, 1st Marine Division. He was seriously wounded while fighting the enemy in Korea and died of those wounds Feb. 2, 1951. He was awarded the Purple Heart.
Vietnam
Joseph Felder Hart, 1944-1969, UofSC Class of 1967, graduate of Columbia High School
Hart was the battalion commander of the NROTC at the University of South Carolina and completed his aviation training at the Naval Air Station in Pensacola, Florida. In Vietnam, he was attached to a new unit called the U.S. Navy Seawolves, a specialized rescue unit that responded to ground units in heavy contact with North Vietnamese troops.
During his service in Vietnam, he was cited several times by the military for heroic achievements. In one of those battles, on Dec. 13, 1968, Lt. Hart was serving as co-pilot of a plane that supported two river patrol boats under enemy machine gun and rocket fire on the Mekong River in Kien Phong Provence. Hart provided cover fire for the lead aircraft during firing runs and assisted his aircraft commander by firing both cover fire and attacks against the enemy.
"His professionalism and competence in directing both his and the door gunner's fire into the target area were a major factor in breaking up the enemy attacks on the disabled patrol boats. After silencing the enemy, he assisted the pilot by covering all quadrants as his craft landed to evacuate the wounded," according to the Air Medal citation presented by the commander of Naval Forces in Vietnam.
On April 28, 1969, Hart's helicopter responded to a call in Kien Tuong Province, near the Cambodian border, where two helicopters in the unit were shot down. Hart was shot and killed while getting back into his helicopter just before takeoff. He was 24 years old.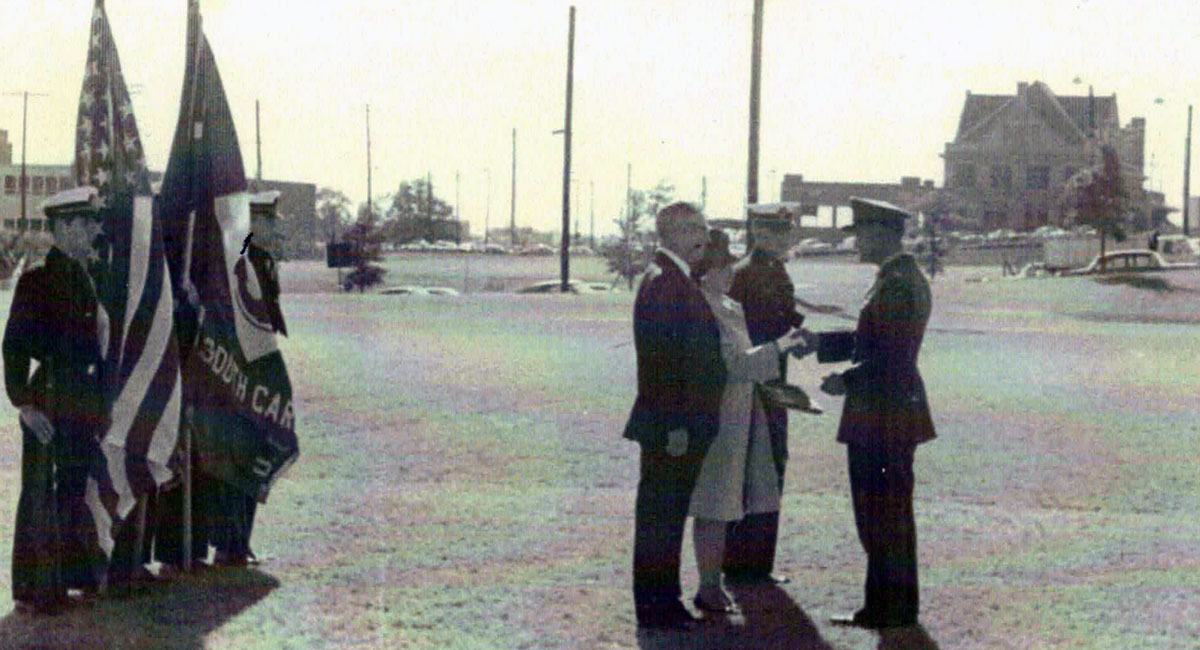 Roy Franklin Phillips, 1946-1969, UofSC Class of 1968, born in Lakeland, Florida
Phillips was a 1st lieutenant and platoon leader serving with B Company, 1st Battalion, 5th Marines. On Jan. 18, 1969 he was wounded by fragments from a friendly fire air strike east of the Liberty Bridge in Quang Nam Province in Vietnam. He was admitted to the U.S. Navy hospital at Danang, where he died two days later.
Global War on Terrorism
Edward John Murphy, 1968-2005, UofSC Class of 1991, born in Wilmington, Delaware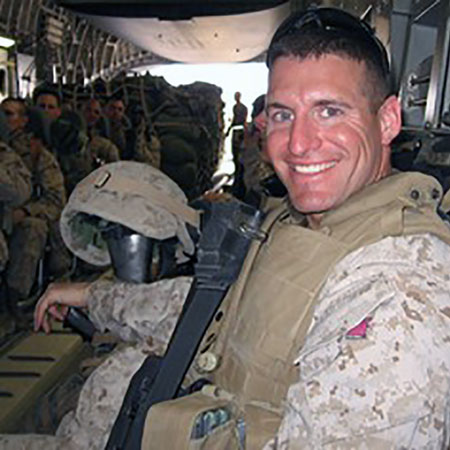 Murphy, who earned his degree in history, was a signal officer who also was trained as an Army Ranger and jumpmaster. Maj. Murphy was killed April 6, 2005, when the CH-47 helicopter he was riding in crashed in Ghazni, Afghanistan. He was awarded the Bronze Star.
Jason Daniel Mann, 1979-2008, UofSC Class of 2005
Mann enlisted in the Marine Corps Nov. 3, 1997, and achieved the rank of staff sergeant while in the NROTC program at UofSC. He was commissioned as a second lieutenant and earned his bachelor's degree in business with a focus on finance and economics in May 2005.
After completing the Basic School, Infantry Officers Course and Ground Intelligence Officers Course, he reported to the 1st battalion, 6th Marines, 2nd Marine Division as the battalion's assistant intelligence officer. He later was the battalion's scout sniper platoon commander.
Mann died in Garmsir, Helmand Province, Afghanistan on July 17, 2008, when a roof collapsed on him.
He was awarded the Navy and Marine Corps Achievement Medal.
---
How you can help
James Hull is continuing to research and compile names of UofSC students or alumni veterans who died in service to the country. To contribute information, contact Hull at jlhull@email.sc.edu.
---
Banner image: Capt. William Gordon Dixon, bottom left, was the commanding officer of a plane that was shot down in the Pacific during World War II. Dixon and his entire crew were killed.