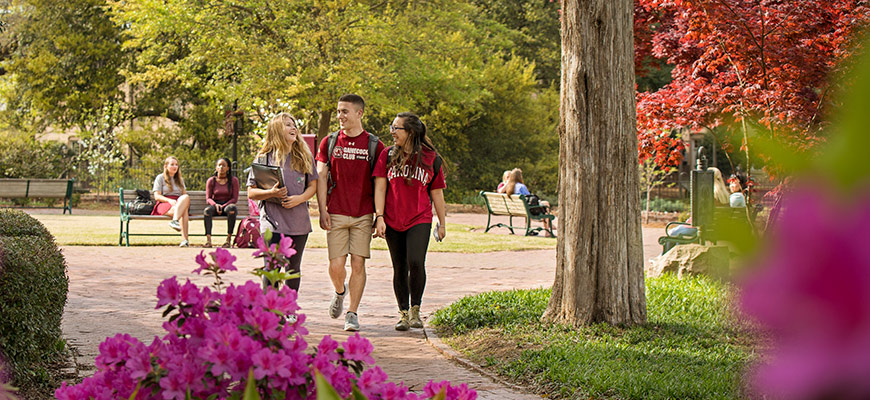 What's new on campus?
---
By Cam Adams and Audrey Hill,
stucomm@mailbox.sc.edu
---
It won't be long until students pack their bags, get in their cars and make the trip to Columbia to begin another semester at South Carolina. But with a new school year come new things you should know before arriving on campus.
New attendance policy
One of the biggest changes to the upcoming school year is the new university attendance policy that offers students more flexibility in taking an excused absence from class. In previous years, students were limited to three or four allowed absences before their grade was affected. Also, these absences were not split between excused and unexcused, they were absences no matter the circumstance.
Students may request an excused absence in certain situations, including illness, death or severe illness of a family member or the observance of a religious holiday. Students also are allowed to miss 5% of class time in unexcused absences before their grade is affected. For example, in a traditional 3-credit Monday-Wednesday-Friday class, a student could take two unexcused absences, and in a 3-credit hour Tuesday-Thursday class, they could have one unexcused absence.
For more information on the new attendance policy, students can check out the policy statement online.
Meal plan/swipes
Student meal plans are changing to allow more flexibility. With the Residential All Access plans, students will have unlimited access to all five residential restaurants and can use two meal swipes per day for meal exchange combos.
The All Access plans also include a stipend of meal plan dollars to provide flexible spending if students want to purchase something separate from the meal combo. In years past, students had to make sure to spend their meal plan dollars before the fall semester ended. But with this year's plan, unused meal plan dollars will now roll over into the spring semester.
First-year residents are automatically enrolled in the All Access plan plus $200 meal plan dollars with the option to upgrade to $350 meal plan dollars. In addition to the All Access plan, upperclassmen have the option to enroll in a voluntary meal plan. This includes the traditional weekly plan options of 10, 14 or 21 meal swipes, declining balance plans and block meal plans. For more information on this year's meal plans, check out the Carolina Food Co. website.
Parking
Student parking permits are now available for purchase online or in the parking services office at 1501 Pendleton St.
The any decal (AD) lots on Whaley Street, near Bates, are closed due to construction in the area. There will be a new any decal lot off Harden Street in the BullStreet District, and new resident student (S) lots at 1214 Flora St. More information will be posted on the Parking and Transportation Services website as it becomes available.
iHub
The new Gamecock iHub opens this month. Located in the Byrnes building, the iHub is an authorized Apple store with laptops, AirPods and other products. The location does not, however, sell or service iPhones.
Gamecock iHub offers product repair and services of personal Apple computers for students, alumni and employees. The services are provided by Apple authorized service technicians from the university's Division of Information Technology.
Students can gain experience working with Apple at the iHub under leadership of UofSC's department of retailing.
For more information, visit the Gamecock iHub website or email ihub@sc.edu.
---
Share this Story! Let friends in your social network know what you are reading about
---