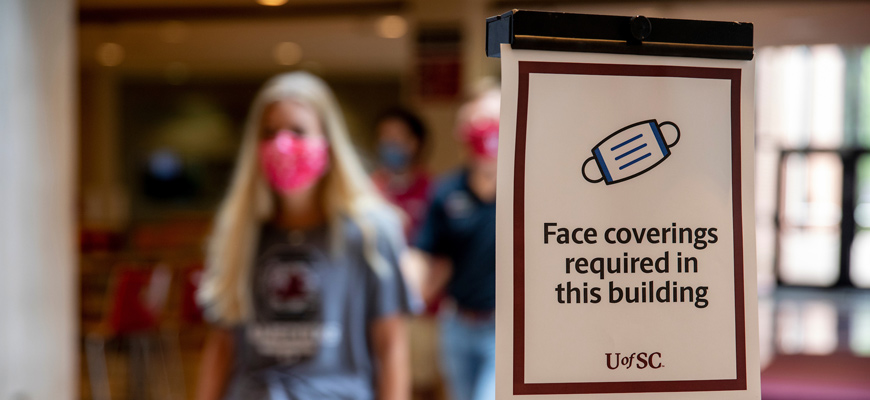 COVID-19 questions answered
---
By Nina Jackson,
jacksc1@mailbox.sc.edu
---
Below are answers to frequently asked questions about COVID-19 and campus mitigation policies. Updated information is included on the university's COVID-19 website and distributed weekly to all faculty, staff and students in the COVID-19 email.

Do I have to get tested?
Yes. Every student, faculty and staff member on the Columbia campus, regardless of vaccination status, must participate in Fall 2021 testing. However, individuals who do not come to the Columbia campus are not required to test.
The following students must participate in monthly COVID-19 testing:
Students living in university-owned or -leased housing (residence halls, 650 Lincoln, Park Place, Greek Village, Greene Crossing and YOUnion)
Students registered for at least one face-to-face or hybrid course
Students with Greek Village meal plans
Students who employment requires them to be present on campus property


For employees:
All faculty and staff reporting to campus for work must participate in monthly COVID-19 testing. If you do not report to campus for any reason, then you are not required to test.

If my classes are all online, am I exempt from testing protocol?
Yes. Students whose classes are coded as 100% online are not required to test.

Why should I get tested if I am already vaccinated?
Testing is needed to identify and respond to COVID-19 cases not only among the unvaccinated, but also breakthrough cases among those who are vaccinated.

Why do I need to wear a mask if I am vaccinated?
Vaccination is the best defense against COVID-19. However, there are breakthrough cases among the vaccinated, and it is possible for asymptomatic, vaccinated individuals to spread the virus. Wearing a mask is an effective mitigation strategy for both the unvaccinated and the vaccinated.

What makes Delta different?
The Delta variant is highly contagious, more than two times as contagious as previous variants, according to the CDC. Some data also suggest the Delta variant might cause more severe illness than previous strains in unvaccinated persons, according to research cited by the CDC. That is why it is more important than ever to be vaccinated because it is the best defense against the virus.

What is the process for students and instructors to follow if a student is in isolation or quarantine and can't go to class?
Student Responsibility: Students should fill out a COVID-19 student report form and upload supporting documentation. The form initiates a process in which faculty will be sent formal letters of notification. Some students may also notify instructors directly; however, faculty are permitted to request formal notification.
Instructor Responsibility: Instructors have the right to ask students for formal notification via the COVID-19 student report form process and are encouraged to do so, as this will notify each of the student's instructors. Appropriately documented class absence due to COVID-19 isolation or quarantine is an excused absence under class attendance policy. Therefore, instructors must provide make-up work for excused absences — but are not obligated to record or live stream their class for those missing class.

Where can I find the testing schedule?
Testing schedules and locations are updated weekly on the university's COVID-19 website. Please read the information carefully, as some testing sites are only for faculty and staff, and site locations can often shift from week to week for students.

What data will be on the COVID-19 Dashboard? Will it include vaccination rates on campus?
The COVID-19 dashboard will be updated every Tuesday with data from the preceding Sunday through Saturday. Information included in the Dashboard will reflect the university's comprehensive approach: active cases; testing; vaccinations (including faculty, staff and students); contact tracing, isolation and quarantine activity; wastewater monitoring; healthcare data; mitigation activity; and community impact.

How can I get vaccinated on campus?
The university's COVID-19 page contains complete information about on-campus clinic locations and hours, as well as details on how to schedule a vaccine appointment and how to upload your vaccination card to MyHealthSpace.
Visit vaccines.gov for information on off-campus vaccination sites.

Where can I find additional vaccine information?
The CDC answers key questions about COVID-19 vaccines.
---
Share this Story! Let friends in your social network know what you are reading about
---