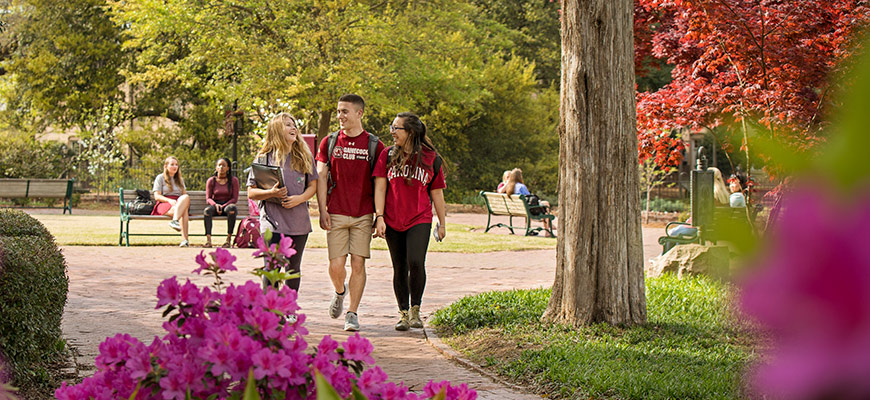 Resources for students success
---
By Cam Adams,
stucomm@mailbox.sc.edu
---
It is important to be prepared for your first week back on campus. Students typically remember to pack things like their toothbrush, clothes and school supplies. However, some of the most important things students need for success in college don't fit in a suitcase.
The University of South Carolina offers students several resources to help them succeed both in and out of the classroom. These resources are located in some of UofSC's most convenient spots on campus, including the Thomas Cooper Library and the Center for Health and Well-Being.
Student Success Center
The Student Success Center offers many free resources for students to use during their time as a Gamecock, including tutoring, writing help and money management classes.
Tutors are fellow undergraduate students trained to facilitate discussions on course content and to guide students to improve their academic habits. This resource is available both in-person and virtual.
The Peer Writing program is specifically designed to assist students on visual, written or audio assignments, including research papers, presentations and speeches.
The Student Success Center can also help students who are new to managing their own money, with specialized workshops or one-on-one help. For all the services and resources available, visit the Student Success Center website.
Career Center
In the Career Center, students can receive career coaching to help them learn more about the professional world and how they fit into it. The center also offers help with resume writing, interview preparation and job searches. For more information, visit the Career Center website.
University Health Services
Student health will be a major issue this year and University Health Services offers many different options as no cost or a small copay. Students can book appointments for health services ranging from a yearly checkup to immunizations, including the COVID-19 vaccine.
The Student Health Center also offers mental health services, including a psychiatrist visit and up to 10 free counseling sessions per academic year. These services are offered in individual, group or couples settings and are available online as well as in-person.
There is also an on-campus pharmacy at the Center for Health and Well-Being. For more information, visit the University Health Services website.
Welcome Week Events
Students can kick off the academic year with a slew of events in the first few weeks of the semester, including First Night Carolina on Aug. 18, the Association of African American Students Cookout on Aug. 20 and the Student Organization Fair on Aug. 25.
For a complete list of Welcome Events, check out the UofSC events calendar.
---
Share this Story! Let friends in your social network know what you are reading about
---