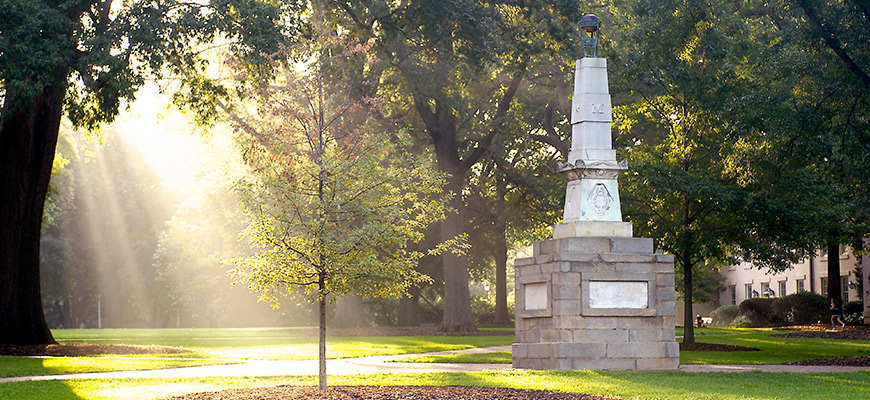 UofSC endowment sees record growth in fiscal year 2020-2021
---
---
Thanks to generous donors and savvy investment, the University of South Carolina's endowment reached unprecedented heights in fiscal year 2020-21. Private gifts and investment gains increased the university's endowment from $782 million in FY2020 to $989 million as of June 30, 2021.
This year's 26 percent increase of $207 million was largely driven by the U.S. economy's resurgence, fueled by the arrival of the COVID-19 vaccine.
"Investors saw that news as a sign of economic recovery and began a period of positive trading that continued into summer 2021," says Jason Caskey, president and chief executive officer of University Foundations. "During this period, we experienced some of the best returns in the history of managing the investment portfolio."
The university's total endowment comprises University Foundations, the University of South Carolina endowment, the USC Upstate Foundation and certain real estate held for investment purposes. South Carolina's combined pool of investments, the largest component of the endowment, totaled $788 million as of June 30, 2021, while the rate of return on investments for the fiscal year was 35.7 percent. The overall 10-year return improved to 9.9 percent, one of the highest 10-year returns in the Southeastern Conference.
"We are grateful for the faithful support of the university's donors and for the leadership of the Foundations.... This strong foundation secures our ability to fulfill our mission as the state's flagship university."

Interim President Harris Pastides
Those investment numbers coupled with continued donor support to provide historic gains for the endowment. But what do these numbers mean for the university and, most importantly, its students?
"Gifts from our alumni and friends to support endowed programs provide enduring support for scholarships, our faculty and initiatives that are life-saving and life-changing," says Monica Delisa, vice president for development. "Endowment gifts allow donors to leave a legacy, making it possible for future generations of Gamecocks to continue their education and become state and world leaders."
According to Caskey, the USC Educational Foundation holds over 5,000 endowed funds that have been created and continuously supported by many generous donors over many years. Each year, these funds are awarded a percentage of their investment returns to be used for scholarships, professorships, fellowships and other areas of support based on the stated purpose of each fund.
"Furthermore, the Educational Foundation provides support to the university through scholarships and many other areas using returns on unrestricted investments," says Hunter Lambert, assistant vice president at University Foundations. "Increased growth in this area means increased support to the university."
Never has that been more true than this year. But, while an endowment of nearly $1 billion looks great on paper, that doesn't mean that South Carolina can spend those resources on whatever it needs. Most of those funds are invested, and the returns on investments determine how much of the money the university can use annually.
"As an endowment grows larger, so does its return," Lambert says. "A 10 percent return on $1,000 is much higher than a 10 percent return on $100. Therefore, as the endowment increases in size, so does the amount of scholarship and support funding that is generated from returns on investments." The Educational Foundation allocates about 70 percent of its unrestricted budget to provide scholarships and other support to the university and its students and faculty and staff members. The rest covers overhead costs of the University Foundations and is folded back into the endowment to help it continue to grow.
That 70 percent of unrestricted fund returns amounted to $7.8 million, $4.3 million of which will go toward undergraduate and graduate scholarships this year. Money is also allocated to areas such as faculty recruitment and retention, capital improvements, the Children's Center at USC, regional campuses and Discover UofSC.
"So while our portfolio benefits greatly from large gains on investments, it is imperative to continue raising and adding new money to the overall endowment as the market is unpredictable," Caskey says. He was also quick to give credit to the "outstanding investment committee that's part of the Educational Foundation board. It's their guidance and wisdom that led us to this point."
Interim President Harris Pastides praised the recent success and pointed to the direct impact that giving has at South Carolina.
"We are grateful for the faithful support of the university's donors and for the leadership of the Foundations, which have ensured the growth and stability of our endowment. This strong foundation secures our ability to fulfill our mission as the state's flagship university," Pastides says.
Outstanding leadership, generous donors and a stronger economy moving forward will enable the university to provide even more scholarships, fellowships and educational opportunities to its students and faculty and staff members well into the future.
To support areas of interest and passion at South Carolina, contact the development office at 877-349-2106 or online at giving.sc.edu.
---
Share this Story! Let friends in your social network know what you are reading about
---