A collection of firsts
First-generation college students bring wide range of perspectives to campus
A Ph.D. student who came to the U.S. from Jamaica as a track and field athlete. A nursing professor raised by a grandmother who had just a third-grade education. A home-schooled student interested in a career creating public policy.
First-generation college students bring a wide range of backgrounds and perspectives to campus.
At the University of South Carolina, 19 percent of the student body population identified as first-generation college students in Fall 2020.
"First-generation students at the University of South Carolina have met full admission requirements and are often the academic trailblazers in their families," says Althea Counts, director of the university's TRIO programs — a network of programs and services that support low-income and first-generation college students. "Although not a monolithic group, first-generation students are highly motivated and bring unique perspectives that enrich our campus culture. It is important that the university creates an environment that ensures a sense of belonging for first-generation students and provides support to completion of their degree."
The university offers a full range of experiences, opportunities and resources to help first-generation college students be successful. The First-Generation Student Organization lets students know the resources available to them and connects first-gen students with each other along with faculty, staff and community leaders. A chapter of Alpha Alpha Alpha, the national honor society for first-generation college students, was founded on the South Carolina campus in Fall 2020. The university will be marking National First-Generation College Student Celebration Week Nov. 8-12 with a full schedule of events.
We spoke to two undergraduates, a doctoral student, two alumni and two faculty members to learn about their experiences as first-generation students on campus and beyond. Here are their stories.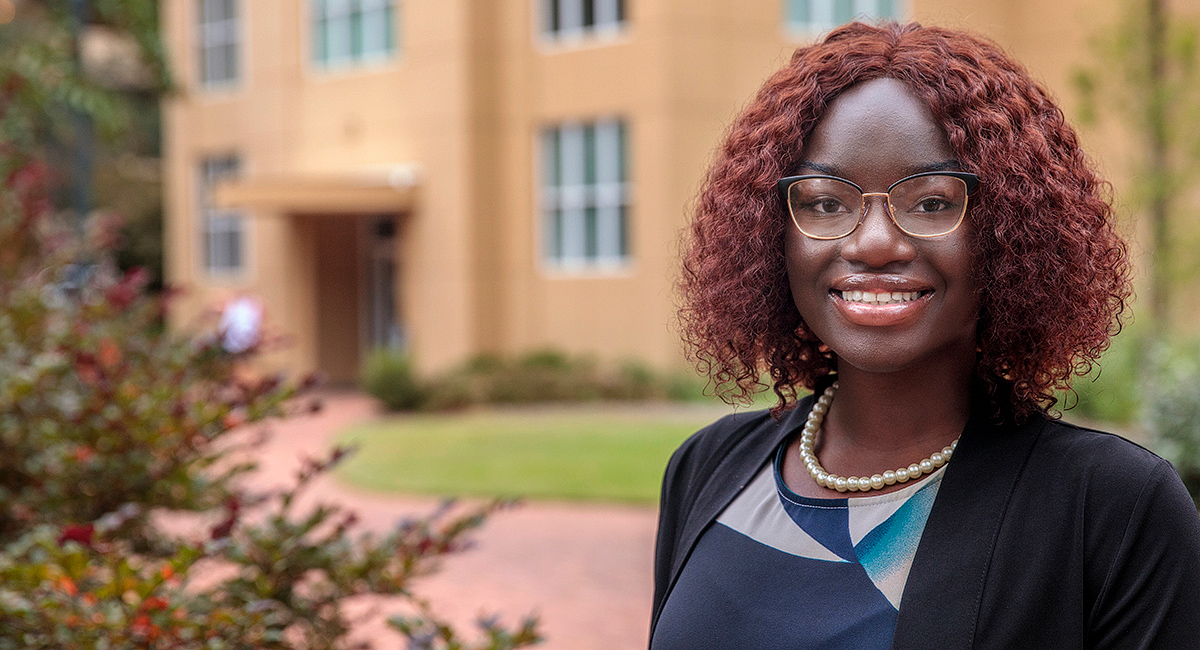 Tasia Brown
Tasia Brown is a senior majoring in social work from Abbeville, South Carolina.
Tasia Brown was coming home from high school four years ago when she saw her grandmother checking the mailbox at their home in Abbeville.
"I saw the big Gamecock symbol on the back of the envelope and I just started screaming," Brown says, talking about her acceptance letter from the University of South Carolina.
While she said her grandparents were big fans and were rooting for her to be a Gamecock, Brown worried she wasn't the type of student who could attend the University of South Carolina. She was an honor student in high school, but no one in her family had attended college, and she worried her standardized tests scores weren't strong enough.
"I was pretty close on the scores. And I worked very hard because I was the oldest and I wanted to set a good example for my two younger sisters. I really wanted to go to college," she says.
Brown grew up in the small town of Abbeville, in a working-class family with plenty of extended family living nearby. Her mother died when she was in high school, and Brown and her sisters moved in with their grandmother.
Her first days as a South Carolina student were challenging.
"I actually came in as a nursing major and I was part of the USC marching band. And I was doing 19 hours. It was a rude awakening," she says. "That first semester I had one bio class that I just couldn't get through at all. And I had to sit myself down and be like, 'Is this really the path that I want to take?' It was hard because as a first-generation student I felt like changing majors would make me feel like I was a failure. I didn't know what I would do if I didn't do nursing. I really give credit to my advisor at the time because she introduced me to social work and she put me in social work class that spring semester of my freshman year and I fell in love from there."
She said when she was growing up, there was a negative stigma surrounding social workers, and she heard about them only when they were removing children from homes.
"But as I learned about what social work really does, it's more than that, and I feel like it's a great thing. I love that it's open to a lot of aspects of helping others in the community and that I can do anything with it."
Now a senior social work major and a member of the Alpha Alpha Alpha national honor society for first-generation college students, Brown also is a TRIO McNair Scholar and a member of ROTC.
After graduation she will join the National Guard and will start work on her master's in social work. She eventually wants to earn a doctorate. And she is serving as an inspiration and sounding board for other family members.
"I really enjoy my sisters being able to come to me for help because when I was coming up there weren't those people I could go to and ask about college or completing the FAFSA or even coming to USC. So now I can actually go back and be a mentor to my siblings."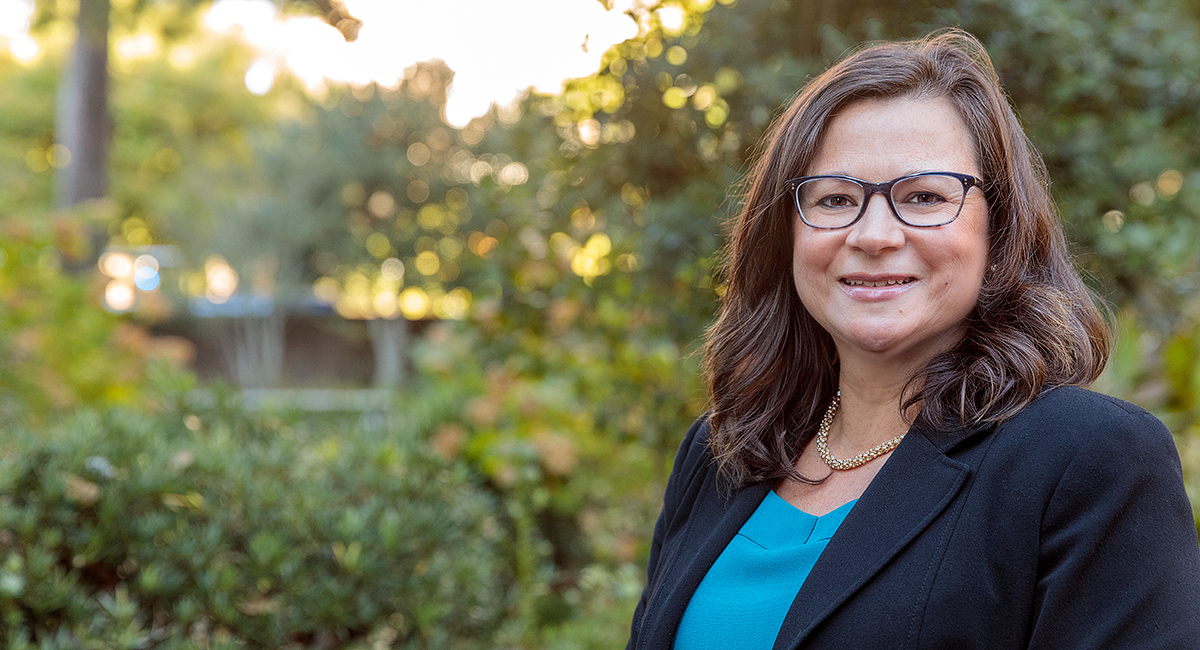 Dawn Campbell
Dawn Campbell is an adjunct professor in the Women's and Gender Studies program from Orangeburg, South Carolina.
Dawn Campbell's life changed direction in a University of South Carolina classroom.
She had grown up in Orangeburg, part of a large extended family that spent a good deal of time at her grandmother's home in the country.
"My grandmother was extraordinary. She helped raise many of her grandchildren. She had 15 grandchildren and about eight or nine of us would get dropped off by the school bus back at her house."
She knew from a young age she wanted to teach — even forcing her younger brother to check out library books from her room. She joined the Future Teachers of America club in high school. But she knew she would need to go to college to achieve her goals.
"Coming from a working-class family, I didn't have much support from anyone. We moved to Bamberg the second half of ninth grade. I don't remember anyone in high school talking to me about college," she says. "I didn't have support system at school or outside of school. But I knew I needed to do something to better my life."
She initially enrolled in Orangeburg-Calhoun Technical College, thinking she might pursue nursing. A few years later, she moved to Columbia, knowing she wanted to attend college, but without any idea how to afford it. With Pell Grants and other funding, she earned an associate degree from Midlands Tech before transferring to UofSC as a junior.
"I was a psychology major and an English minor. My senior year, one of my courses for English was on post modernism. I didn't know what it was. But the professor had a strong women's studies background. I didn't know what feminism was. The professor turned the class into a course on Third World women writers. She introduced me to all these brilliant writers, postmodernism, the language, the land and all of that.
"It lit a fire under me, and it changed the course of my life."
Campbell turned her attention to women's studies, earning her bachelor's degree and graduate certificate in the subject. She has been teaching women's and gender studies for 10 years, and she earned her doctorate in 2016 from the College of Education. She now also serves as the internship coordinator and textbook editor for women's and gender studies, designs curricula and also supervises student teachers. She created and led a study abroad course in Ireland for students in the Opportunity Scholars Program, opening doors for today's first-generation students. Along the way, she says she has received support from her colleagues on the university faculty, both in women's and gender studies and education.
"I always had to depend on myself," she says. "But on the flip side, I tap into my strengths and one of my strengths is resourcefulness. I believe that came from how I grew up and being a first-generation student. When you don't have a support system in place, you figure it out for yourself. I wanted to push forward and reach these goals. And education has been a way for me to get to a higher level in my life in so many areas, not just professionally.
"I also really enjoy what I do."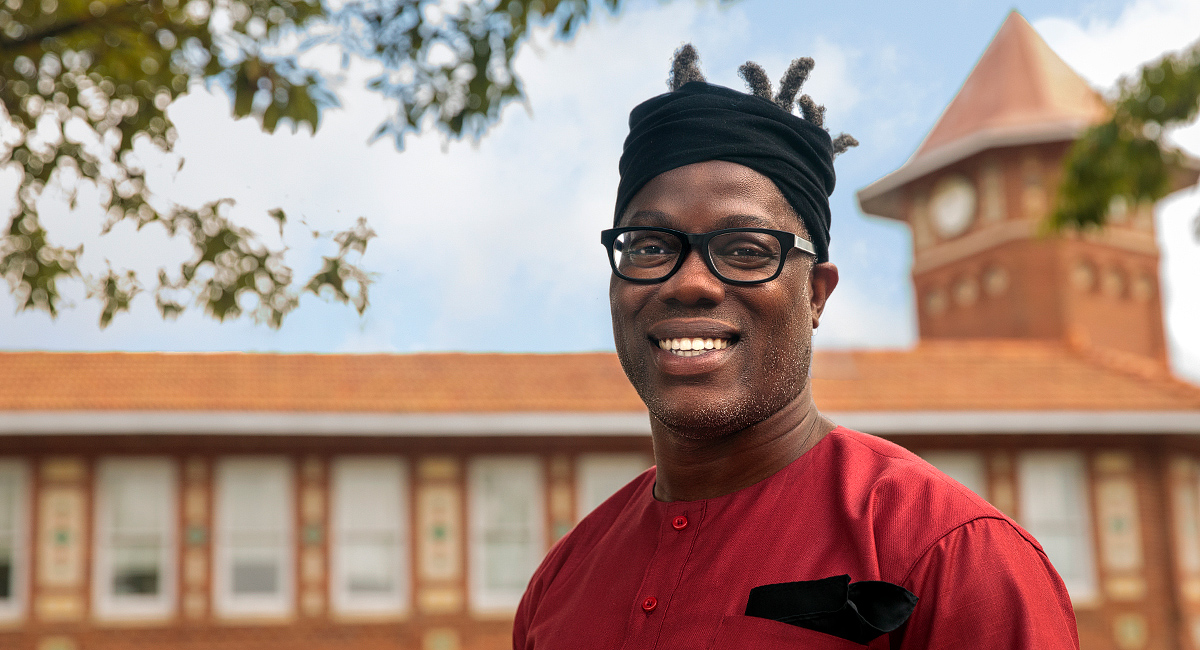 Sherard Duvall
Sherard "Shekeese" Duvall is a filmmaker and communications professional from Columbia who earned his degree in media arts from UofSC.
Sherard "Shekeese" Duvall grew up in North Columbia, surrounded by grandparents, cousins, aunts and uncles, all living in the Ridgewood neighborhood.
"My grandmother's side of the family and my grandfather's side of the family were all in the same neighborhood. Growing up, it was like being in an African village because it felt like I had hundreds of cousins. I was never alone. And when you have that many cousins all the time, there was always something to get into."
Duvall says his mother "saw the writing on the wall," and tried to steer her son away from any trouble by moving the family to the Broad River section of Columbia, where he attended Columbia High School.
"That really was a move that saved my life, when I think back about it. No kid likes leaving at 12 and going to a different school, but my mom saw something happening," he says. "I didn't fare much better once I got there, even though I was a really smart kid. I got caught up in doing the wrong things."
"When I graduated, I saw a lot of kids that I was with in middle school and early on in high school. We were in the smart classes. But I wasn't honored like they all were — National Honor Society, yellow ribbons, blue scarfs. And they were going to college," he says. "I remember sitting in the auditorium that day and feeling terrible, dealing with the reality of my situation."
It was a year before he called his former counselor from Upward Bound, a TRIO program at UofSC for high school students that provides access to academic support and college placement services for first-generation students. Duvall was ready to go to college.
His first choice was the Berklee College of Music, where he was accepted and received a partial scholarship, but when the full bill came, he knew he couldn't afford to attend. He went back to his Upward Bound adviser, and he talked about his interest in music and film.
"He told me, 'USC just started a media arts program. You can get a degree in that. Do you want to try to enroll at USC?' And I said, 'All right, let's give it a shot.' "
In 1998, two years after he graduated from high school, he entered the University of South Carolina, majoring in media arts. After being away from school for a couple years, he was focused and ready to excel, jumping into his classes along with internships and jobs. He started making connections with movers and shakers in the film, television, radio, marketing and communications world, employers who were taken with his work ethic, connections and technical skills.
Nearly 20 years after earning his bachelor's degree, Duvall continues to work as a video producer and communications professional who specializes in visual storytelling, film education, media strategy and diversity consulting, He has edited, directed and produced projects for organizations such as VH1, the Discovery Channel, MTV and BET. He started his own company, OTR Media Group, and he is one of the founders of Columbia's Hip-Hop Family Day: Love, Peace and Hip-Hop.
And while he has worked and traveled all over the country, Columbia remains his home base. He came full circle this fall, when he began teaching in the School of Visual Arts.
"So now I'm literally teaching one of the same classes I sat in as a student 20 years ago," he says. "The thread the whole time was film. And I'm still doing that now. I'm just very blessed to do what I wanted to do. There's not a lot of us, particularly from that time period, who are still working, thriving and being successful in that field."
And he continues to value the opportunities he had as a first-generation student at South Carolina.
"I was one of the TRIO kids at USC, the Opportunity Scholars Program. Had it not been around, I probably wouldn't have gone to college. Upward Bound and TRIO — they played a major role in that happening."
Crystal Murillo
Crystal Murillo is an assistant professor and director of the Center for Simulation and Experiential Learning, College of Nursing.
Growing up near the tiny town of Latta, South Carolina, Crystal Murillo remembers walking from her grandmother's house to a bridge that crossed over Interstate 95, where she would watch the cars zip by and imagine her future.
"I would think that someday I'm going to be in a car and I'm going to be traveling on the interstate. I would dream and I would tell myself, 'I'm going somewhere. I'm leaving here.'"
Even in her imagination, her 9-year-old self may have had a hard time believing she would eventually earn five degrees, including a Ph.D., and become a nursing professor at the University of South Carolina.
Murillo and her sister — along with several cousins — were primarily cared for by her grandmother, who had a third-grade level of education.
"My grandmother could not help with any of the academic aspect of education. But she did understand the environmental factors, the importance of attendance. So, we never missed school. I was never late."
Murillo was educated in the Latta public schools, where she earned membership in the National Honor Society, but admits she did not do her best work. "Honestly, I think I flew under the radar because I was also a biracial kid in a very rural town. I didn't want to bring any additional attention to myself."
Being raised in a poor family, she entered the Air Force a few weeks after graduation, knowing that it was her ticket to earning money for college.
"I knew that I was going to hate it. And I did," she says with a laugh. "Although I did learn some very beneficial life skills such as organization, time management and financial literacy. I made this small $1,200 investment to the Montgomery GI Bill to obtain $40,000 for college."
Once her four-year military commitment was up, she started college, with a goal of teaching future nurses. In 10 years, she earned two associate degrees from Florence-Darlington Technical College, then a bachelor's degree from the University of South Carolina and her master's and doctorate from the Medical University of South Carolina.
Navigating life as a first-generation college student wasn't always easy.
"I wouldn't be where I am if I didn't believe in myself and my abilities. From 9 years old, I was the girl at the bridge saying, 'I'm going somewhere with my life, I'm going to get a car.' And I know that seems very small. But I think that speaks to the power of core beliefs, to believing in yourself first."
And that's a message she continues to send to her students in the College of Nursing,
particularly first-generation college students, who can see themselves in her life story.
"I tell them, 'I can be a resource for you.' I feel obligated, and I don't mean that in a negative way," she says. "But we stand on the shoulders of giants who have come before us. I need to be sure that those who share that experience can stand on my shoulders, and I can't do that if I don't share my experience. I used to be embarrassed about it. I think there's this misperception that because I have a Ph.D., I must have had educated parents or had an affluent upbringing. It was quite the opposite. But my charge has been to shine my light so that I give others permission to do the same. I am so proud of my impact, both within my home with my children and to the many nursing students I encounter."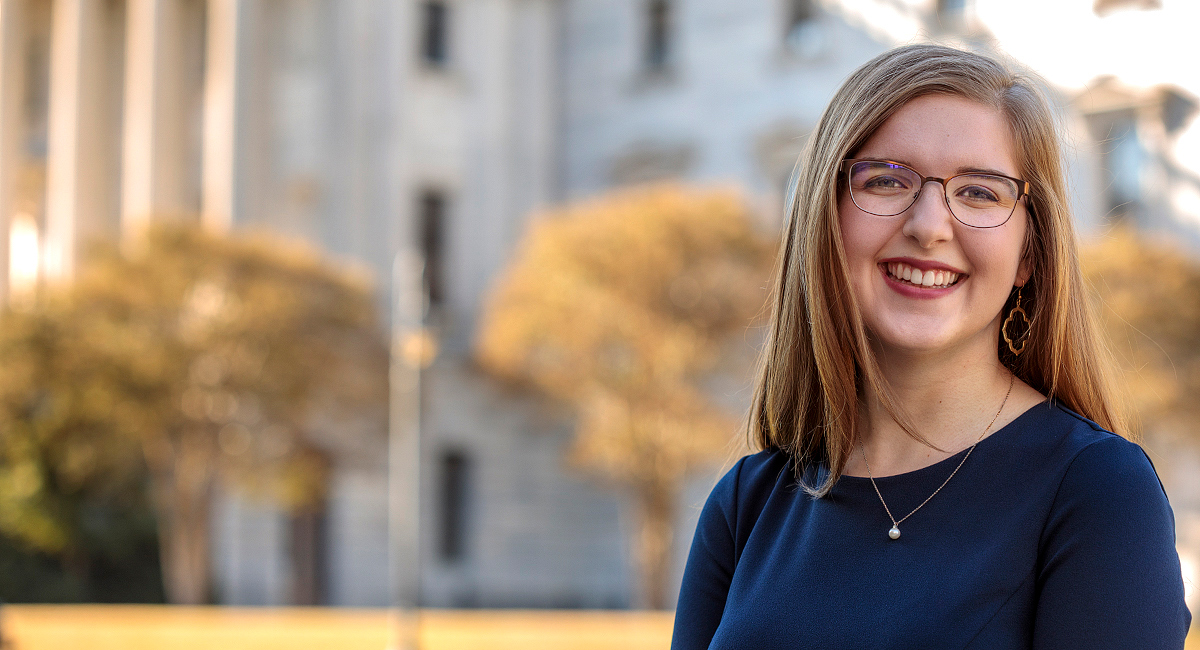 Felicity Ropp
Felicity Ropp is a junior majoring in political science and history in the South Carolina Honors College. She was born in Pickens, South Carolina, and grew up in Greenville County.
Felicity Ropp's parents grew up as conservative Mennonites, and her grandmothers grew up in Amish homes. For them, going to college was not an option.
"Both of my parents got married in their early 20s and neither of them had a college degree. Mennonite men work trade jobs, so my dad is a general contractor with his own business."
Ropp's maternal grandfather's family had a sawmill where all the men in the family were expected to work as soon as they were old enough. But her grandfather was determined to finish 12th grade, and he went against the family's norms to earn a high school diploma.
"So, my mom was always raised by him to really value learning, education and reading. He taught my mom when she was growing up to listen to and love NPR (National Public Radio). And so I grew up listening to and loving NPR in our kitchen every night," Ropp says. "I really got interested in news that way."
She also grew up loving to read and keeping up with current events. The oldest of four children, Ropp was homeschooled by her mother through 12th grade.
"I was self-motivated and I like to work at my own pace. I could get ahead. So, I really enjoyed it and it worked well for me. And we did homeschool co-op groups, so I was in a group that taught me math and science," she said. "Being homeschooled gave me a lot of great opportunities in high school to be able to do things like interning on political campaigns or working at a law firm as a high school student during business hours."
Those opportunities included interviewing Jeb Bush in October 2015 when he was running for president and writing about it in her blog. The Bush campaign ended up sharing her story on social media and offered her an internship. She was 14.
When it came time to apply for colleges, she earned a spot in the South Carolina Honors College as a Carolina Scholar, one of the university's top scholarships for undergraduates.
"In my college application essays, I talked about how it would be cool to be in the state capital with my interest in politics and different out-of-the-classroom learning experiences that I could have through internships. One thing that home-schooling taught me to value is that learning is not just inside the classroom. I've really loved my time at USC because I've had such cool opportunities both inside and outside the classroom that has made it so, so worthwhile."
She is the governor of South Carolina Student Legislature, which brings together college students from schools around the state to debate policy. She has had internships with think tanks and is interested in pursuing public policy work, particularly on issues such as poverty and economic development in rural areas.
And while she was the first member of her family to attend college, she's not the last.
Her mother took classes at North Greenville University and graduated this past spring with a degree in secondary education. She now teaches social studies at Wade Hampton High School in Greenville.
"It was really fun because we kind of got to navigate college together. And she did such a great job in school. She graduated summa cum laude."
And her three younger brothers, who are now in public school, also have plans to continue their education.
"College was never even an option that was talked about for my parents. So, I think my parents really made it a point to encourage me to go to college and pursue my interests that way, which I'm so glad they did," she says. "So now my brother is applying to colleges, and he's the first man in the family to not work a trade. He's going to get a college degree and wants to become a professor."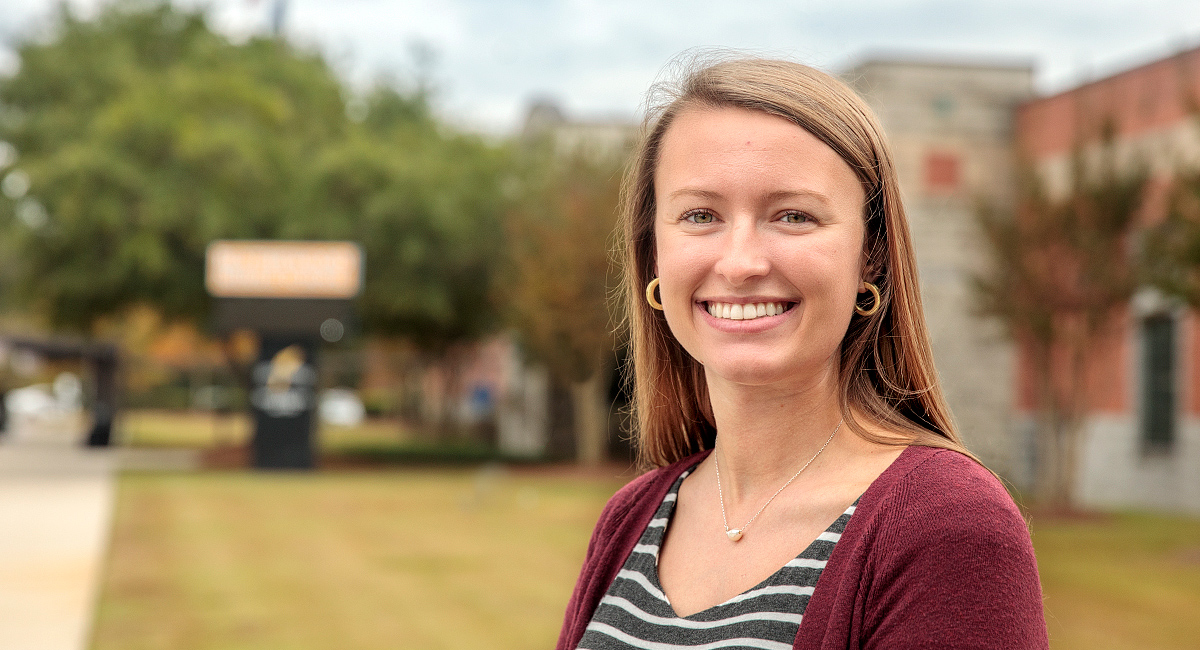 Maci Rozmus
Maci Rozmus is a middle school math teacher and College of Education alumna from Hartsville, South Carolina.
Maci Rozmus can't remember a time when she didn't want to be a teacher.
As a child, she would preside over a pretend classroom, making up tests and lessons for her younger brother. In school, she was fascinated by her teachers and always wanted to be just like them.
When it came time to choose a career, it was an easy choice. She would major in education at the University of South Carolina.
But that meant she had to become the first member of her family to go to college.
Rozmus attended Mayo High School for Math, Science and Technology, a public magnet school in Darlington, South Carolina.
"Definitely, going to that high school increased my motivation to want to go to college. That was the goal that I had set for myself in general, but also that was the standard there at my high school. Either you're going to college or you're going into the military, but you are doing something. So, it was very easy to follow steps and apply to colleges."
She applied to several schools, but once she was accepted to South Carolina, the deal was sealed.
"My parents were fans and I grew up watching football. And I loved the campus when I visited. So that was it," she says. "But coming from a household that was lower middle class, I would say it was definitely not something that was easy in terms of the financial piece. I applied for loans and aid and things like that. I got a bunch of help that way, but obviously it is something that I'm still paying off, just like a lot of people. But it was an experience that I am so glad that I was able to do."
She now teaches math to eighth-graders at Blythewood Middle School in Richland District 2. She is in her third year of teaching and participates in the Carolina Teacher Induction Program, known as CarolinaTIP, a collaboration between UofSC's College of Education and school districts around the state. The program helps new teachers make the transition to become successful classroom teachers.
"I knew that I needed help going into the classroom. Of course, I had classes and I was certified, but you really don't know what you're doing until you get in there. I need all the support that I can get," she says. "And also, the University of South Carolina has a piece of my heart. I just really miss going to school there. And so the fact that I still have these people in my life makes me feel so comforted. It's really helpful just to have a support group and people that I know I can talk to."
She also talks to her middle-schoolers about her experiences as a first-generation college student.
"A lot of my students don't have parents who have been to college, and so a lot of them would be first generation. And so I talk to them about how it is not always easy, but that their hard work — starting now and moving into the early years of high school — will be super essential," she says. "It gives me a different perspective because I'm not just saying, 'Oh yeah, you can go to college and this is how you do it.' I know that you have to work really hard. And if your parents haven't gone through that, you'll have to work a little harder."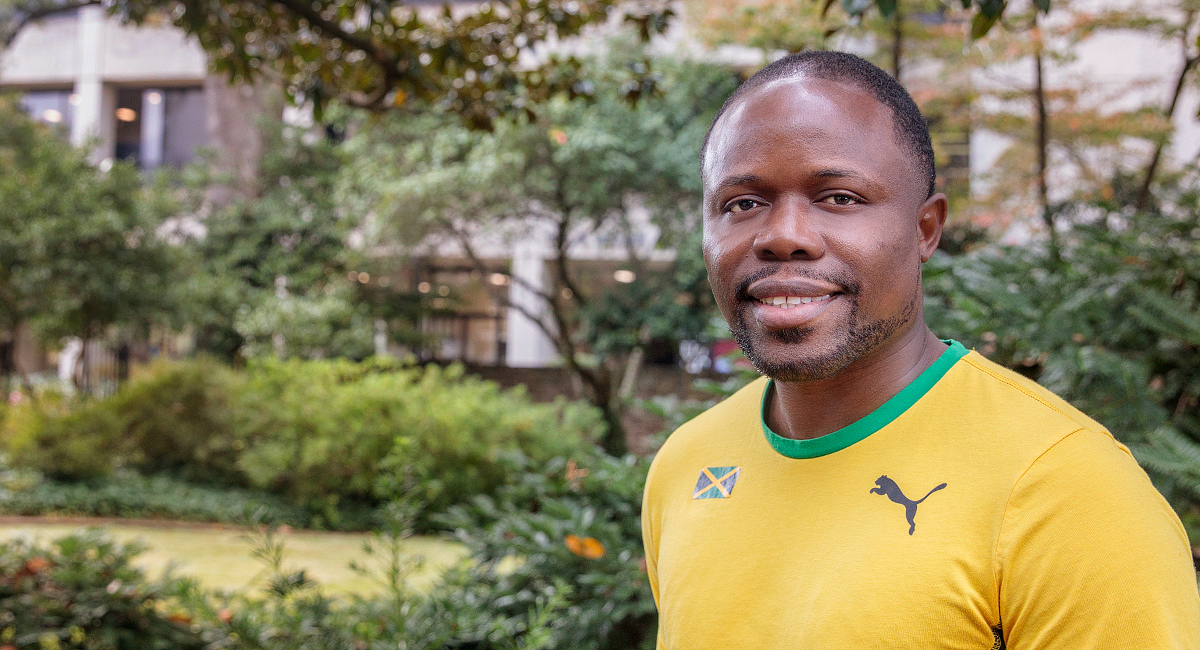 Kemardo Tyrell
Kemardo Tyrell is a Ph.D. student in sport and entertainment management from Enfield, Jamaica.
It was a hot Sunday afternoon in 2010 when Kemardo Tyrell boarded a flight from Jamaica to the United States, where he would attend Northeastern University on a track and field scholarship.
His father had died when he was a young child, so he grew up with just his mom — and a close-knit community of grandparents, cousins, other relatives and a church family in a small village about two hours from Kingston. And now he was saying goodbye.
"I remember when I got on that airplane to leave Jamaica, I cried like a baby. I couldn't believe that I was going off to go to college, something that I had never seen anyone in my family attempt to do or have the opportunity to do."
That road led him to school in Boston, followed by further education in Ohio, Arkansas and Idaho. Along the way he worked at SAP America, a software firm in Pennsylvania and at Tyson Foods in Arkansas. This fall, he was awarded a Presidential Fellowship and started the Ph.D. program in Sport and Entertainment Management at the University of South Carolina.
The discipline it took to get him to attend and excel in college and earn a bachelor and master's degrees started early. And he was fueled and encouraged by his community, his teachers and his family.
"My mom was always so supportive of me. So even though she didn't have much money, one of her main things was to say, 'I want you to get everything that I didn't get and more.' I remember coming home from school, and no matter how tired I was from practice, I still had to put in the hours to do homework. And she didn't understand anything I was doing in school, my math or my chemistry, but she always stayed up with me to keep me company until I finished all my work. Growing up, I was like, 'Mom, go to bed. I can do this.' But the older you get, you realize it and you appreciate it more. That was her contribution."
Once in the United States, his athletic career as a long jumper was plagued by injuries, but he was determined to continue his studies. After earning his MBA, he was thinking about his next step, deciding between a law degree or a doctorate, when he decided to apply to the sport and entertainment management Ph.D. program at South Carolina.
"None of my prior degrees are in this field, but I've always been that person who is really invested in sports. And the curriculum here is so business oriented and that's what I wanted," Tyrell says. "But apart from that, when I looked at the CVs and the experiences of the faculty in the department, that really was the selling point for me. These professors have so much experience in the industry outside of academia. I want to be somewhere where there's a balance."
And he also has a keen understanding of the road he has traveled — and the importance of giving back.
"Being a first-generation college student means everything to me. It tells me that nothing is impossible. The biggest thing in life is that I didn't give up because I knew education was my way out. I remember growing up and all my cousins before me didn't finish high school or didn't go to college. Now I'm like the inspiration to my cousins. Ever since I went to college, all those little ones behind me, they started just doing well in school. I help them financially to go to school because I told myself that if I can make it out, then there's no reason for them not to achieve something in life as well."