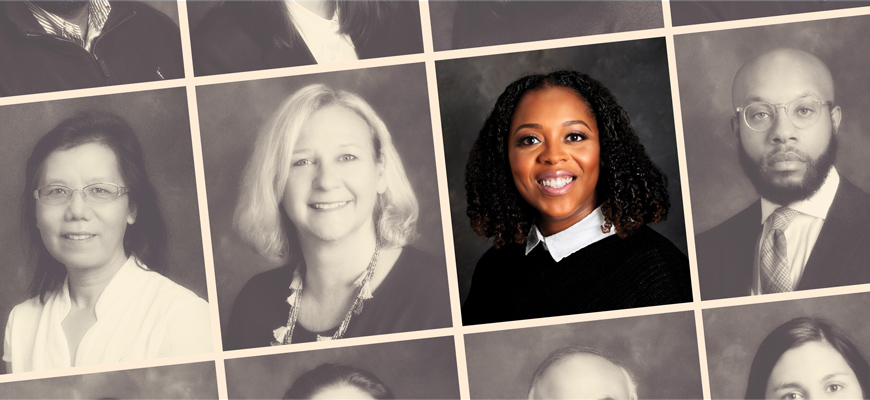 New faculty spotlight: Ebony Toussaint
Alumna returns to UofSC as public health professor, researcher
---
By Page Ivey,
pivey@mailbox.sc.edu
, 803-777-3085
---
University of South Carolina alumna Ebony Toussaint joined the university as a faculty member this fall, working with the Rural and Minority Health Research Center in the Arnold School of Public Health. One of her first research projects will be a study on eviction laws and health, on which she will work with her husband, Etienne Toussaint, who is a new professor in the School of Law.
How did you originally get interested in your field?
I took my first public health course during the second semester of my freshman year. I didn't know what public health was and had never heard of the field before that course. After I completed the course, I became a peer health educator with Student Health Services, sort of like a community health worker where the community is university students. I only knew of behavioral health at the time and while I loved the community-based approach, I wanted to focus on more structural changes to improve health outcomes through the legislative process. As I took other courses, I saw how I could combine my love for political science with public health. I took a health policy course with Mindi Spencer and that was it; I knew what I wanted to study in graduate school — health policy and health services research.
What was your dissertation and how has your research or scholarship evolved since then?
My dissertation research was focused on mental health and access to health care with one aspect focusing on access among rural Americans. I'm from a rural community (Beaufort, South Carolina), so it was fitting that I join the Rural and Minority Health Research Center in the Arnold School of Public Health. I'm still working on mental health with my colleagues there; we have grant funding from the Federal Office of Rural Health Policy to study mental health access and quality of care measures. I'm also working on a project with my spouse (UofSC law professor Etienne Toussaint) on evictions and health.
What made you decide to go into academia?
I love teaching, I love community outreach and I love research. In the academy, that's the perfect trifecta. I'm constantly surrounded by others who love teaching, research, and outreach also; it's so motivating and energizing. I also love the collaborative environment and opportunities for partnership with hospitals, nonprofits, faith-based organizations, etc.
Why did you choose the University of South Carolina?
The Arnold School of Public Health is a top school in the country and there are several research centers and interdisciplinary projects. What I loved the most about the center is that there are other research scientists who are wives and mothers; the culture they have created is very collaborative and supportive. I'm learning from top researchers and center directors Jan Eberth and Elizabeth Crouch. I'm being mentored by Jan Probst, distinguished professor emerita in the Arnold School and former director of the Rural and Minority Health Research Center. All our researchers and staff are truly amazing. We're a small group of women, so I've felt very much at home in such a well-balanced environment. Being at USC is being at home.
I love teaching, I love community outreach and I love research. In the academy, that's the perfect trifecta.

Ebony Toussaint
What are you most looking forward to this year?
I recently participated in the Prisma Health Research Showcase where I presented research on job satisfaction among nurses in relation to health care quality. I'm working on this project with Jan Probst and some of our colleagues in the College of Nursing. This is important and timely work given the nursing shortage that's only been worsened by the ongoing COVID-19 pandemic. I'm also learning geographic information system (GIS) software with Jan Eberth in her epidemiology course. Learning this skill is important for mapping my evictions and health research. We'll be able to better visualize and understand South Carolina population demographics in relation to access to health care and housing laws and policies.
What are you most looking forward to about being in Columbia or in South Carolina?
I love being back at home near family. I love that I get to raise my children near where I grew up and attend all my cultural festivals. I'm Gullah Geechee, so being able to take my children to the Gullah Festival and Heritage Days at the Penn Center is very important. My spouse Etienne's family is from Dominica and we're also excited to attend both the Columbia and Charlotte Caribbean festivals and parades. We're two best friends with island-based cultures. We've always said our love and friendship is an adventure and I'm excited to explore that here in South Carolina.
What do you hope to accomplish over the next five years?
I hope to take nursing courses as I am very interested in nursing science and becoming a nurse scientist. I hope to conduct research in both clinical and academic settings while teaching students, engaging in policy advocacy, and conducting community outreach at health fairs or with faith-based organizations. I've already been doing much of this, but my hope is the clinical knowledge will enhance my understanding of patient satisfaction, health care quality and nurse leadership.
What's a talent you have or something that you've done that people might find surprising?
I used to play softball, and I got to play in the SC General Assembly's annual House vs. Senate game while I was in undergrad and working as a legislative aide at the State House.
---
Share this Story! Let friends in your social network know what you are reading about
---