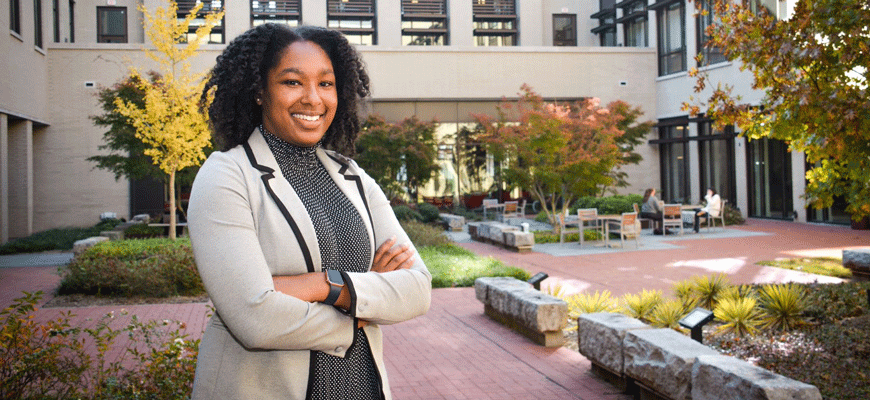 Law student to focus on housing security and stability through prestigious fellowship
2-year project will assist clients facing eviction, homelessness
---
By Carol J.G. Ward,
ward8@mailbox.sc.edu
, 803-771-7549
---
When Glynnis Hagins made the switch from high school teacher in her hometown of Hamlet, North Carolina, to law school student at the University of South Carolina, the transition was part of her career plan since childhood – sort of.
"I come from a family of educators, so becoming a teacher was a natural route for me to take, but when I was in elementary school, I wanted to be a lawyer. Actually, I said, 'I want to be a Supreme Court justice,' " Hagins says. "I'm an ambitious adult, and I was definitely a very ambitious child."
As she became more familiar with the multitasking and stress for lawyers practicing in small towns like Hamlet, her interest waned. Her parents encouraged her to consider a career in education, and she was selected as a North Carolina Teaching Fellow, the state's premier scholarship program for aspiring educators.
Following college, she taught ninth-grade English for four years, but her childhood dream of becoming a lawyer tugged at her. When she began to see job postings for education lawyers, something clicked.
"As a teacher, I knew I wanted to attend law school at a place where I could develop legal skills that would help me to become a strong legal advocate for children," Hagins says. "I saw that South Carolina Law had a children's law concentration and a Journal of Law and Education, both of which I knew would prepare me for practicing education law."
UofSC's first Skadden Fellow
Hagins, now a third-year law student, has received a Skadden Fellowship that will allow her to pursue her passions of law, education and public interest. She is one of 28 recipients for 2022 and the first UofSC law student to receive the prestigious fellowship, one of the more competitive awards in the country.
Fellows receive funding to embark on a two-year project with a host organization, generally a public interest advocacy group to work on a range of legal issues, including access to public benefits, education equity, housing security, veterans' benefits, immigrants' rights, LGBTQ+ rights, worker safety, consumer protection, restorative justice and child welfare.
Hagins's fellowship starts in fall 2022 at the NAACP's Housing Navigators program. She will be assisting South Carolinians who face eviction and discriminatory housing practices through litigation, development of a know-your-rights information manual and creation of an on-site housing clinic in partnership with a local school district.
"When I learned of the NAACP Housing Navigator Program, it spoke directly to my calling to do more," Hagins says. "Housing insecurity deeply affects student happiness and achievement. By helping to bring the Navigators program into the school context, I will be able to help to address unmet legal housing-related needs for children and their families."
In her fellowship application, Hagins wrote that Black tenants in South Carolina experience eviction at disproportionate and staggeringly high rates, adding that Richland County, South Carolina, where her project will be based, has consistently been one of the leading eviction sites in the country.
"Schools are community resources with which children and their families interact regularly," Hagins says. "As I observed firsthand as a teacher — schools are a key site in which we can reach and serve families who might not otherwise receive assistance."
Launching a new career
Hagins says the support and guidance of law school faculty and classmates who challenged her thinking have given her the preparation and foundation to be a successful lawyer.
"Law school is hard, and where you go can make a difference as to how much more difficult it can be. Coming here, I was a bundle of nerves, but I felt supported the very first minute I walked through the doors," she says. "I had some really great professors. Some were tough and scared me at first, but I realized they were tough because they know I could be successful."
She is especially grateful to have women and minority professors who have helped pave her way in her new career and, as a law student, to be given the opportunity to work on public interest projects. At the law school's Education Rights Clinic and the SC Appleseed Legal Justice Center, she was able to help provide parents with tools to advocate for their children inside and outside of the classroom.
"Glynnis was a student in my Education Rights Clinic last spring where she demonstrated her keen understanding of complex legal and social issues, as well as a passion for advocating on behalf of her clients (parents of children with disabilities)," says professor Claire Raj. "Her passion for the work of poverty lawyering and her deep commitment to pushing back against structural inequity were clearly evidenced through her dedication to her clinic work and her clients."
It was Raj who initially encouraged Hagins to apply for a Skadden Fellowship. When Hagins wanted to take a summer off from the demands of law school, Raj urged her to pursue an opportunity with SC Appleseed, whose partnership with the NAACP Housing Navigators led to her successful Skadden application.
The Skadden Fellowship Foundation, launched in 1988 by the international Skadden law firm, has funded more than 900 fellowships to improve legal services for the poor and encourage economic independence. According to the foundation's website, 90 percent of recipients remain in public service.
"As a teacher, I taught in a school district where about 25 percent of the community lives below the federal poverty line," Hagins says. "Several of my students throughout the years faced homelessness and fought to overcome tough family and neighborhood situations. As I listened to their stories, I kept hearing of recurring legal problems that forced their families into precarious situations. I thought, 'If I had my law degree, I would be better equipped to help them get the services they need.' "
---
Share this Story! Let friends in your social network know what you are reading about
---