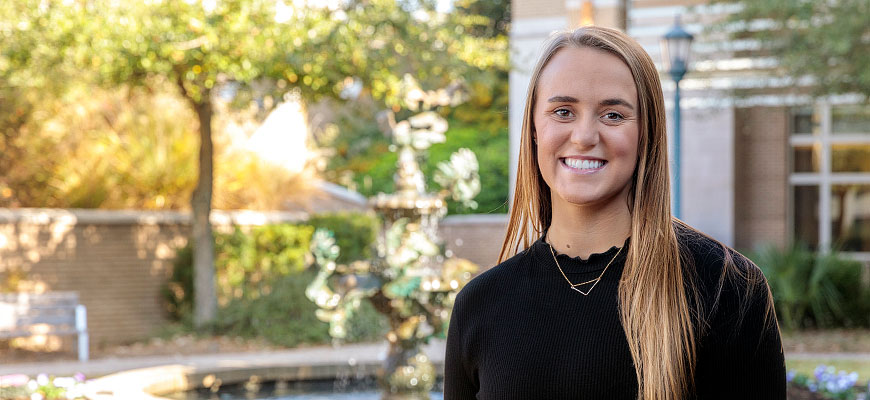 A passion for sports – and coaching
Mallory Dixon excels in the classroom and on the volleyball court
---
By Megan Sexton,
msexton@mailbox.sc.edu
, 803-777-1421
---
Mallory Dixon played volleyball during her four years at the University of Wisconsin in Madison, where she was a member of the team that played for the national championship.
She earned Academic All-Big 10 honors and graduated with a degree in kinesiology. But with a year of athletic eligibility remaining, Dixon wanted to keep playing volleyball. She put her name in the transfer portal and let schools reach out if they were interested in recruiting her.
"I grew up in Manitowoc, Wisconsin and I went to school in Wisconsin. I wanted a different experience," she says. "I looked for a school that had good volleyball and a either a public health degree or an exercise science degree. And obviously, South Carolina has a really good exercise science program and also good volleyball. So the worlds kind of collided."
She visited the University of South Carolina in January 2020, and found she liked the campus, the exercise science program and the volleyball team. She committed to South Carolina, where she would pursue a master's degree in exercise science in the Arnold School of Public Health and play volleyball.
Then COVID-19 turned everything upside down. She arrived on campus in the summer of 2020, when the university was partly closed and athletes were some of the only students on campus.
"We weren't even allowed to hang out with each other to start out with because of how strict COVID stuff still was," she says. "We were in groups of four and those were the only people we were really allowed to hang out with. My group of four was actually one other graduate student and then two freshmen. I was going into my fifth year and these freshmen were coming in as freshmen. But it was very interesting."
I've had some really good people walk alongside me in my journey, and I think it would be so cool to return that and be able to be that for someone else.

Mallory Dixon, December graduate, master's in exercise science
Because of COVID, volleyball had its 2020 season shortened and split between fall and spring. This fall, Dixon was one of three Gamecocks to play in all 84 sets for the season. She also excelled in the classroom, and will graduate this month with a master's degree in exercise science.
"I've really liked the program. There are a couple of core classes that everyone takes, but you get the freedom to choose different elective classes that will align with whatever you think you might do next or let you just explore to see what you are interested in. So I've really, really liked that. And the professors have been super awesome. All of seem to really love what they do and are all very willing to help."
After graduation, Dixon will move back to Madison, Wisconsin and coach club volleyball, and hopes to pursue a college coaching position. She also is considering eventually returning to school to work in a clinical profession such as a physical therapist or physician's assistant.
"I grew up with two parents as coaches and teachers. My mom was a volleyball coach at my high school and my dad was a football coach. And now actually, my sister is a coach and one of my brothers is a coach, too," she says. "It kind of rubbed off on us pretty well."
Dixon says she is drawn to the college setting, where she believes she could have a big impact on student athletes' college experiences.
"I really like volleyball and I love the team aspect of things. I love being able to have a group going in the same direction and problem-solving with them. So that really excites me. That's something I've loved about being on a team and being a leader on a team. And I just really get fired up about the path of people's lives and being able to influence and help people along in some of their hardest times. I've had some really good people walk alongside me in my journey, and I think it would be so cool to return that and be able to be that for someone else."
---
Share this Story! Let friends in your social network know what you are reading about
---