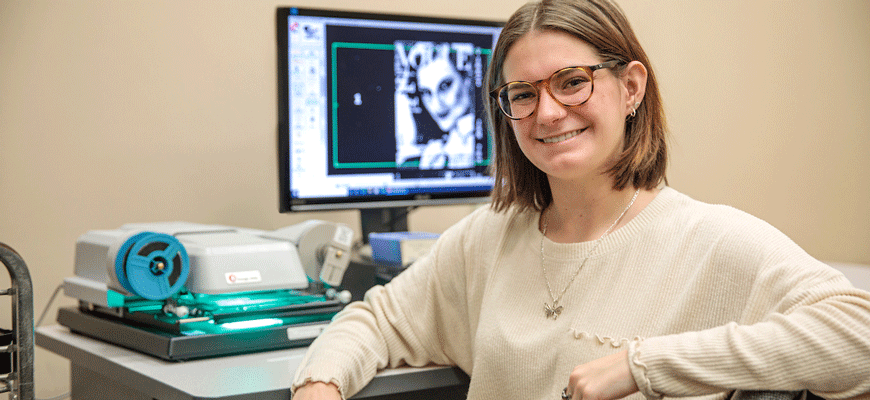 Research project brings childhood curiosity about the 1970s full circle for UofSC junior
---
By Carol J.G. Ward,
ward8@mailbox.sc.edu
---
Kate Kuisel has been fascinated with the 1970s since her dad played the Grateful Dead on repeat when she was a kid.
Although her interest in her father's coming-of-age music has waned, it sparked an interest in learning more about what was going on in that decade.
Now a junior at the University of South Carolina, she is combining that curiosity, a love of history and an interest in culture and media into an undergraduate research project. She is assisting history professor Lauren Sklaroff with research for a book proposal on 1970s popular culture.
"A lot of people don't think of the 1970s as history. It doesn't seem far enough in the past to be studied, but history is yesterday," Kuisel says.
And as a historian of popular culture, Sklaroff points out the '70s are now 50 years ago.
"With the passage of time and reflection, people are thinking about the 70s and especially the contemporary parallels. The decade has become a big field," she says.
While Kuisel's curiosity about the '70s was inspired by her dad's favorite rock bands, her grandfather, a retired professor and historian of Franco-American relations, inspired her love of history.
"I've always wanted to be like him, but I actually applied to USC as a political science major," Kuisel says.
Once she got into her poli-sci classes, though, she realized she missed her first love and switched to a double major in history and philosophy with minor in film and media studies. Encouragement and mentorship from UofSC professors have nurtured Kuisel's interest in studying the past and helped set her on a path toward eventually earning a graduate degree.
"I absolutely loved Dr. Sklaroff's class on American popular culture. It helped me figure out what I want to do with my history major," says Kuisel, a Capstone Scholar and Fellow from Charleston. "I like studying what everyday people are doing. What are they reading? What are they watching? What are they listening to?"
She emailed the professor about potential undergraduate research opportunities, and when Sklaroff offered the project on the '70s, Kuisel jumped at the chance. She is, after all, the student who wrote a 70-page paper on Watergate and the impact of the secret informant, Deep Throat, for her high school senior thesis and spent free time watching movies based on the Vietnam War to analyze the evolution of its portrayal in the media.
"Kate has been indispensable in doing meticulous hands-on research to help get a sense of the primary sources — such as Ebony, Vogue and Rolling Stone — and what kinds of dialogues were forming in the media that will help focus topics in the book," says Sklaroff, author of two previous books, Black Culture and the New Deal: The Quest for Civil Rights in the Roosevelt Era and Red Hot Mama: The Life of Sophie Tucker. "I'm really interested in what's being mass circulated and what is driving capitalism. I want to look at what people are actually consuming, which is not necessarily high culture, and why they're interested in it."
Kuisel has spent hours at Thomas Cooper Library reviewing microfilm and making observations about what Sklaroff calls the "fractured conversations" of the '70s — ideas about inclusion and exclusion, cultural hierarchy and the marginalization of women's voices. She says she has been most surprised by what she calls a stark differentiation in the representation of Black and white culture, especially when she looked at Ebony and Vogue side by side.
"They were completely different; they didn't touch on any of the same things," Kuisel says. "Other publications are only talking about white, straight, cis, mainstream culture. Even though I expected that, I thought there'd be a little bit more representation. I was rather disappointed."
But the experience has helped affirm her plan to attend graduate school to continue studying media history and how it affects culture and opinion, and she encourages other students to pursue research opportunities. Collaborating with professors outside the classroom, she says, not only gives practical context to what they're studying but also offers an opportunity to learn from the professional, academic and life experience of faculty.
And that's why Sklaroff, who is also graduate program director for the Women's and Gender Studies program, says it's important for young women to have female mentors.
"With three children, I have to balance a very complicated life that includes more than just being a professor," Sklaroff says. "It's important for young women to get a real sense of possibility and see how other women do it."
There are plenty of professors who want to help and plenty of opportunities outside the classroom, Kuisel says, so students shouldn't be hesitant about seeking them out.
"When I'm in there going through the microfilm and seeing the ideas we've learned about in class in an actual magazine, it's really cool to tie it all together."
---
Share this Story! Let friends in your social network know what you are reading about
---