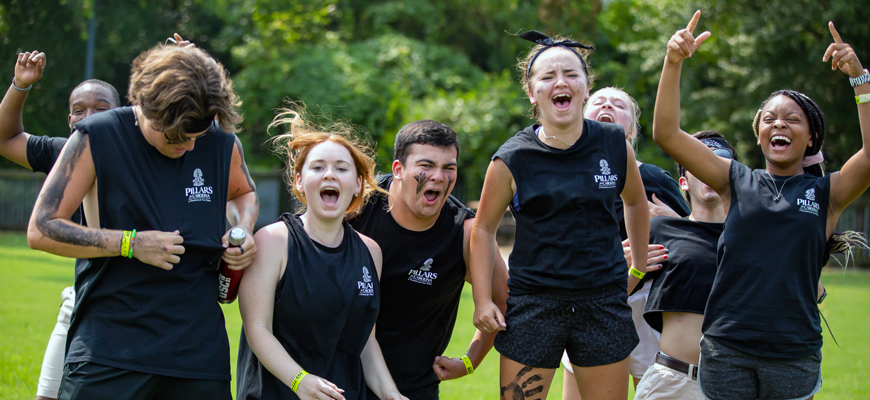 First-year Gamecocks find their new home at USC through Pillars for Carolina
Student co-directors say program builds community and confidence
---
By Carol J.G. Ward,
ward8@mailbox.sc.edu
---
This is how Katie Slick and Cody Markow are different:
Katie is an introvert. Cody is an extravert.
Cody has a double major in international business and marketing. Katie is majoring in public health with a minor in social work.
Katie chose to attend the University of South Carolina because it felt like somewhere she could belong. She considered other schools, but South Carolina, where her dad is an alumnus, just felt like home. Cody liked the idea of being surrounded by upward of 30,000 people on a daily basis with an opportunity to meet someone new every time he left his apartment. The top-rated Honors College and the international business program were also big draws for him.
Here's how they're alike:
They're both in-state University of South Carolina students. Katie, a Capstone Scholar, is a rising senior from Lexington, and Cody, who studies in the Honors College, is a rising junior who calls Fort Mill home.
They both love, love, love Pillars for Carolina, a student-led program designed to build community and confidence among incoming first-year students.
"I was a shy kid in high school, so I wanted to branch out a little bit," Slick says. "After I participated in Pillars, it completely changed my outlook on Carolina. Not only did it jumpstart my future here, it has become like a home and a place of inclusion and empowerment."
For 2022, Slick and Markow are co-directors. Slick participated in Pillars for Carolina as an incoming freshman in 2019, then signed on as an extended mentor for the 2021 program and applied for the co-director position for this summer's sessions, which begin in July. She sees serving as co-director as a way to have an impact by mentoring new students and giving back to the program that set her up for success at South Carolina.
Because the 2020 sessions were canceled due to COVID, Markow wasn't able to participate as an incoming freshman, but when he learned about the program from a fellow University Ambassador who had served as a Pillars for Carolina co-director, he wanted to get involved and served as an extended mentor in 2021.
"I loved it, and the experience showed me I can have an impact," Markow says. "My goal throughout college is to go through my own journey, but I also want to help incoming students, in any way possible, in their journeys. Pillars allows me to do that."
Joshua Cauble, a staff advisor for Pillars for Carolina and associate director of leadership and student organizations, describes the program as an extended orientation focused on leadership, self-discovery, service and engagement on campus.
"There's really a personal growth aspect," he says. "What kind of person are you? How are you going to engage on campus with the opportunities that are available outside of the classroom? What are you passionate about?"
In addition to opportunities for reflection, values exploration and developing leadership skills, there's also plenty of time for fun and making new friends through activities such as a campus version of The Amazing Race, exploring Columbia and Garnet & Black Olympics.
Both Slick and Markow say that — in addition to the fun family atmosphere — peer mentorship, self-discovery and inclusion have been the highlights of their involvement with Pillars. Coming to campus from small South Carolina towns, the people they knew were usually similar to them.
"Participating in Pillars helped me identify my core values and really just helped me find who I am," Slick says. "Being around students from different backgrounds and cultures taught me a lot about diversity and inclusion."
Now, as co-directors, Markow and Slick are looking not only to continue the traditions that make Pillars for Carolina special but also to put their stamp on the program through a few changes to benefit participants while enhancing its core purpose. For example, they recommended reducing the size of the family groups from about 18 students to less than 15 to increase the opportunity for bonding as well as mentorship. They also made some updates to the Reader's Theater program where staff members speak about the ups and downs of college life.
"The goal was to balance the message that college is a very real experience that may include some struggles while also sharing enthusiasm and excitement," Markow says. "We made some changes to some of the language that was a little outdated to make it more inclusive."
Their experience with Pillars for Carolina has taught Slick and Markow the power of mentorship and the impact they can have through one-on-one connections. They encourage all incoming students to sign up for the program to learn more about themselves and to find a comfort level as they enter college.
"Pillars gave me a supportive and inclusive community," Slick says. "I encourage every incoming student to participate to find a place where they can be themselves and flourish and nurture who they are."
Markow says being involved with Pillars has enriched his whole university experience. He loves the big campus community and the many opportunities to get involved. He says he's never felt lost in the crowd because he's found a home through Pillars, the clubs he participates in and his role as a University Ambassador.
"I love to consistently talk about this university and everything that it offers academically," he says. "It is the best mix for me to really prosper and make an impact. You are a crazy kind of person if you're willing to give a 90-minute tour talking just about the University of South Carolina multiple times a week, but I love it. It is genuinely my favorite place on Earth."
---
Learn more about Pillars for Carolina
Pillars for Carolina, which was founded in 2011, focuses on making connections and building community, inclusion, fun and self-discovery. Students who participate will begin their first year at South Carolina with a sense of belonging and confidence, new friendships and a jumpstart on their Gamecock experience.
"This is an opportunity for students to really understand who they are so they're able to come into college with a better understanding of their beliefs and how they can kind of stand up for their thoughts and ideas in a respectable manner through conversations and interaction with other students," says Joshua Cauble, a staff advisor for Pillars for Carolina.
Registration will remain open until this summer's sessions fill up. The cost to participate is $300. Applications for need-based scholarships were due earlier this spring, but students in need of financial assistance to attend are encouraged to contact the Pillars program about options.
For more information, email sapillar@mailbox.sc.edu.
---
Share this Story! Let friends in your social network know what you are reading about
---