Color commentator
Illustrator Kev Roché brings artistic wit to the world of sports television
Kev Roché crumples a sheet of paper and throws it aside. A moment later, he does it again. He's sprawled on his parents' living room floor, watching a Disney movie and trying over and over to draw a face, but he…just…can't…get…the eyes.
So he crumples sheet after sheet until, finally, his parents are on his case. He's 4 or 5. Or 7 or 8, 9 or 10. Maybe he's even older. Or younger.
"I've always been able to draw, even when I was really young," says Roché. "I would lay on the floor, sketching and crumpling up the paper. I remember doing that all the way up until, like, 10 or 11, getting yelled at for wasting paper. But I was like, 'The eyes! The eyes aren't right! I've got to start over!'"
Nowadays, Roché gets the eyes right. If he didn't, University of South Carolina Athletics wouldn't trust him to give Cocky a mascot makeover. Former Gamecock football players Langston Moore and Preston Thorne wouldn't ask him to illustrate their children's books. ESPN wouldn't pay him to do illustrations for Sunday Night Baseball, something the '05 grad has been doing for close to five years.
It's the ESPN gig that best defines Kev Roché, artist. When he was a kid, that was his own personal hoop dream. If he couldn't be a professional athlete — "Like every other kid, I was gonna be in the NBA," he laughs — maybe he'd draw pictures for ESPN The Magazine or Sports Illustrated.
"The fact that I'm able to draw for ESPN doesn't feel like work at all," says Roché, who works remotely from his home studio in Irmo, South Carolina. "It's just, they give me the call on Monday, 'Hey, you wanna draw Fernando Tatis Jr.?' and I'm like, 'Yeah, absolutely.'"
Roché plays it cool — "I would not categorize myself as a hustler," says the onetime visual arts major — but history paints a different picture. He's got a strong Twitter game. He's a good networker. In seventh grade, he started a cottage industry selling his classmates drawings of their favorite mascots, $3 a pop.
"If a kid was an Auburn fan," he explains, "I'd take the cover from like an X-Men comic — somebody standing over somebody else — and then I'd put the Auburn Tiger in place of Wolverine or whoever and have them stand over an elephant for Alabama. I remember because I made over 300 bucks and thought that was a really big deal. I bought like two pairs of shoes with the money, and then it was done."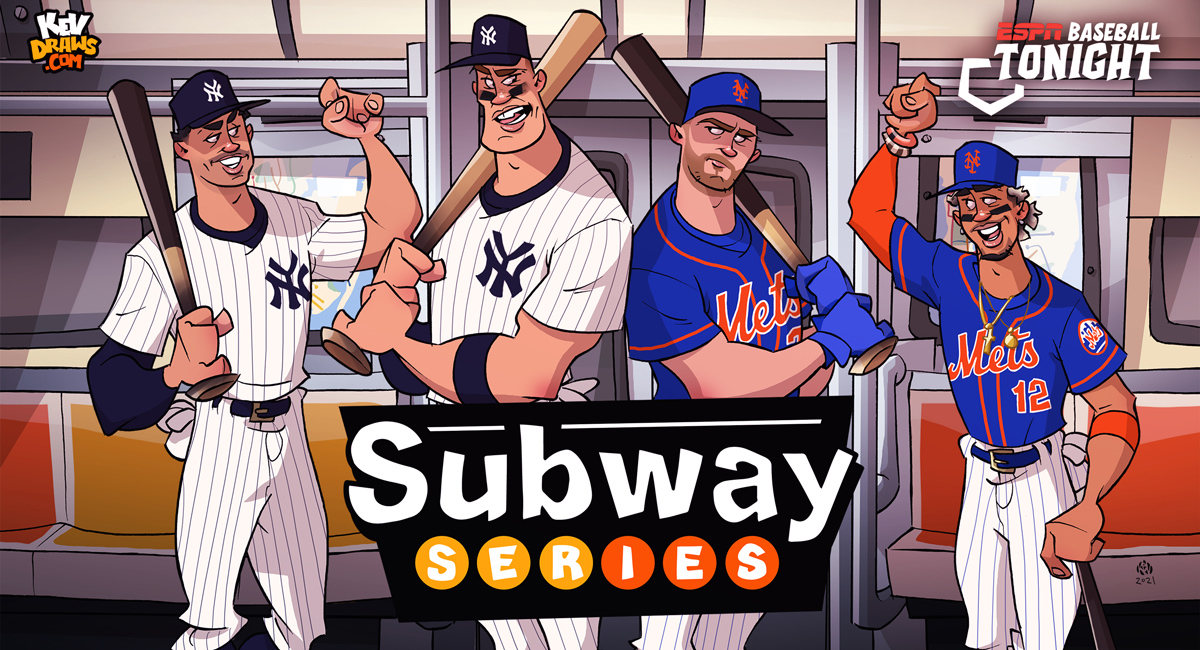 Well, maybe the middle school business was done, but the art stuck. And if the hustle took a backseat through high school and college, he rediscovered it later. After a false start with an ad agency in Los Angeles, he was back in Irmo watching ESPN one afternoon when on-air analyst Scott Van Pelt held up a drawing sent in by a random kid.
"They would bring out these pictures. Little kids had drawn Scott Van Pelt or, you know, a turtle for the Maryland Terrapins," Roché says. "So I was like, well, I mean, no offense here, but I might be able to do a little better than these crayon sketches."
His hunch was right. And the one-off drawing he emailed the network got a quick response. Could ESPN use one of his illustrations on SVP and Rusillo? Uh, absolutely. Then Ryen Rusillo sent a note: Thanks for the pic, appreciate it. Roché followed up on that, too — with another pic, then another, then another until one day "Kev Roché" was listed on the SVP and Rusillo home page as "unofficial illustrator."
"I'd send sports pictures or ideas whenever I had one, and it just kind of kind of grew," he says. "Eventually one of the producers says, 'Whatever you think is funny from the show, just draw it and we'll throw it on the air.' So that's how it started with ESPN, me just kind of — not badgering. I hope I wasn't badgering. I was just kind of, like, weaseling my way in."
Badger, weasel — neither is fair, even in jest. Roché is as professional as he is relaxed, and when he tells his own story it's with as much embarrassment as pride. Maybe those are just the words and images you reach for when you spent your childhood obsessively drawing college mascots.
"That's my main material on Twitter, or I guess my brand — talking about how much I love old college mascots and logos, because that's what I grew up drawing," he says. "I don't know how many times I've drawn the North Carolina Tarheel guy walking in his sweater, stuff like that. South Carolina, too, but for a while I was just drawing any college logo with a sailor hat!"
Roché puts his work out there — but first he does the work. For SVP and Russillo, that meant keying in on the hosts' personalities and inside jokes. For Sunday Night Baseball it's about keying in on story, being flexible and working fast.
"A lot of the stuff for baseball, they'll tell you the slant," he says. "Maybe I don't get the assignment till Tuesday or Wednesday because they're waiting on the major story line for that week's game. Maybe a guy goes down with an injury or something. Sometimes things get locked down early, sometimes it's more of a midweek adventure."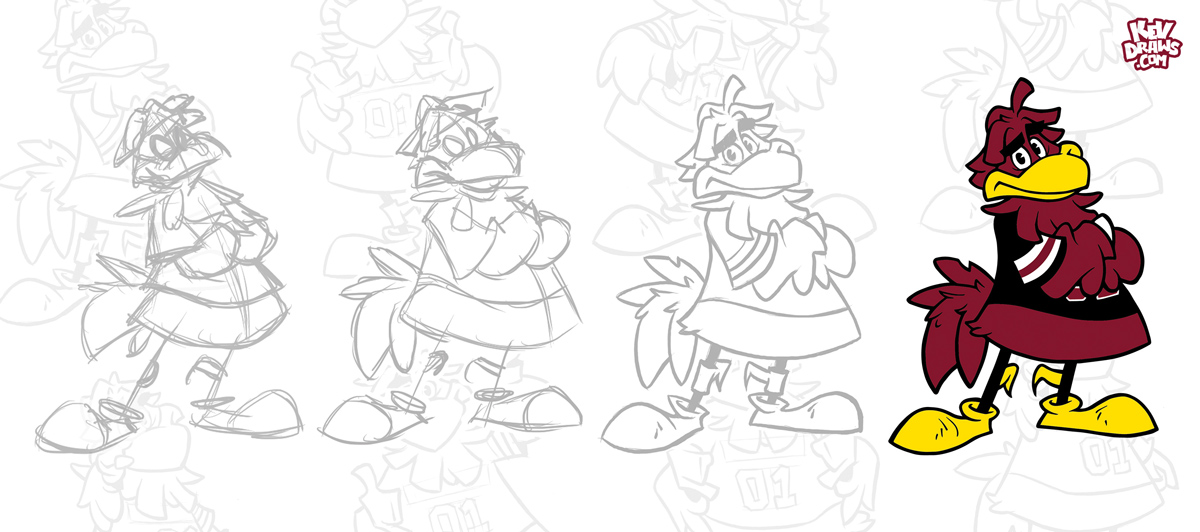 And none of it's worth a squiggle if he doesn't also bring his A-game, which means rendering his subjects in a lighthearted but recognizable way, and in his own distinct style. For an example, it's back to college football — and, more specifically, former Gamecock coach Steve Spurrier.
Fans know the Head Ball Coach's face but hearing Roché struggle to explain Spurrier's ineffable expressions is its own kind of fun. It underscores the value of art, how drawing can accomplish things words never will.
"He's got a lot of identifiable characteristics. Throw a visor on him and a headset, slightly askew, and you kind of know who it is," Roché says. "But the fun thing with Spurrier is — I don't even know what to call the kind of smirk he gets. It's like he's upset but enjoying it at the same time. Like in a press conference, he just won, I don't know, 38-16, but he didn't score 45, and he's kind of angry about the one drive that got away."
Like any good caricaturist, Roché could ponder expressions all day. He can talk about mascot heads or gobsmacked faces or why big bushy eyebrows are his signature. Attention to detail and a willingness to have fun got him in the door at ESPN, and it continues to land other projects, including for USC, which commissioned him last summer to give Cocky a cartoon update.
"I've been told by other people, even by other artists, that I'm pretty observant, but really anything I can do to introduce humor, I'm all for it," he says. "And then when Carolina comes calling — I'm obviously going to do that, right? I get to draw the mascot of the place I went to school? I mean, that's pretty cool."

Carolinian Magazine
This article was originally published in the Carolinian, the alumni magazine for the University of South Carolina. Meet more dynamic Carolinians and discover once again what makes our university great.
View the Carolinian