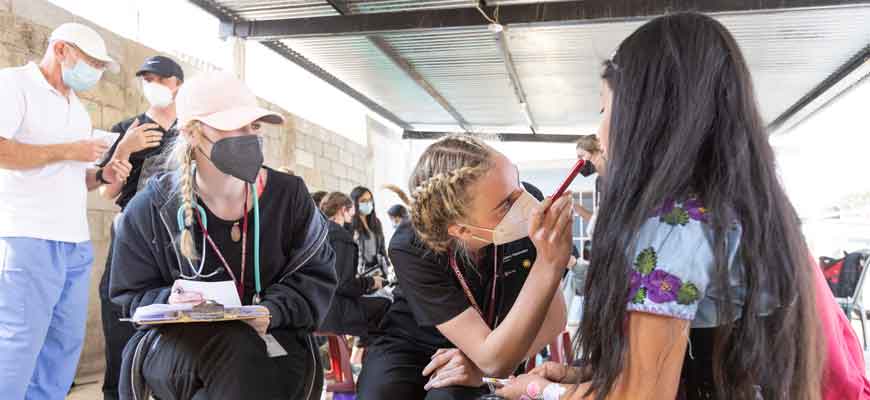 Students, alumni work to transform health care in rural Guatemala
Student leaders, alumni step out of their comfort zone to help underserved communities
---
By Alexis Watts,
wattsac@mailbox.sc.edu
, 803-777-7548
---
Spring break normally means a time for University of South Carolina students to say goodbye to hard work and relax for a week, but for the past 10 years, hundreds of students from the Capstone Scholars program have chosen to challenge themselves culturally.
More than 900 passionate pre-med and pre-health studies students have joined nursing professor Patrick Hickey on the spring break mission program to Latin America. The group of students spends one week abroad getting hands-on experience as part of a one-credit course on international health care. The trip this year was to Hospitalito Atitlán in Guatemala.
In addition to learning basic skills such as taking vital signs, checking blood pressure and assessing patients, students get a full range of experiences in working in health care clinics.
Hickey says many of the students may be nervous or worried at first because they've never worked in a clinic or with patients, but the hands-on learning process is transformative.
"The doctors we work with will allow students to meet with a patient and, through an interpreter, try to figure out what's going on. Then the doctor will allow the student to present the patient to him," Hickey says. "By the end of the week, the self-confidence with the students is through the roof, and they are diagnosing patients. They are so excited to be able to do that."
Although he recently retired from his faculty principal position in 2020, Hickey came back for one last trip. He knows the service-learning opportunity teaches students about other cultures in a way that classroom instruction can't.
"It's good to learn all the textbook medical stuff," Hickey says. "But I think, more importantly, if you can experience what the people experience, that's going to help you to be a much more compassionate health care provider."
Each year, Hickey offers seniors the opportunity to co-teach the class. Gabby Gee and Amanda Dearborn were student leaders for the 2022 trip and helped raise $5,000 in donations through GoFundMe to help Hospitalito Atitlán and the indigenous people it serves. While in Guatemala, Gee and Dearborn organized their own student-run health care clinics.
Dearborn knew she wanted to be a student leader after her first trip with the group in 2020.
"I looked at my leaders and they were role models to me," she says. "Seeing the hands-on patient care was great, but besides that, seeing the help that was really needed in these rural communities was impactful for me as a public health major. I knew I could use my public health skills to teach other students to see the same things I saw."
As a result of her international efforts, Dearborn was named the 2022 Arnold School of Public Health Undergraduate Student Award Recipient for Excellence in Contributions to Diversity, Equity and Inclusion.
Alumni pay it forward
Recent South Carolina graduates Karlye Denner, Austin Thomas, Zach Travis and Naimik Patel also took the trip this year, at their own expense, as a way to give back and mentor current students.
"We could have gone to a thousand different places with the same money we spent, but we've had so many people help us along the way that being able to just give back a fraction of that makes it all worth it," Thomas says.
He sees the trip as a way to make an impact not only for the patients but also for the students he mentors as they pursue opportunities in health care to serve others.
The students partnered with the Global Community Health Volunteers, which has the goal of supplying essential medical treatment to the most vulnerable. They work with the indigenous populations of the area, people who have been marginalized from society and are not able to afford health care.
The neat thing is, all these future nurses and doctors and physical therapists and occupational therapists and dentists have all had this experience that's going help them better communicate with future patients.

Patrick Hickey
Thomas and Denner organized and facilitated a diabetic screening tool that was used in eight rural Guatemalan clinics and by over 100 students on the trip. The process is used to help detect diabetes at an early age for earlier treatment and better quality of life.
"The impact that we're making on the people in Latin America is huge. We're helping with chronic problems, but more importantly, we're educating the local people on how to care for themselves," Hickey says.
Denner went on all of the spring break health care trips while she was a student at South Carolina. She received the UofSC Excellence in Service-Learning Award in 2018, which recognizes students who have demonstrated significant academic growth and made meaningful contributions to their community partner.
She says she learned how to understand her patients through the service-learning experience which is why she decided to go back as an alumni mentor this year. For example, when she noticed that some patients were designated as noncompliant in taking their medications, she wondered why.
"If a patient has to choose between food and their medication, you pick food. If you have one car and someone needs it to go to work, you're not taking it to get your medication" Denner says. "And that's OK. As health care providers, we can do things to address that, but at some point, looking at public health and policy is a better way to have a broad impact on a community. That was probably one of the biggest things I learned."
Bringing it home
The students' goal to improve the health of some of the most impoverished people in the world doesn't end when they finish the 2,500-mile trip and land back in South Carolina. Hickey encourages the students work with underserved populations at homeless shelters and clinics locally.
"Once students come home from this experience, I tell them, 'Listen, we don't have to go to Latin America to work with underserved populations. You know, we have it in our own backyard,' " he says.
Many of the students use the skills they learned abroad to volunteer with the Good Samaritan clinic in Columbia, South Carolina.
"I think it widens your view of almost everything," Thomas says. "There is such a large Central American population within the South, specifically South Carolina, that a lot of the health problems we see here are also down there, so it kind of bridges that gap."
For some of the students, seeing communities struggle for access to adequate health care has helped them choose a career path. Dearborn says the trip ignited a passion for pursuing a public health career in programs and prevention to educate rural communities on issues such as infectious diseases.
"Without Dr. Hickey, I would not be where I am today," she says. "I would not be as confident, not be as good of a leader as I am without him."
Hickey feels lucky to watch the students gain professional experience while also learning so much about the medical field that those who don't cross borders will never know.
"The neat thing is, all these future nurses and doctors and physical therapists and occupational therapists and dentists have all had this experience that's going help them better communicate with future patients," he says. "It's going to help them to be more understanding of where their patients are and where they're coming from."
---
Share this Story! Let friends in your social network know what you are reading about
---